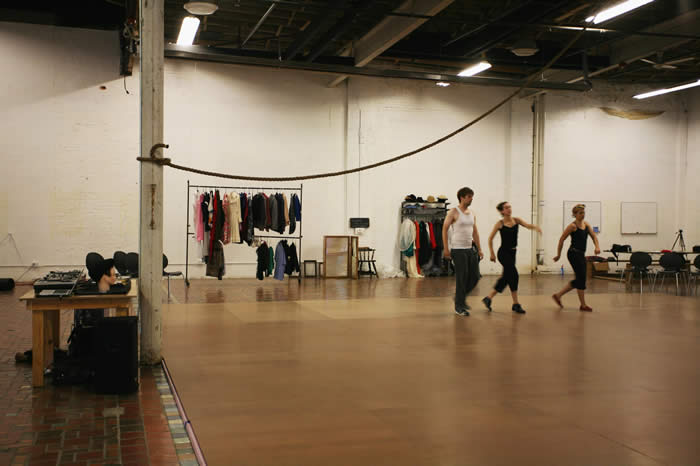 The ensemble known as The Hinterlands is in residence at MOCAD. They will present "The Voice of the City" through July 22, 2012. (Photo/MOCAD)
Now that performance art has entered the public lexicon, it's not uncommon to hear the term applied to any weird, unexplainable action seen in public. The pronouncement ("it must be performance art") has a lot of cachet: It attests to the pop critic's knowledge of cultural arcana, and it simultaneously identifies and polices nonstandard behavior. A one-two punch for the witty critic!
Is performance art destined to become a simple put-down for obscure histrionics? It wouldn't be the first time avant-garde art was targeted for insult. Is this genre, which began almost 100 years ago, only good for a dilettante's joke? On the contrary, the presence of performance art is a valuable indicator of how complex a city's art scene has grown. If a city can sustain alternative, uncollectable kinds of art, then that city likely enjoys a rich cultural infrastructure with a sophisticated community of artists and art goers. MOCAD's recent appointment of a performance art troupe to their new artists in residence program signals that Detroit's art scene is in the midst of a dynamic growth spurt.
The Hinterlands is an interdisciplinary performance ensemble trying to bring performance art to Detroit -- and they want everyone to join in. Richard Newman, Liza Bielby, and Eleni Zaharopoulos form the principle artists, though the group has a roster of collaborators. Their performances take inspiration from a wide range of theatrical traditions, including vaudeville, Detroit's Jit subculture, slapstick, and Sichuan opera.
Their current installation converts one of the main galleries into a performance workshop. The room is built around a makeshift dance floor, which serves as an open stage. Flanking the stage are a series of theatrical vignettes, from costume departments to turntables to a brainstorming station replete with white boards and poster pads. While the artists do not live in the space, they do practice in it during exhibition hours; it is like opening up the wings of a theater for viewing. The public can watch The Hinterlands rehearse, critique, or lead classes in a variety of performance methods; brave visitors can even join them.
Turning the artists' studio inside-out recalls Dawn Kasper's recent performance at the Whitney Biennial in which the artist moved all of her belongings into the gallery. She worked in the space, ate, read, and made her private routine available for public scrutiny. The Hinterlands performers do not showcase their private lives in this space, but rather invite the public to forge a direct relationship with theatrics. In a way, their installation resuscitates a tradition of bringing art into daily life to democratize the artistic experience.
This iteration of "Voice of the City" offers a sneak preview of an evolving artwork. The Hinterlands is using their residency to develop a performance that will premiere at the Shanghai Biennial. If Detroiters are eager to see the results of their MOCAD residency, the show will return to Detroit in 2013 under the name, "The Circuit."
Detroit has no venues like NYC's The Kitchen, and Performa, the performance biennial, never makes its way to Michigan. But perhaps The Hinterlands' appearance at MOCAD marks an important milestone in our city's cultural offerings. Finally, a local performance art ensemble has the microphone of a major Detroit cultural institution.
John J. Corso teaches art history at Oakland University in Rochester, Michigan. He strives to write criticism that is 'partisan, passionate, and political.'
REAL LIFE. REAL NEWS. REAL VOICES.
Help us tell more of the stories that matter from voices that too often remain unheard.