The Philadelphia Inquirer has apologized for using the headline "Buildings Matter, Too" on a commentary about the damage caused to buildings in the city during anti-racism protests following the death of George Floyd.
"We should not have printed it. We're sorry, and regret that we did," they wrote.
"The headline offensively riffed on the Black Lives Matter movement, and suggested an equivalence between the loss of buildings and the lives of Black Americans," they continued. "That is unacceptable."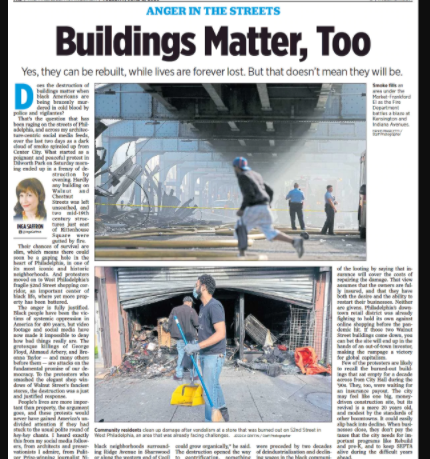 "While no such comparison was intended, intent is ultimately irrelevant," read the note signed by editor Gabriel Escobar, executive editor Stan Wischnowski and managing editor Patrick Kerkstra.
"An editor's attempt to capture a columnist's nuanced argument in a few words went horribly wrong, and the resulting hurt and anger are plain," they added, announcing a review of the publication's editing and headline-writing process and promising to "continue training and discussions around cultural sensitivity."
The editors also apologized to the newspaper's employees and its journalists, "particularly those of color, who expressed sadness, anger, and embarrassment in a two-hour newsroom-wide meeting Wednesday."
"An enormous amount of pressure sits on the shoulders of Black and brown Inquirer journalists, and mistakes like this, made by the publication they work for, are profoundly demoralizing," they concluded. "We hear you and will continue to listen as we work to improve."
But the apology was not enough for the publication's journalists of color, who on Thursday announced they would be "calling in sick and tired."
"Things need to change. We call on The Inquirer to do better. To be better," tweeted Jonathan Lai, the newspaper's data and democracy reporter, who linked to an open letter to the Inquirer's leadership, signed by dozens of colleagues, that decried its "hasty apologies and silent corrections."
"We're tired of shouldering the burden of dragging this 200-year-old institution kicking and screaming into a more equitable age," it read. "We're tired of being told of the progress the company has made and being served platitudes about 'diversity and inclusion' when we raise our concerns."
"We're tired of seeing our words and photos twisted to fit a narrative that does not reflect our reality," the letter added. "We're tired of being told to show both sides of issues there are no two sides of. Things need to change."
Calling all HuffPost superfans!
Sign up for membership to become a founding member and help shape HuffPost's next chapter
BEFORE YOU GO