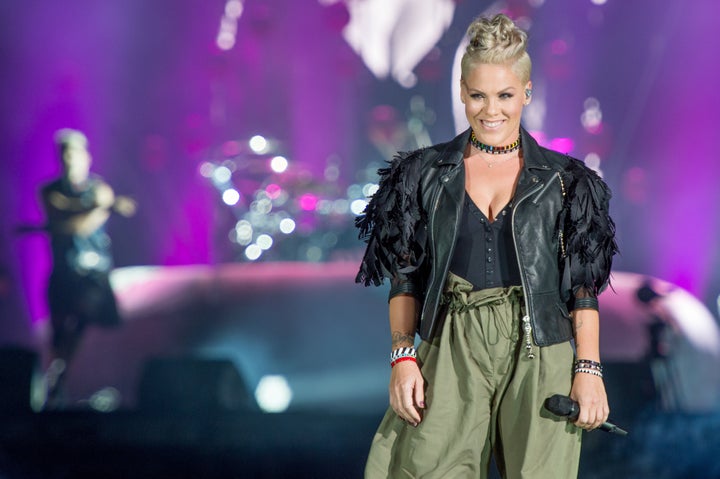 Pink is trying to clear things up after causing a stir among some of her fans on social media earlier this week. 
Late Monday night, the pop star posted a pair of tweets about the president, including one suggesting she had hope that Donald Trump could change for the better. 
″@POTUS you are doing a terrible job. Worse than every other job you've done terrible at. Do you seriously have time to worry about the NFL?" she wrote. "I've seen people change and turn their lives around. There's still hope for you @POTUS. It's what the world needs."
That second tweet didn't go so over well with everyone on social media. Some users lashed out, calling Pink racist and concluding she voted for the Republican candidate in 2016. 
HuffPost asked Pink about the social media controversy on Tuesday during an interview to discuss her new album, "Beautiful Trauma." And she made it clear how she felt about it all ― from social media to the president himself. 
"I know that I shouldn't feed into some of that shit, but it's who I am and I don't like injustice … The first tweet was: 'You're terrible, POTUS, and you're doing a terrible job. And do you seriously have time to talk about the NFL? Puerto Ricans have no power and you're talking about the NFL.'"
The singer didn't mean for her next tweet to be interpreted as support for Trump. The "What About Us" singer added she wants to have hope that things will get better.
"My second tweet was, 'Let me take a different approach. Let me try to be hopeful,'" Pink said. "Right? That's what Barack Obama inspired in us ― was hope and change. I've seen a lot of people come back from heroin, alcohol, rape, all kinds of things. So, I believe that people can change. So, I want to be hopeful sometimes."
"The naive little girl in me wants to think that even Donald Trump can change," she added. "So maybe berating him isn't the way. Maybe inspiring him and maybe he, even he down deep in there, maybe could still be a good person. He still has a chance to be a good president. And that's what I got vilified for ― was the hope. And now apparently I voted for him. I'm racist. All these things."
On Wednesday, Pink took to Twitter in an attempt to make her stance clear, noting that she did not vote for the president last year. She also called his behavior "appalling." 
Pink said she's upset not only with government, but with the communication breakdown that appears to be happening in many areas inside Washington, D.C.
"Dissent used to be the cornerstone of democracy. We used to be able to disagree and still co-exist peacefully. We have lost the art of communication," she said. "And my marriage is a testament to communication. My mom and my relationship is a testament to a lifetime of coming back to the table. I think love is coming back to the table. And I wish we could all just come back to the table. And it's just hard to watch."
Never one to stand by and remain idle, Pink continued, "So, I have rants every couple of months or years. And I've just had it. He [Trump] has inspired the worst in us and myself included, sometimes."
Pink's new album, "Beautiful Trauma," comes out on Friday.
REAL LIFE. REAL NEWS. REAL VOICES.
Help us tell more of the stories that matter from voices that too often remain unheard.
BEFORE YOU GO
PHOTO GALLERY
Celebrity Photos 2017