There's a gimmick used in classrooms and school clubs across the country, a lure that's so popular because it's so successful.
Behold the power of the pizza party.
The gist is that there's a competition of some sort. The winners get a gooey, cheesy feast.
In the South Texas town of Mission, pizza parties have long gone to the top-performing elementary, middle school and high school classrooms in a district-wide Food Drive Challenge benefitting local food pantries.
That is, until this year.
As part of an overhaul of the health and wellness value in everything they do, school district leaders realized that what seemed like simple, harmless fun isn't so harmless.
One less greasy, salty meal is a good thing, of course. But the real aim of the change in Texas is rewiring the thought process. Unhealthy foods can no longer be dangled as prizes.
Best of all, their new prize is something active.
A few weeks ago, this year's winners received a bowling party – without traditional bowling alley grub, of course.
Kids loved it. Adults, too. Just like that, a new tradition began.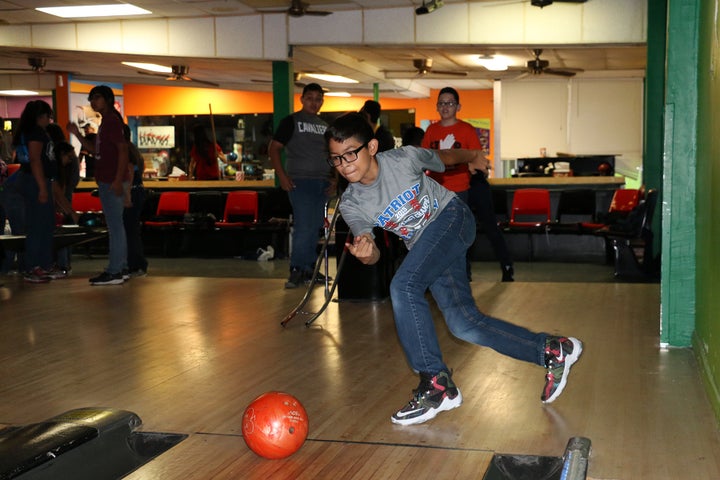 Swapping a few slices of pizza for a few games of bowling won't cure childhood obesity or diabetes, the rates of which are especially high in the Rio Grande Valley.
But a turnaround must start somewhere. Small steps like these move the district, the school, the classes and – most importantly – the students in the right direction.
The Mission Consolidated Independent School District is a becoming a leader in the fight to improve the health of our next generation.
A few years ago, superintendent Ricardo Lopez made this a priority. His team began working with the Alliance for a Healthier Generation, an organization dedicated to reducing childhood obesity and empowering kids to develop lifelong, healthy habits. I'm proud to say the Alliance began as a partnership between my organization, the American Heart Association, and the Clinton Foundation.
In a short span, the results in Mission are quite fantastic.
All 22 traditional schools in the district have earned bronze, silver or gold status from the Alliance's Healthy Schools Program. Only a handful of districts in the country can boast honors for 100 percent of their campuses, a feat that's even more impressive considering the socioeconomic challenges in Mission.
"This is extremely encouraging, especially for people like me who have been doing this for 25 years," said Howell Wechsler, EdD, MPH, the Chief Executive Officer of the Alliance who previously served as the Centers for Disease Control and Prevention's Director of the Division of Adolescent and School Health. "It always stems from great local leadership – boots-on-the-ground, high achievers who go out and get things done."
Everyone wants kids to be healthy, and schools are a natural place for them to learn how. The school day sets up perfectly to offer nutritional meals, lessons about healthy eating and opportunities to be active.
However, school administrators must balance those aims against other priorities. The reality is, setting aside time for anything but academics can set themselves up for second-guessing, especially if standardized test scores fail to dazzle.
But academics and health don't have to be an either-or proposition.
In fact, it's quite the opposite. Boosting health can boost academic performance.
Studies show that students who eat healthy meals and remain active are better learners. Pausing an academic session for as little as 30 seconds of jumping jacks can energize young minds, making them more likely to absorb the rest of the lesson. (It's not just young minds; try adding mini-activity in the midst of a long effort and see if it boosts your attention level.)
Small changes can have a big impact. For instance, schools that move recess to immediately before lunch find that kids arrive hungry and eat more. Think about it: when recess follows lunch, kids are more likely to dump their tray quickly to get more time on the playground.
Some moves may bring backlash, but they're worth it, such as finding healthier alternatives to cakes and cookies for birthday and holiday celebrations, selling something other than sweets for fundraisers and, of course, replacing pizza parties with something fun and active. (Another example: Many schools are hosting 5K races as fundraisers.)
Best practices are readily available. In addition to the Alliance, the CDC and the U.S. Department of Agriculture are eager to help.
Now is a great time, too.
Through May 5, the Alliance and Voices for Healthy Kids — an initiative powered by the AHA and the Robert Wood Johnson Foundation — are running the Wellness Wins campaign to celebrate success stories and to ensure that schools are meeting national requirements.
Since 2004, districts participating in federal school meals programs have been required to establish wellness policies. Those requirements were boosted in 2010, but confusion followed about what to do, who should do it and how to maintain the policies.
Last summer, the USDA clarified those issues by issuing a final rule. The USDA also required districts to meet the requirements by June 30.
Many district have been working on this all year, but if any are lagging or need a push, this campaign is a reminder that many resources and supports are available to help.
"Our message is, `Don't be afraid of these changes,'" Wechsler said. "You can do this. And it's going to be a great success."
One worthy of a bowling party.