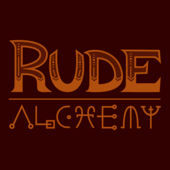 "Those who dare to make a podcast which subversively reanimates the dead art of radio theater are considered dangerous outcasts..." So flows part of the introduction to every episode of the third season of Rude Alchemy, hinting at what the podcast fan is getting into.
Rich production values, a layered storyline (several, actually) and a talented cast make this five-episode season -- entitled The Plague Clowns -- a listening treat.
The main story features a motley collection of traveling entertainers in the 16th century, pairs of whom have split off from their original groups, only to be thrown together in a farflung town where a Tournament of Revels is taking place with the promise of winning eternal fame and fortune. The secondary tale involves The Narrator of the main story, who is struggling to complete his tale-telling duty, mostly due to the fact he seems to be a patient in a mental asylum.
Throughout the plot of The Plague Clowns, the cast manages to skewer about every live performance meme and stereotype there is, from jugglers and jesters to Shakespearean actors and minstrels. There's even a heckler in the crowd during a performance.
Following the 3rd episode there's a break in the action with an installment entitled "Chatter and Lore: Plague Stories and Gibber-Jabber", where the actors appear out of character to interview each other and share "making of" stories. (They follow up the season with another out-of-character visit, too.)
The writing of the episodes zipline from corny to suspenseful, with plenty of laughs and plot twists, along with outrageous Italian and Romany accents helping to make the short season an enjoyable listen indeed.
Marc Hershon is the host and executive producer of Succotash, The Comedy Podcast Podcast, featuring clips from comedy podcasts from across the Internet as well as interviews with podcasters, comedians, and assorted show biz folk.