It kills three times more people than AIDS, tuberculosis and malaria combined, and 15 times more than all wars and other violence.
"It" is pollution, the term we give to a wide range of contaminants humans put into the air, water and soil, often defending its harm as necessary in the name of economic growth.
But according to a new study published online Friday in The Lancet, a peer-reviewed medical journal, not only is pollution more harmful to global human health than we realize, our economic justification for it is also far off the mark.
Philip Landrigan, dean of global health at the Icahn School of Medicine at Mount Sinai, New York, and the lead author of the report, told HuffPost the study is the first and most comprehensive of its kind.
Previous studies have examined sources of pollution and their health impacts on a more individual basis, leading to an incomplete understanding of the issue.
"Up until now the pollution control agenda has been very fragmented," he explained, with some studies "on air pollution, some on water, some on chemicals. And because of that fragmentation the full magnitude of the problem simply wasn't visible to most people."
This study examined the affects of pollutants on a global basis, and, critically, involved economists from the very beginning to help "translate scientific findings into public policy."
"If you don't put a dollar value on your findings," Landrigan said, "if you can't show the minister of finance in a particular country that pollution is costing his country money and dragging his economy down... it's not sufficient to move the needle."
The study found that in 2015 one in six premature deaths could be directly attributed to pollution, with 92 percent of those deaths ― adding up to 9 million ― occurring in low- and middle-income countries. That's around 16 percent of all global deaths.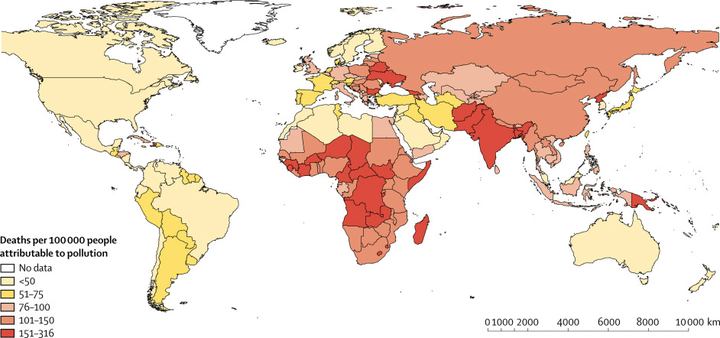 Aside from the obvious humanitarian burden of those premature deaths, they also take a very real economic toll as well. The study calculated the global cost of pollution at $4.6 trillion per year, equivalent to 6.2 percent of the global economic output.
"What people don't realize is that pollution does damage to economies," Richard Fuller, the head of Pure Earth, an international nonprofit that studies pollution impacts in low- and middle-income countries, told the AP. 
Worldwide, air pollution is by far the biggest contributor to premature deaths. In developing countries, contaminated water is the second-largest contributor, followed by workplace exposures, then soil, chemicals, and metals: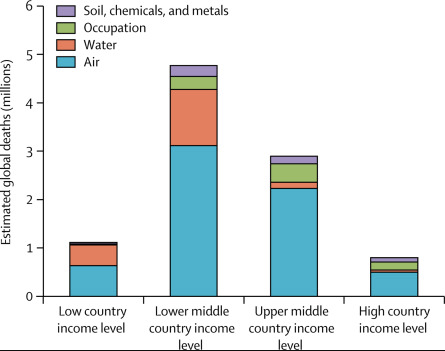 It's not all bad news, however. 
Landrigan said the study found developing countries shouldn't sell out their population's health to achieve economic prosperity. On the contrary, curbing pollution and implementing more stringent environmental laws in those countries will likely help them become more prosperous.
And unlike many health crises, like the AIDS epidemic, where the answer isn't immediately attainable, many sources of pollution can be easily diagnosed and remedied.
"The claim that pollution control stifles economic growth and that poor countries must pass through a phase of pollution and disease on the road to prosperity has repeatedly been proven to be untrue," the report reads.
Major sources of pollution identified in the report include electricity-generating plants, chemical manufacturing facilities, mining operations, deforestation, coal combustion and petroleum-powered vehicles.
Further, Landrigan added that in addressing localized emissions on the city and country level, the world as a whole stands to benefit as they're a substantial contributors to global climate change.
"Actions to control one will help control the other," he said. And it's critical we take action on both for our near and longterm health. "Pollution is killing people here and now; the big deaths from climate change will come in the next century."
Actions to control one will help control the other.
The report comes amid the Trump administration's dramatic rollback of environmental regulations that advocates say risk exacerbating public health issues.
Last week, the Environmental Protection Agency moved to eliminate the Clean Power Plan, a set of Obama-era regulations that put strict limits on carbon emissions from coal-fired plants. Health advocates said that scrapping the rules, which never went into effect, would have reduced asthma and other respiratory illnesses.
In June, the agency put a two-year pause on regulations to reduce emissions from oil an gas operators, despite acknowledging that pollution from the leaks results in "disproportionate" harm to children. In March, the EPA refused to ban a brain-damaging pesticide. 
Willa Frej contributed reporting.
Calling all HuffPost superfans!
Sign up for membership to become a founding member and help shape HuffPost's next chapter
BEFORE YOU GO
PHOTO GALLERY
Republican Party Platform: The Environment