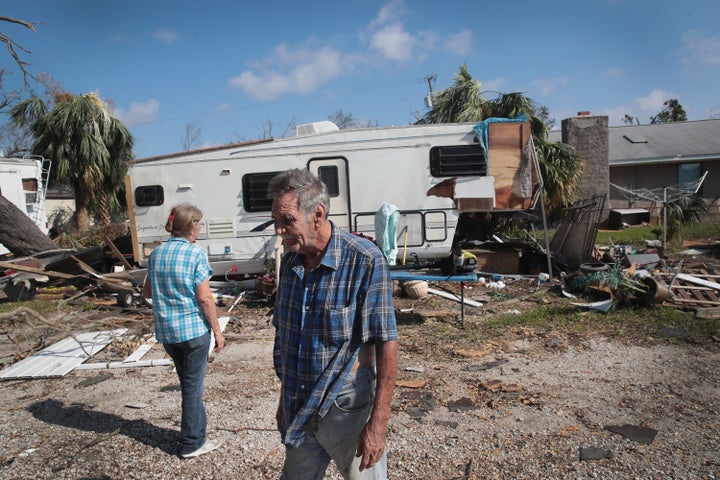 When Luis Barrios climbed out of a canoe and trudged through knee-deep waters into his parents' modest home in north Houston days after Hurricane Harvey hit last year, he was shaken. There was debris everywhere. The few pieces of new furniture his parents had recently bought were soaked beyond repair. A lifetime of family photos floated through the filthy stormwater.
Barrios' parents didn't have insurance. He estimates his parents lost about $10,000 worth of belongings. On top of that, they spent $2,000 to repair their minivan, which had severe water damage.
But Barrios was comforted by his faith and the fact that it would just be a matter of time before his family recovered. A year later, Barrios isn't so sure anymore.
"Hurricane Harvey rocked us," Barrios, 40, told HuffPost.
Barrios and his parents ― Patricia, 59, and Juan, 63 ― were living paycheck-to-paycheck before Harvey and were just getting by. In the year since, bills have steadily piled up, leaving the family in an elusive game of catch-up from which they may never escape.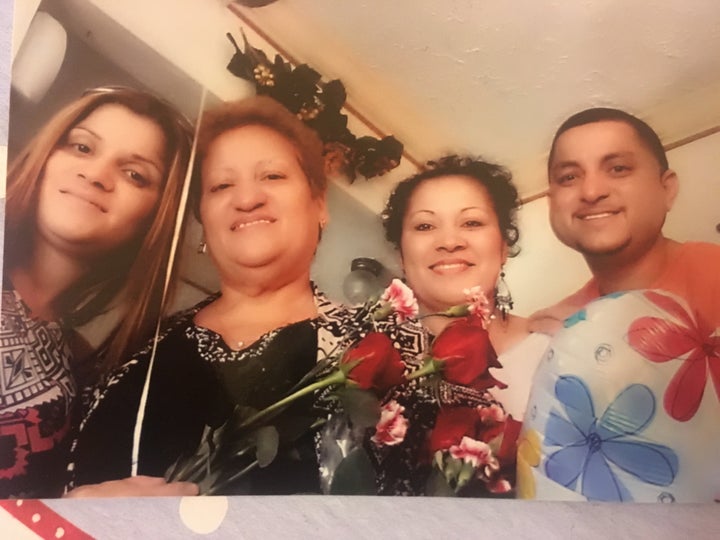 Natural disasters are often referred to as "great equalizers" because they don't discern between rich and poor victims. But low-income people can't prepare for a hit the way well-off people can, which means they're far more likely to have their lives uprooted.
This stark reality has come into full view once again in the wake of Hurricane Michael after the ferocious storm slammed into the Florida Panhandle last week.
The hurricane claimed at least 30 lives and left hundreds of thousands of residents without power. It will likely leave a lasting imprint on the poorer areas ravaged by the storm, where residents were already struggling. Panama City, where about 1 in 5 residents lives below the poverty line and neighborhoods have been flattened beyond recognition, is one of those cities where hurricane victims will be reeling for years to come.
"People who were already living on the margins and down in the cracks before this happened had next to nothing," said Anne Hinze, a volunteer with CrowdSource Rescue who has brought supplies to people in need in Panama City. "Now, they have absolutely nothing."
Hinze said she met one family that had all of $2.50 the day before the hurricane. They had to decide whether to buy heart medicine for the father or a little bit of gas. They decided to buy gas and are now desperate to find a way to get the prescription.
More than 1,000 people are still missing in the Florida Panhandle. Most are from Panama City and are likely impoverished, elderly or have disabilities.
Poor people often have no choice but to stay behind when a hurricane hits because they can't afford the costs ― gas, hotel rates and other expenses ― involved in evacuating. People with warrants or who are on house arrest are often hesitant to seek refuge at shelters. Some may not even be aware of the storm's threat.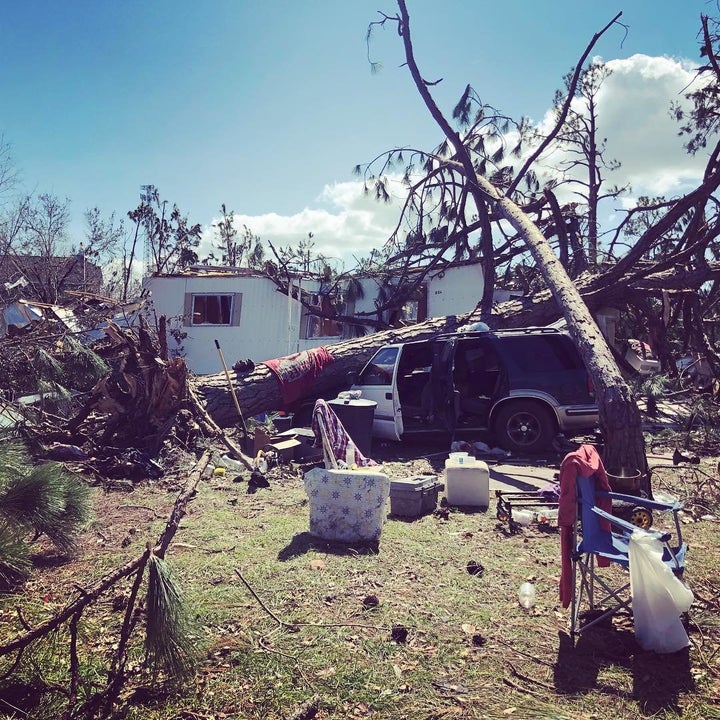 CrowdSource Rescue is a volunteer-run disaster technology platform formed during Harvey and has been involved in searching for missing Michael victims, focusing primarily on areas without power and neglected areas that the Federal Emergency Management Agency hasn't yet reached.
Hinze and her husband, who live about 60 miles west of Panama City, packed their car up with water, menstrual hygiene products, food and other supplies to bring to people in need two days after the hurricane. The pair met a couple who haven't had cellphones since the summer and have no television. They had no idea that a storm was headed there way.
"It sounds crazy, how do you not know a storm is coming?" said Matthew Marchetti, co-founder of CrowdSource. "That's these peoples' reality sometimes."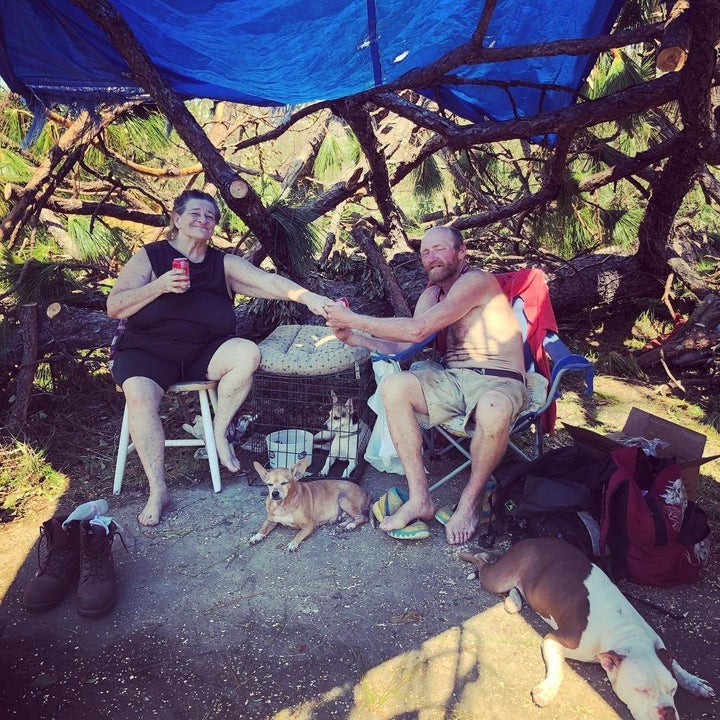 Additionally, for low-income people who endured damage to their homes and personal property in Florida, it could take years for them to recoup the losses.
It's a common refrain among vulnerable people who experience hurricanes and other natural disasters.
After Hurricane Katrina, for example, more than 250,000 people were displaced from their homes, many of whom were shipped to neighboring states where they had no connections. Even as much of the city has recovered, the rebuilding effort was far more difficult for some communities. Five years after the storm, New Orleans' white population pretty much returned to its pre-storm level. But today, there are still about 100,000 fewer black people living in the city than there were before the storm. While some people have built new lives in other places, many people who want to return simply can't. Lack of affordable housing is one issue. Costs associated with moving and complying with new housing safety standards are another.
That a major natural disaster can hurl a family living on the fringes into a downward spiral makes sense. Most Americans today can't even afford a minor emergency. According to a January report from Bankrate, a website that provides financial advice, just 39 percent of respondents said they'd be able to cover an unexpected $1,000 bill with funds from their savings. Most of the other respondents said they would have no choice but to pay with a credit card, borrow from family and friends, or get a loan.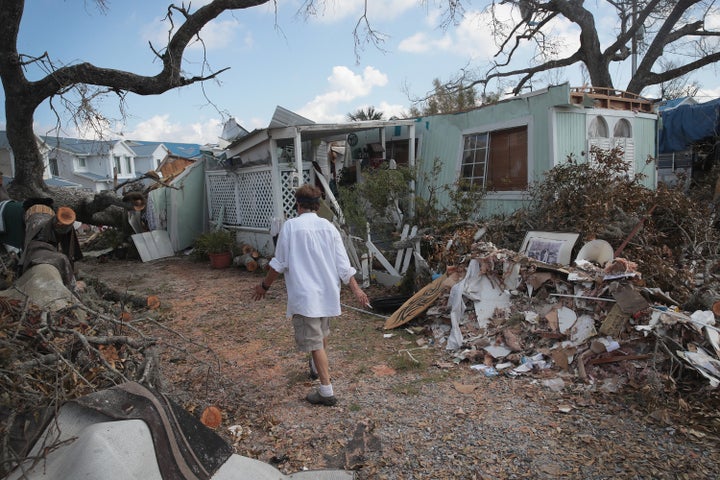 Hurricanes are particularly punishing because of the exorbitant costs associated with adequate preparation.
Low-income people are more likely to live in areas that are susceptible to storm shocks and reside in shabbily built homes that can't withstand major damage, according to a report by the Brookings Institution last year. In Houston, for example, low-income neighborhoods were the hardest hit by Harvey, in large part because the city spends more on infrastructure in wealthier neighborhoods. Lower-income areas are also less likely to have embankments, drainage systems and other measures that can protect them from raging floodwaters.
This demographic is also less likely to be able to afford flood insurance, which they can be penalized for.
After Hurricane Harvey, residents living in flood zones who didn't purchase flood insurance were denied funding from FEMA. Some residents said they didn't know about the requirement; many simply couldn't afford the nearly $1,100 annual fee.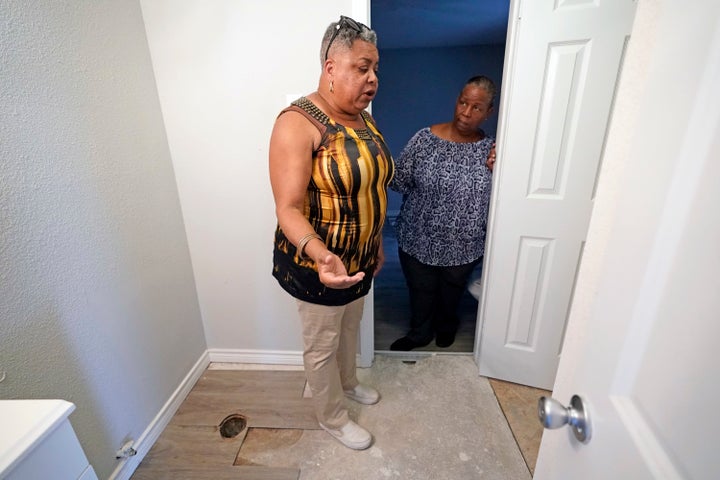 "I can pay $150 a month for flood insurance or I can eat with that money," said Marchetti, referring to the calculation that struggling people who live in hurricane-prone areas are forced to make. "They take the risk, and when a hurricane comes in, they are people who fall through the cracks."
For those without car or personal insurance, it doesn't even take losing a big-ticket item to wreck a family's finances. Having to suddenly come up with a few hundred dollars to replace a refrigerator that breaks during a storm can be the thing that sends a family into a tailspin, said Brian Greene, president and CEO of the Houston Food Bank. In these instances, strapped families may resort to seeking out payday loans ― high-interest loans with rates based on the borrower's credit and income profile. Annual interest rates are around 400 percent and can plunge families into inescapable debt.
"All these things that pile on are fundamentally different for families of modest means than they are for middle- and upper-income families," said Greene. "It's not that the losses are higher ― it's the ability to absorb them. That's the disparity."
Hinze said that the people she's met in Panama City are experiencing this very disparity. The National Guard is giving out supplies to victims in need, but people living in remote areas have no way to access those services. Even in trailer parks that have been decimated, people have stayed behind because they have nowhere to go.
Some FEMA officials have come by and told residents to "register" on a website for disaster assistance. But many of the residents don't have cellphones or cell service, and most don't have access to Wi-Fi, Hinze noted.
Hinze said she's going to return to the area to bring supplies, but knows this is a short-term fix, and she worries how these people's lives may continue to spiral as the weeks go on.
A year in, the Barrios family in Houston is living out this very fear as they try to recover from their lost wages and property.
Prior to the hurricane, which caused about $125 billion in damage in Texas, Juan Barrios worked full time at a local golf club, where he earned about $11 an hour. The facility shut down after the storm, and Juan was out of a job, with no pay, for about three months. Patricia Barrios doesn't work and has diabetes. Her health has been declining, and she has accrued about $50,000 in medical bills. Their landlord raised the rent ― which is standard after a storm hits. Patricia and Juan couldn't afford the $150-a-month hike, so they moved in with Luis, whose home was spared during the storm.
Luis Barrios was happy to take in his parents but has his own financial struggles. He earns $10 an hour doing maintenance work at a local church, but recently experienced a brain aneurysm. Barrios has $30,000 in medical bills and will likely have to move soon.
While the Barrios family's case is devastating, it's not all that unusual, and one likely to be repeated many times over in the aftermath of Michael.
Barrios says his mother can't help but cry, especially over the irreplaceable items like damaged family albums. He said he's trying to stay hopeful, but it's hard.
"I want to be encouraged to say it is going to get better," Barrios said. "But the way life has been, my spirit will tell you: 'Wow, it's going to be a long time before I get back on my feet.'"
Related
Before You Go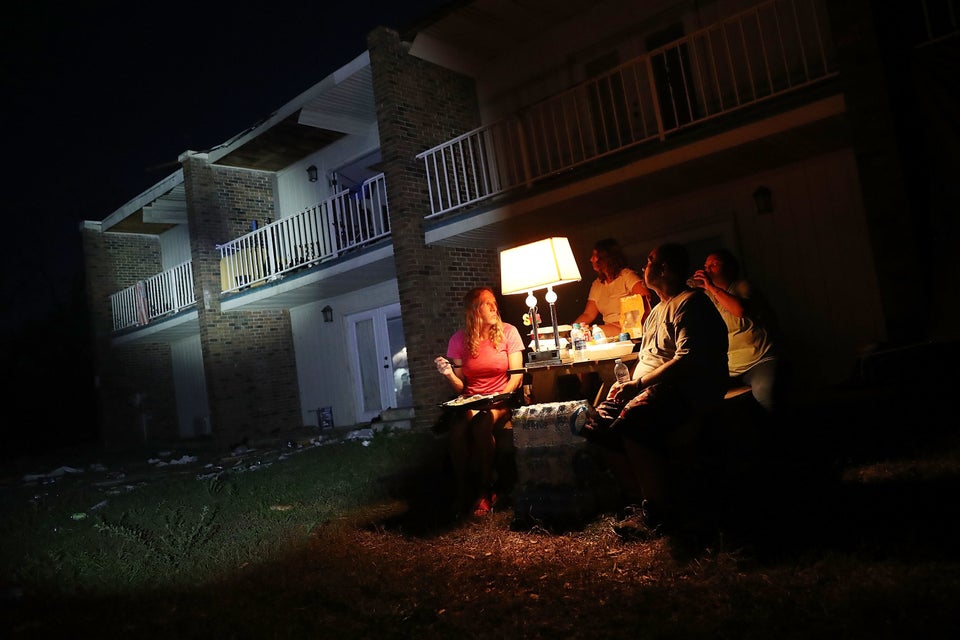 One Week After Hurricane Michael
Popular in the Community