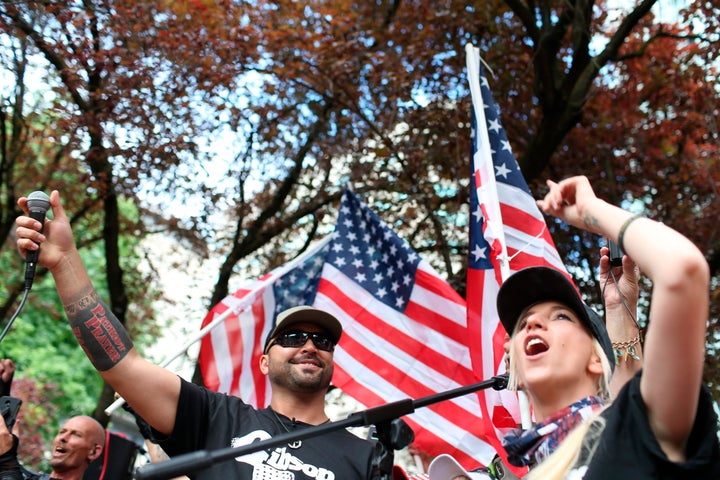 On Aug. 4, the Portland Police Bureau in Oregon protected two proto-fascist gangs as they marched around town, some in full body armor, in a planned disturbance disguised as a free speech rally.
Members of Patriot Prayer and its violent, punch-happy bodyguards, the Proud Boys, laughed and cheered behind barricades as cops fired dangerous rubber bullets and other nonlethal weapons at their opposition: a mix of local anti-racist and anti-fascist demonstrators. Cops nearly killed one of those these counterprotesters when an impact grenade penetrated a man's helmet and embedded itself into his skull.
Police claimed anti-fascists had hurled projectiles at riot cops — something two HuffPost reporters on the scene never witnessed. Days later — after outrage over the department's response to the rally — Portland Police Chief Danielle Outlaw said on a conservative radio show that protesters were acting like children and were only "mad because I kicked your butt."
What Outlaw didn't say at the time was that the people she and her department defended had even more weapons than police had revealed to the public. Mayor Ted Wheeler told reporters Monday that police found a group of Patriot Prayer members on Aug. 4 with guns on a rooftop before the demonstrations that day — and didn't say a word.
Instead, police acted as their personal guard and kept silent about the guns for two months, when Wheeler found out about them.
During a press conference, he recalled the rally on Aug. 4, revealing that "the Portland Police Bureau discovered individuals who positioned themselves on a rooftop parking structure in downtown Portland with a cache of firearms," according to The Oregonian. Police released a statement Tuesday "clarifying" that the cache consisted of three rifles in their cases. "After further review it has been determined that no firearms were seized or taken as safe keeping from the individuals," the statement said.
Assistant Chief Ryan Lee said that the unidentified Patriot Prayer members were legally carrying the weapons and that officers didn't make any arrests.
Asked why the public wasn't made aware of the gun cache, Outlaw reportedly said, "Hindsight is always perfect." At the time, Portland police released photos and information about weapons seized during the rally but didn't mention the guns:
Joey Gibson, the leader of Patriot Prayer, who has had Proud Boys among his bodyguards at various rallies he has held in the Pacific Northwest, told The Oregonian that Monday was the first he had heard of the weapons stash.
Portland is a city with a white terrorism crisis. It has long been a battleground for "alt-right" factions and counterprotesters, a haven for violent neo-Nazis and white supremacists, and a difficult city for people of color and non-Christians. There have been numerous violent rallies over the past few years in which out-of-town fascists descend on the city to fight local protesters ― and though the city is scrambling to fix the problem, community leaders say it has had multiple opportunities.
"It's just disappointing that Portland leadership doesn't recognize that it itself is under attack," said Eric Ward, a longtime civil rights strategist and the executive director of Western States Center in Portland.
"This is a political group that associates with the 'alt-right' that comes into Portland with the specific intent to both intimidate and to spark violence," he said. "This isn't a fight between two factions. This is an assault on our values as a community, on what we want to be as a city. And we're losing."
Violent protests involving Patriot Prayer and the Proud Boys erupted on the East and West coasts this weekend, sparking a nationwide conversation about what to do with a pro-Trump gang that has gone relatively unchecked by local governments for years.
He reportedly learned of the weapons cache while reviewing that ordinance.
Portland police didn't respond to calls for comment for this article.
CORRECTION: A previous version of this story stated incorrectly identified the mayor of Portland as Tod Wheeler. His name is Ted Wheeler.
Popular in the Community