For one weekend, a violent misogynistic and homophobic street gang of proto-fascists ran amok on the East Coast and West Coast, seeking out and then assaulting protesters in Portland, Oregon, and New York City.
The Proud Boys ― a pro-Trump fraternity known for acts of violence ― started their outburst of violence on Friday night, immediately after members left an event headlined by their leader, Vice co-founder Gavin McInnes, at the Metropolitan Republican Club, the GOP's headquarters in New York City.
Footage shot by video journalist Sandi Bachom shows a group of Proud Boys setting upon three anti-fascist protesters on a street on Manhattan's Upper East Side, then beating them on the ground while screaming homophobic slurs.
"Do you feel brave now, faggot?" one of the attackers yelled, according to two journalists on the scene. Another video shows multiple attackers yelling "faggot."
McInnes was present after the assault, waving a sword. He had billed his New York appearance as a celebration of the anniversary of a Japanese ultranationalist who assassinated the head of the Japanese Socialist Party with a sword on Oct. 12, 1960.
New York police said in a tweet on Sunday they were seeking public help identifying three people in the attack, and added that "no complaints" had been filed after the "violent incident."
Anti-fascist activists named the alleged assailants on Twitter, along with other Proud Boys members in attendance. An NYPD spokesman wouldn't confirm the identities of the suspects, and was unclear whether investigators were aware of the tweets. 
Though no Proud Boys members were arrested, three anti-fascist demonstrators were collared after the melee, their attorney told HuffPost. They were arraigned Saturday on charges of assault and petit larceny and were released on their own recognizance.
The Oregonian characterized the New York attacks as "a backdrop" for what occurred in Portland on Saturday night: The far-right group Patriot Prayer, whose leader Joey Gibson counts several Proud Boys among the ranks and as his bodyguards, marched through the streets and brawled with counter-protesters. Portland police reported seeing hard-knuckle gloves, knives, batons and firearms.
Police didn't immediately make any arrests.
"The Portland Police Bureau's objectives for today's events were to provide a safe environment for everyone, including participants, non-participants and bystanders," Chief Danielle Outlaw said in a statement issued shortly after the brawls ended last night. ...

This answer is unlikely to satisfy anyone ― either the participants in what amount to gang battles, or the observers who have come to view downtown Portland as a war zone.
In New York, politicians have had enough. Gov. Andrew Cuomo ordered state police to assist the NYPD investigating Friday's violence, and lashed out at the GOP for inviting the Proud Boys in the first place.
"Why would the Republican Party at their main club invite the Proud Boys?" Cuomo asked in a conference call with reporters on Sunday. He called the invitation to McInnes a "political tactic because what they're trying to do is fire up their base."
In May, HuffPost reported that a Proud Boys member was sent to the Pennsylvania home of comedian Vic Berger to intimidate him and his family. Berger regularly posts videos making fun of McInnes and the Proud Boys. At the time, the Proud Boys organization was circulating a mailer calling for action against opponents:
"Let's get the social media profiles, phone numbers and addresses for their bosses, mothers, fathers, brothers, sisters, boyfriends, friends and get to work," it reads. "LET'S SHOW THEM THERE ARE CONSEQUENCES!!!"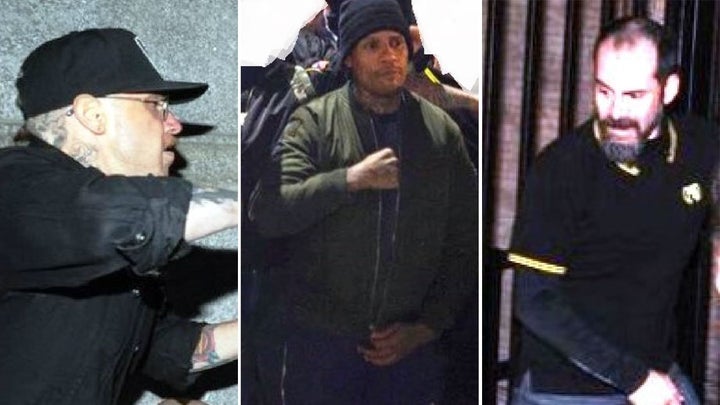 Calling all HuffPost superfans!
Sign up for membership to become a founding member and help shape HuffPost's next chapter