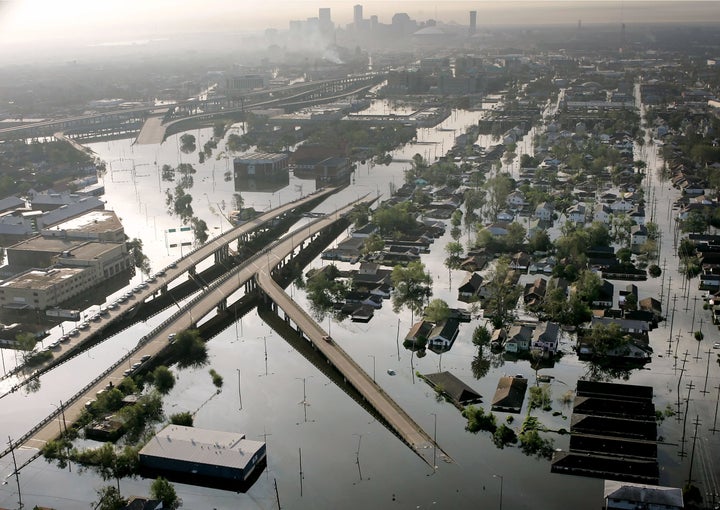 If you could wave a magic wand, go back to mid-August 2005, and live your life from there, would you do it?
A friend asked me this question a few weeks ago as we discussed the upcoming fifth anniversary of Hurricane Katrina, which devastated our city and our psyches. I answered that if I could relocate my pre-Katrina house to an area that did not flood when the underfunded and poorly constructed 17th Street Canal broke, I would not wave that magic wand. Oh no, he replied, it's a yes or no answer, no ifs, ands, or buts allowed. All or nothing. After experiencing the initial shock of losing my house and my two cats, the four months spent in limbo in a rental house in Atlanta, and a long and harrowing emotional recovery, I was surprised to hear myself say, absolutely not, I would never want to go back in time and live as if Katrina had never happened.
This unusual query caught me off-guard. I had never been asked this before, and most people with a conservative sense of decorum would probably think it inappropriate and impolite to even wonder. It's not a popular hypothetical, not around here where people are still unable to rebuild their homes and overcome post-traumatic stress disorder, but my life is much richer because of Katrina. I have fallen in love with New Orleans. When I was a sophomore in high school, I couldn't wait to relocate to the northeast. In July 2005 I was living a sheltered life in a suburban-esque community on the outskirts of the city, but these days I enjoy hanging out in my center hall cottage in Faubourg-St. John, just three blocks from the bayou. I listen to Irma Thomas and Dr. John, look for Mardi Gras Indians on Super Sunday, and dissect the minutiae of each episode of Treme. Five years ago, I was oblivious when it came to such cultural gems.
My perceptions about positive change, however, are not limited to myself. There's no doubt that the city is coming back, and New Orleans has become a dynamic experiment in grassroots organizing. People from all over the world have relocated here because they want to help out. Liz McCartney's St. Bernard Project has been so successful that it is no longer rebuilding those houses destroyed in St. Bernard during Katrina, but beginning construction on new homes. Hundreds of college graduates have participated in Teach for America, doing their part to repair and reform our broken school system. Young entrepreneurs are moving here in droves to be a part of a great renaissance. Something special is happening here.
And then I watched Sunday's Dateline NBC, Brian Williams' self-described time capsule of the first five days after the storm and his reflections on the devastation and helplessness, and realized I must retract my answer. It was my first time seeing a lot of those images and videos that became so famous, because during those five days my parents did their best to shield all of us from the twenty-four-hour news networks. Since then I have seen photographs of my own flooded-out home and neighborhood, read Anderson Cooper's memoir about reporting from disaster sites, and stay up to date on the Danziger Bridge police shootings.
It took me a few years to be able to talk about any of it, more years to feel like I could read about it and now, for the first time, I'm writing about it. My family has stayed strong, I suffered nothing more than extreme grief and mild depression, and I thought I was doing pretty well. But how do you react to emaciated bodies in wheelchairs, dead from dehydration, starvation, and lack of emergency medical care? You cry to the point of physical exhaustion. I bawled when Williams started to talk about all of the pets swimming in that toxic water or wandering the empty streets, because all I could think about were my two cats that drowned in the six feet of water that the 17th Street Canal unleashed on our neighborhood.
As a student of political science, I am quite familiar with Thomas Hobbes' anarchic state of nature and his famous observation that life is nasty, brutish, and short. It was, however, only a theory. No one had ever witnessed such an environment, but then Katrina happened. Williams made sure to include a lot of footage that showed homeless refugees looting the stores on Canal Street in broad daylight, stealing eight boxes of Nike sneakers at a time or scrounging for diapers and toilet paper, while others fired at policemen. Now I know that Hobbes wasn't kidding, and what I saw Sunday night was both shocking and paralyzing. It dealt a devastating blow to whatever iota of confidence had prompted me to say that my post-Katrina life was better, unthinkable after that hour-long reminder of all the death and destruction.
At this point, I don't have an answer to that question. The bad can never outweigh the five years of progress, but Katrina happened. As author Louis Maistros wrote in an August issue of The Times- Picayune, "What happened to us in the summer of 2005 isn't something you recover from. It's something that you stand up to if you're able, and it's something you may conspire to defy if you choose--but you never really recover from it." Truer words were never said. I had considered myself to be recovered, but on this five-year anniversary I have to face reality: My name is Allison Good, and I'll be recovering for the rest of my life.