Twitter, in short, 140-character messages meant to grab someone's attention bait, hook and sinker. With a soft opening in April 2014, Robert Downey Jr. took John Favreau's advice and began his relationship with Larry Bird. And I'm not talking about the basketball player.

Downey warmed up to Twitter with a few disconnected messages to fans and a warm endorsement to a family member. Soon he ventured out to Marvel buddies and slowly began sliding down the slippery slope that calls out, "Can I get a ReTweet?"
For a while the tweets continued to appear days apart while fans waited on baited breath. It was obvious that while he opened the account and knew how to use it, he wasn't thinking about it often enough. And so they sat.
And then it happened--a simple 140-character tweet with a picture of Robert on the set of the new Avenger's Age of Ultron movie. Within minutes, RDJ's handle lit up like Stark Tower with 27,000 retweets, 42,000 favorites and countless comments reading a myriad of I Love You's and Please Follow Me's. And this moment, this very moment is where Robert Downey Jr. realized that Twitter could help him close that gap between himself and his fans in a safe and secure setting.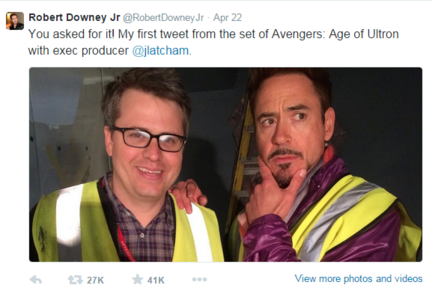 We continued to see tweets about Ultron, though not as many as we would have hoped. Soon after Ultron he moved on to promote the film Chef starring his buddy Favreau. Downey had a small part in the movie and he obviously wanted to see it do well. But like last time, the tweets weren't coming fast enough.
On June 19th Robert introduced us to Team Downey's pet project The Judge. He stated "This is the kind of movie I grew up wanting to make. Only took 49 years. Enjoy.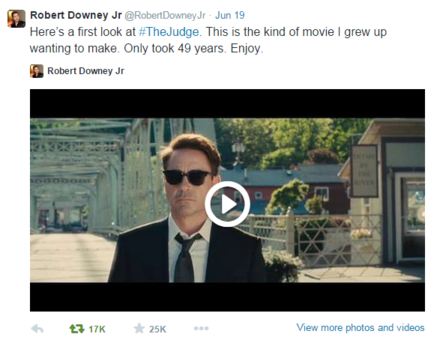 Not much was said after June 19th on the subject of The Judge. But interest had been planted, so fans kept an eye on Downey's Twitter account.
What happened next could be forever designated B.J. (Before Judge) and A.J. (After Judge). The Judge was screening at TIFF and Robert was a bundle of nervous energy and he took it out on Twitter. His fingers didn't leave the smart phone keyboard for any great length. He wanted to share everything with his fans and we ate it up and shared it with all of our followers who then did the same. This is called Brand Awareness. Hey everyone look over here, I made a movie and I want to share it with you so you'll share it with your friends.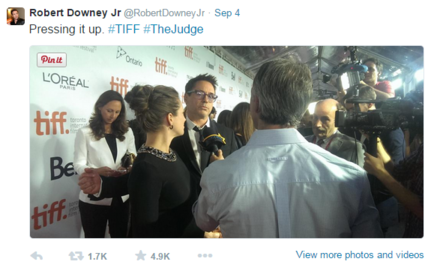 Robert Downey Jr. promoted The Judge in every way he knew. He began by showing us photos and special clips from the movie. Then he took to speaking directly to the fans via video. When he hit the TIFF red carpets, he would ask someone else to take pictures with his phone so he could send up to the minute 140 character messages always carrying the hashtag #TheJudge so we the fans could feel involved in his experience.
Once the TIFF screening died down and the The Judge press tour really took off Downey upped his game. He debuted a Carmen SanDiegoesque game called "Where In The World Is Robert Downey Jr.?" Every few days when he traveled to a new city on his press tour he'd begin giving clues to where he might land for a surprise appearance. The final clue for those who hadn't already guessed would be glaringly obvious. Yet again, he had the fans right where he wanted them.
And finally to polish off what was already a perfectly saleable product, Downey hosted a live Twitter Q&A where he did his best to answer as many of the fan's questions as he could in 30 minutes. Thirty minutes might not sound like a lot of time, but in Robert Downey Jr. time that's a shower, a nap and a full dinner. He's busy, he's got places to be and people to see. And he devoted this time to his fans because he knows how to create entertaining brand engagement that makes fans happy. A well-fed fanbase means so much in the grand scheme of things.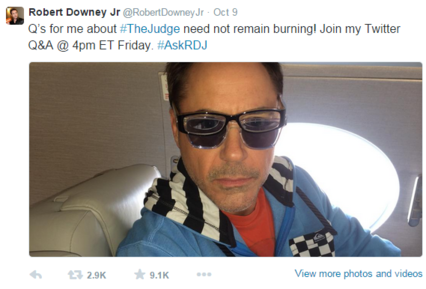 Once The Judge hit theaters it wouldn't have been completely off the wall to assume Robert would take a break from Twitter to rest his eyes and fingers while fans enjoyed the movie. Instead, fans became overjoyed when he began retweeting their emotional responses to the movie's plot. He obviously understands the importance of maintaining brand loyalty and judging by the responses he receives, it works.
Promotion has always been a forte for Robert Downey Jr. so it comes as no surprise that he picked up quickly on social media. He's also a smart business man who sees this opportunity for what it is--a global trend that will not be ignored. Robert Downey Jr. is, as usual, a futurist.
The Judge is in theaters now and I give it a heartwarming two thumbs up.
REAL LIFE. REAL NEWS. REAL VOICES.
Help us tell more of the stories that matter from voices that too often remain unheard.