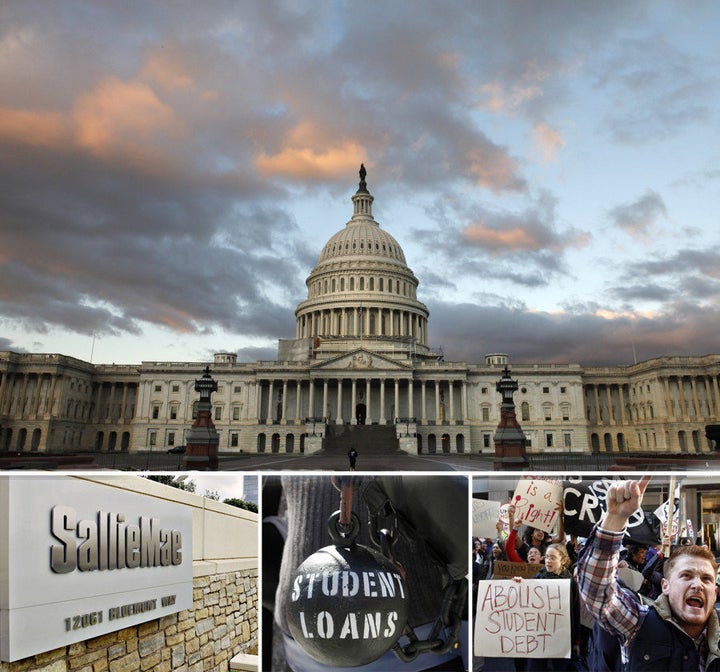 NEW YORK -- Edith Oquendo wishes she could file for bankruptcy.
When Oquendo, a resident of Kissimmee, Fla., left her job as a photographer at Walt Disney World after she developed carpal tunnel syndrome, she decided she would go back to school "to better" herself. She heard about Full Sail University, a Florida-based, for-profit college specializing in the entertainment industry with many courses online. Oquendo enrolled, hoping to learn about new photo technology and design programs like Photoshop.
To pay for it, Oquendo took out a private student loan. A few years later at age 46, she's $33,000 in debt with no degree. She's struggling to make payments since she also has fibromyalgia, is on disability and is unable to work as much as she'd like.
"I wish I just could go back and undo everything," Oquendo said. "Knowing then what I know now, I would have never taken out the student loan."
Oquendo had to stop taking classes when her own health deteriorated. At the same time, her husband was diagnosed with a rare autoimmune disease and needed a liver transplant.
If she could file bankruptcy to erase the private student loan debt she owes to Sallie Mae, she would. But because of a 2005 reform law, private student loans cannot be discharged in bankruptcy, except in extremely rare cases. Oquendo isn't alone. Today, 2.9 million Americans have private student loan debt, owing about $150 billion and representing 15 percent of all student debt.
Congress Created A 'Special Circle Of Bankruptcy Hell'
Pauline Abernathy, vice president of the Institute For College Access and Success, said a majority of students who graduate from for-profit colleges today have some private student loan debt, but even if bankruptcy were an option, it wouldn't necessarily be an easy way out.
"Going into bankruptcy is not something anyone likes to do or wants to do, it's not something that anyone does lightly," Abernathy said.
In 2007-08, around the same time as Oquendo attempted to pursue a degree, almost half of all students at four-year, for-profit schools had private student loans. Student loan debt nationally topped $1 trillion in 2012, more than credit cards, car loans or any other type of consumer debt.
"It's a special circle of bankruptcy hell reserved for dads who avoid child support and tax evaders," said Rich Williams, higher education advocate for U.S. Public Interest Research Group.
Student borrowers who pursued an education and ended up struggling in the economy are stuck, he said. "No student ever thinks they're going to be the one not to find a job or be crippled by a health incident and wind up facing bankruptcy," Williams said, adding that most students don't even know there's a difference in how student loans are treated concerning bankruptcy.
It wasn't always like this. Congress changed the law in 2005 in a broad bankruptcy reform package ushered through by Republicans.
The bankruptcy exemption for private student loans was part of the Bankruptcy Abuse Prevention and Consumer Protection Act, sponsored by Sen. Charles Grassley (R-Iowa). When reached by HuffPost, Grassley's office insisted the rising cost of tuition is the real issue.
"As far as bankruptcy policy," said Jill Kozeny, communications director for Grassley's office, "the vast majority of student loans are federal loans, and private loans typically make up a similarly small percentage of debt for the students who take them. So even if waiving financial obligations was an appropriate response to student indebtedness, doing so in this case would have little impact on the overall student loan debt problem."
Federal loans do account for 85 percent of the student loan market, and are also not eligible for discharge in bankruptcy. However, federal student loans have income-based repayment options and carry interest rates far lower than private student loans. Federal and state government programs also offer loan forgiveness for people who enter into certain public service programs.
"We don't believe there is a rationale for it other than the banks lobbied for it," Abernathy said. "There's no reason why private student loans should be treated differently than gambling debt," when it comes to bankruptcy eligibility.
Thecongressional record reveals little open discussion about private student loan changes leading up to passage of the legislation.
The Obama Administration Weighs In, Reports Call For Reform
A recent report by the Consumer Financial Protection Bureau and the U.S. Department of Education said Congress should consider revisiting the bankruptcy exemption for private student loans.
"Without the ability to discharge their loans, borrowers have looked for other ways to handle their debt," CFPB director Richard Cordray said. "But many borrowers told us their lenders were unable or unwilling to modify or adjust repayment terms even in these tough times. And the borrowers feel they have little leverage to negotiate reduced loan payments with their lenders."
Cordray said the CFPB found that after the law was changed in 2005, private lenders continued to issue subprime student loans, and there was no cost savings to students. Today, with stricter lending rules and a tighter credit market, 90 percent of private loans require a cosigner, and those cosigners also are unable to discharge the debt.
"We try to be very careful about [what] we're saying about the bankruptcy issue," Cordray told The Huffington Post in July. "We looked to understand whether the assumptions Congress had in mind can be verified by data. What we have found was that we were unable to find strong evidence that it caused prices to decline."
Cordray added that if Congress concludes the 2005 changes to the bankruptcy law regarding private student loans did not accomplish what was intended, "it would prudent to consider whether they wish to modify the code.
One of the largest student loan companies backs bankruptcy reform as well.
Jack Remondi, chief operating officer of Sallie Mae, said in his testimony at a recent Senate banking subcommittee hearing his company supports allowing new federal and non-federal to be eligible for discharge. "Responsible lending standards, clear information and consistent laws are good for borrowers and lenders alike," he said.
Patricia Nash Christel, a spokesperson for Sallie Mae, explained to HuffPost it supports allowing borrowers who make a "good-faith effort to repay their student loans over a five-to-seven year period and still experience financial difficulty" to discharge them in bankruptcy.
Wells Fargo, another major player in the private student loan game, opposes changing the bankruptcy law. "Rather than encouraging bankruptcy as the primary repayment assistance tool, the CFPB report should have focused on expanding repayment tools and options for private loan lenders to be able to offer customers," said Erin Downs, assistant vice president of communications for Wells Fargo.
Sen. Bob Corker (R-Tenn.), ranking member of that Senate banking subcommittee, would not comment for this article, but said at a the hearing he worried changing the bankruptcy law would create a hardship for private lenders and banks.
"I just find it fascinating that one of the first things that you would do as a consumer protection agency" is propose allowing private borrowers to seek bankruptcy protection, Corker said.
But Mark Kantrowitz, publisher of FinAid.org, believes reform would be beneficial to lenders and borrowers alike.
"The prospect of losing loans to bankruptcy discharge will force lenders to offer struggling borrowers more options for meaningful financial relief," Kantrowitz wrote in a recent study on student loan trends. "It will also encourage lenders to adopt more rational credit underwriting criteria that will prevent borrowers from graduating with excessive debt."
Richard Durbin's Quest To Reform The Private Student Loan Bankruptcy Law
For the past three sessions of Congress, Sen. Dick Durbin (D-Ill.) has introduced legislation to remove the exemption on private student loans.
Durbin believes the law "treats students who face financial distress the same way as people who are trying to discharge child support debts, alimony, overdue taxes and criminal fines."
"This harsh treatment of students in the bankruptcy system was built on the false premise that students were more likely to 'abuse' the bankruptcy system," Durbin said in a statement. "Yet there is no evidence and has never been any evidence to support this assumption."
Yet, even after the CFPB report came out, Durbin told Bloomberg News his legislation was "going nowhere." Banks already had lined up against it, despite the lack of progress to get even a committee vote.
Downs warned that Wells Fargo and other lenders might raise interest rates on private student loans "to reflect additional risk."
But Williams said advocates are not seeking special treatment. "We're fighting for basic consumer protections," he said.
CORRECTION: An earlier version of this story misquoted Pauline Abernathy as saying a majority of students today have some private student loan debt. More specifically, Abernathy was referring to graduates of for-profit colleges.
Related