Every day, along with 40 other daily givers, I have the privilege of making seed grants to up and coming social change leaders around the world. All of us at The Pollination Project are happy to share the extraordinary people and projects that our community of daily givers supported this week.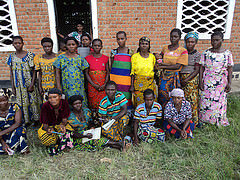 Literacy for Women in the Democratic Republic of Congo. Years of violence within the DRC have greatly impacted education for women and children. Alongside local nonprofit, FEDA, Lamartine Byahenga is developing a home-based literacy learning program for women and girls. FEDA, founded in 2007, provides education and economic opportunities to women who were denied an education as a result of the conflict and now need support to help rebuild their lives. Lamartine and FEDA intend to use the home-based learning approach to promote female literacy, empower women to access services to reduce poverty, address HIV/AIDS prevention and help build peace.
A Waste Reduction Business in India. Yash Maniar and his sister Sachi thought it was crazy that people would use a plastic spoon for five minutes and then just throw it away. Growing up in India, Yash saw beaches filled with glass and plastic waste. In response, they founded Shunya Alternatives which develops biodegradable tableware including plates, bowls and take-away cartons made from areca nut leaf and bagasse, a sugarcane by-product, plus drinking straws made from bamboo. Yash and Sachi are working to shift the current mindset about eco friendly products in India by creating aesthetically pleasing, hygienic, and sustainable items, that are also oil resistant, microwaveable, and freezer friendly. The funds from The Pollination Project are in the form of a unique zero interest "Pay it Forward" loan
.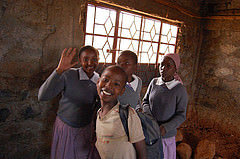 Sanitary Pads for Girls in Kenya. In Nairobi, Kenya, Josephat Bwire noted that young women were unable to attend school during their menstrual periods due to lack of menstrual supplies. The Reusable Sanitary Pad project teaches women of all ages how to sew reusable pads out of locally-sourced materials, and then sell them to local schools to distribute to the girls. In addition to training the girls on how to care for the reusable sanitary pads, they will also be taught sex education, personal hygiene, and the importance of formal education. The funds from The Pollination Project will be used to purchase sewing machines and materials to provide reusable menstrual pads for more than two hundred girls.
Fuel Alternatives in Uganda. Currently, most of Uganda's energy supply comes from forests, animal waste, and crop scraps. Burning these items has a direct negative impact on environment and health, causing respiratory and eye diseases. Kabugho Joviah, Executive Director of NYAKASANGA DEVELOPMENT COMMUNITY FOUNDATION (NYAKU) is planning to compress recycled materials into smokeless charcoal briquettes, addressing many of the health and environmental problems in his community. The project specifically targets women, who are the primary audience for fuel consumption and sales, to help them generate income and help their health of their community. By teaching communities how to make these briquettes, and encouraging them to build businesses by selling them, Kabugho says: "This project will help us...eradicate poverty out of Kasese and Uganda at large and helping women to be self-dependent."
Volunteerism in Kenya. Memory Orode founded the Humanity First Volunteer Program to match volunteers with community-based organizations in Nairobi, Kenya's Mathare Slum. Memory will be working with organizations that lack the staff to run effectively, which compromises the quality of service to their community. Inspired by Volunteermatch.org, the Humanity First Volunteer Program website will be one of the first websites in Kenya to list local volunteer opportunities. The website will be a portal where anyone can go and search for a volunteer opportunity. Memory states she "aims to promote the spirit of being each other's brother's keeper."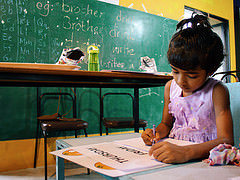 Educational Equality in Sri Lanka Valerie Handunge's grandmother, Malini, had the culturally unorthodox attitude that "Girls can do anything that boys can do." With that inspiration, Valerie left her career as a management consultant in the United States and moved to Sri Lanka to advance the education of girls with the Malini Foundation. Supported by university partnerships, well trained volunteers from around the world, and other experts, the Foundation is hosting Children's Creative Workshops to teach English as a Foreign Language (EFL). Their issues-based approach to EFL allows Valerie's team to address many of the cultural and social dogmas that impact girls' education. "I hope to grow this into a larger program that provides spoken English training, engages women in the community as leaders and connects rural villages with the rest of the world through technology," Valerie said.
A Yearning for Peace in New York. Miles Baker and Prashanth Ramakrishna are invested in building peace among citizens who live in regions of conflict. Based out of New York City, they created Perspective, a journal driven by young people, with a goal of creating a politically aware generation. Perspective is an online niche journal, focusing on conflict regions. They report key perspectives of an issue through historical synopsis, unedited interviews, personal essays and political overview. Rather than striving for impartiality, Perspective embraces variation in viewpoint and acknowledges bias. According to Miles, "Perspective hopes that in allowing readers to have access to the different interpretations of the story, we can combat media fueled conflict perpetuation and hopefully open the door for more politically aware generation." People on opposing sides of geo-political conflicts can recognize the prevailing yearning for peace.
Want to be part of the joy of giving? Join our Daily Giving Community, or simply create your own giving practice. It will change your life!
Calling all HuffPost superfans!
Sign up for membership to become a founding member and help shape HuffPost's next chapter