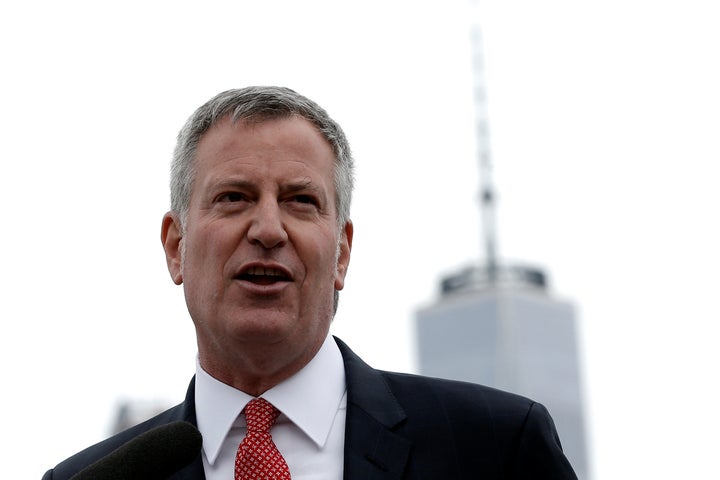 Lost in the drama between Mayor de Blasio and the city council is the truth about the people who receive legal representation by the New York Immigrant Family Unity Project (NYIFUP), the first public defender program in the United States for detained immigrants facing deportation. Our organizations have been providing legal assistance to detained immigrants for years under this program, and we can tell you that, contrary to the stories in the media, most of the people that the mayor wants to cut from our program are not undocumented or dangerous.
The majority of our clients are legal permanent residents who have been in the United States for decades. Our data show that the average length of time in this country for those who would be denied an attorney under the mayor's plan is 18 years. After all this time in New York, they have put down roots. They are our co-workers, friends and neighbors. They are women and men. Some are the only caretakers or wage earners for their families. Many are elderly, disabled or suffer from mental illness. Others are victims of violence, including gang violence, sex trafficking and domestic violence.
And while these non-citizen New Yorkers may have been arrested and convicted of a criminal offense, as hundreds of thousands of citizen New Yorkers have, they are not all dangerous or a threat to our community. While anyone convicted of one of 170 crimes would be denied legal assistance under the mayor's proposal, not all of the enumerated crimes, like those involving illicit drugs, are violent. Clients would also be denied assistance even though they are innocent, were pressured to plead guilty because they could not afford bail, or didn't understand the criminal court process. Many did not receive a jail or prison sentence by the criminal judge. And the remainder would be denied assistance even though they had taken responsibility, had already served their time and could show that they had been rehabilitated.
Our immigration laws recognize that there are circumstances when a non-citizen who is here legally should be allowed to stay in this country even if he or she has been convicted of a crime in the past. However, our immigration laws are complicated and rapidly evolving. Without us as their attorney, our clients have no other way to get legal advice and assistance. They are incarcerated in immigration jails and have lost their income. They have no way to gather critical documents and evidence in support of their case. And once they appear in court, they are up against highly-trained ICE lawyers who are prosecuting their deportation. To provide for due process under our deportation law but not provide our clients with counsel to help them understand the law and present their case to an immigration judge is not only unfair, it essentially creates a right without a remedy. Indeed, our data show that without the assistance of an attorney, only 4 percent of detained immigrants prevailed in court, and that number rose by 1,000 percent when assigned an attorney.
Providing counsel to everyone facing deportation proceedings, including those who have been convicted of a crime, does not automatically mean that an immigrant will be permitted to stay in this country. Under our immigration system, lawyers do not decide who stays and who goes. Neither do politicians. Judges do. And when our immigration judges make these decisions, they look at the underlying facts of the person's criminal conviction in the context of their length of time in this country, their community ties, their contribution here in the United States and the impact on them and their families if they were sent back to their country of origin, as well as public safety. Those who are productive members of our society, and have a legal remedy available to them under the law, may be allowed to avoid deportation. However, lawyers are essential within this process. Without an attorney to collect the necessary documents, present evidence and write legal briefs, it is almost impossible for anyone who has a legitimate claim to put forth the information so the immigration judge can make the fair and legal decision.
The mayor and others have wondered why the Department of Corrections and NYPD should turn over non-citizens convicted of one of the 170 listed crimes to ICE but then also support legal assistance for those same people. This is the wrong question because it misunderstands who our clients are. The vast majority of our clients are not sent to immigration court from Rikers Island or the precinct. Perversely, most of the NYIFUP clients that would be denied legal assistance are arrested by immigration authorities in their homes, at work, and on the street, sometimes years after they have paid their debt to society. Second, providing access to counsel even for the small number of people who are directly transferred from jail or court is not only consistent with the city's position, it is a critical component of it. When we are the ones responsible for sending people to immigration detention and immigration court, shouldn't we at least provide them with a lawyer to help make sure that the law is being applied to them fairly and properly? In today's political environment in which all immigrants are huddling in fear of being separated from their families, a modest program of legal representation whose sole purpose is to assure that anyone who is brought to immigration court is treated fairly is squarely in line with our values and priorities.
Before we give up on the program that serves such an important function for society, particularly at a time when our federal government is making enforcement and detention decisions from an extreme ideological perspective, we must consider the role of counsel in making sure that all immigrants have a fair chance in court—a chance they can only get if they have an attorney.
Justine Olderman is the managing director of The Bronx Defenders.
Lisa Schreibersdorf is the founder and executive director of Brooklyn Defender Services.
Adriene Holder is the attorney-in-charge of the Civil Practice of The Legal Aid Society.
Support HuffPost
The Stakes Have Never Been Higher
Popular in the Community