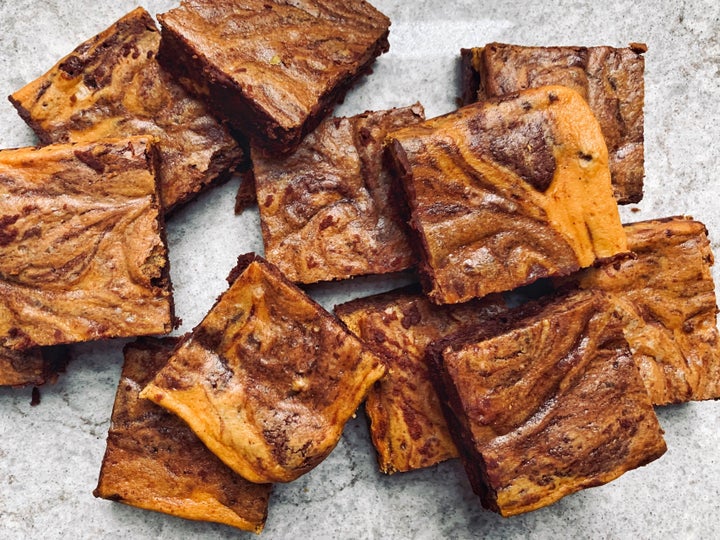 Don't get me wrong, I like a good pumpkin pie, but every Thanksgiving I try to push the boundaries of this festive gourd. To venture away from monotony, I've made every type of pumpkin pie-inspired dessert you can think of, from tarts and bars to babka and gateau Basque.
But as any holiday overachiever knows, there can be no repeat desserts. So, I present to you this year's pumpkin offering: pumpkin cheesecake brownies.
While some may shy away from mixing squash and chocolate, I'm here to tell you this is a combo that you're going to fall head over heels for. Think about it: gooey, fudgy chocolate swirled with dense cheesecake tinted with earthy pumpkin and warm spices. It's every aspect of a fall dessert you want, wrapped up into a perfect square package.
First off, let me explain why this is the perfect brownie recipe. A combo of bittersweet and semisweet chocolate is used to make a ganache with ― wait for it ― brown butter for rich, nutty notes before getting amped up by instant espresso, cocoa powder and vanilla. With just enough flour to hold it together, it's the perfect balance of cakey and fudgy, mirroring the texture of the pumpkin cheesecake. The kicker? Chunks of chopped chocolate are mixed throughout to give the perfect crunch and offer a textural contrast.
As for the cheesecake, it's all about simplicity. Cream cheese (softened so you don't get lumps!), brown sugar, pumpkin puree, egg, cinnamon, ginger and salt are all you need for a heavenly upgrade to this rich tray. You can play around with the spices all you want, but I find the hint of spice from the ginger livens up not only the pumpkin but also the chocolate, fusing the two into a gorgeous confection.
While you may be tempted to dig into these beauties right when they get out of the oven, I'm going to tell you from experience that you NEED to be patient. Not just because once they cool you can easily cut them into squares, but because they taste better over time. I found that after a few hours at room temperature, the flavors and spices truly began to sing.
Get into the holiday spirit by whipping up a tray of these bad boys, and you'll win major brownie points with your family.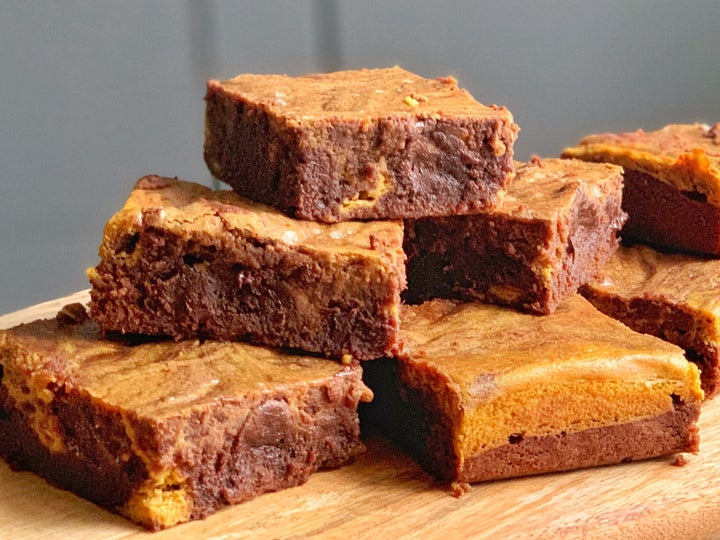 Pumpkin Cheesecake Brownies
Prep Time: 20 minutes, plus cooling time
Total time: 1 hour, plus cooling time
8 ounces semisweet chocolate, finely chopped

4 ounces bittersweet chocolate, finely chopped

2 tablespoons cocoa powder

2 sticks (1 cup) unsalted butter

1 cup sugar

1/4 cup light brown sugar, packed

1 tablespoon vanilla extract

1 teaspoon kosher salt

1 teaspoon instant espresso powder

4 eggs

1 cup all-purpose flour
For the pumpkin cheesecake:
8 ounces cream cheese, softened

1/2 cup pumpkin purée

1/4 cup light brown sugar

1 teaspoon ground cinnamon

1/2 teaspoon ground ginger

1/2 teaspoon kosher salt

1 egg
1. Prepare the brownies: Preheat the oven to 350 degrees Fahrenheit and line a 9- by 13-inch baking dish with parchment paper. In a medium bowl, combine half of the semisweet chocolate with the bittersweet chocolate and the cocoa.
2. In a small saucepan, melt the butter over medium-high heat. Cook, whisking constantly, until browned and nutty in aroma, 6 to 8 minutes. Pour over the chocolate mixture and whisk until smooth.
3. In a large bowl, whisk the sugar, brown sugar, vanilla, salt, espresso powder and eggs until smooth, then slowly whisk in the chocolate mixture. Fold in the flour and remaining chopped semisweet chocolate, then pour into the prepared baking dish.
4. Make the cheesecake batter: In a medium bowl, whisk the cheesecake ingredients until smooth. Pour over the brownies, then, using a knife or spatula, lightly swirl the cheesecake batter into the brownie batter.
5. Bake until set, 30 minutes, then cool completely. Cut into squares and serve.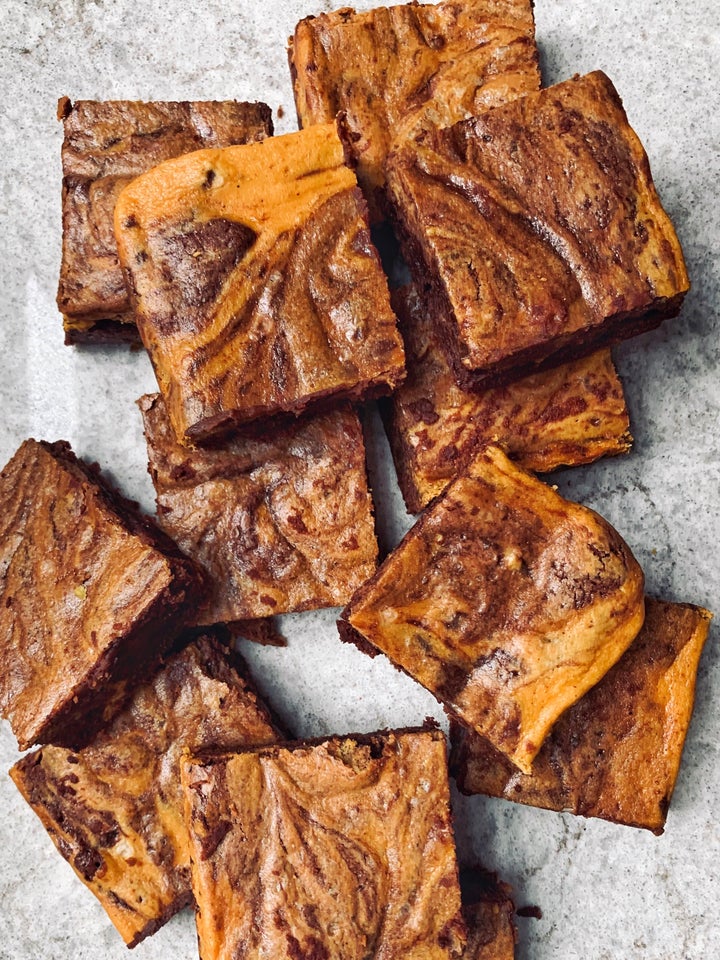 Before You Go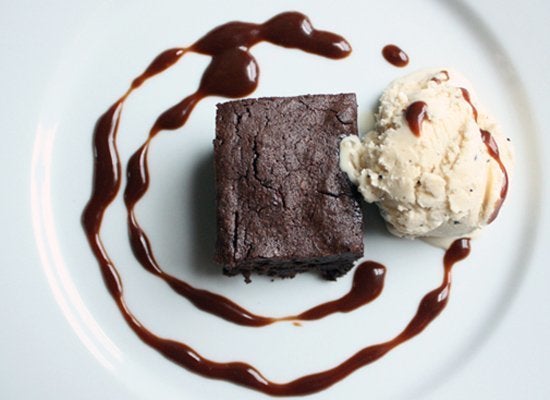 Brownie Recipes