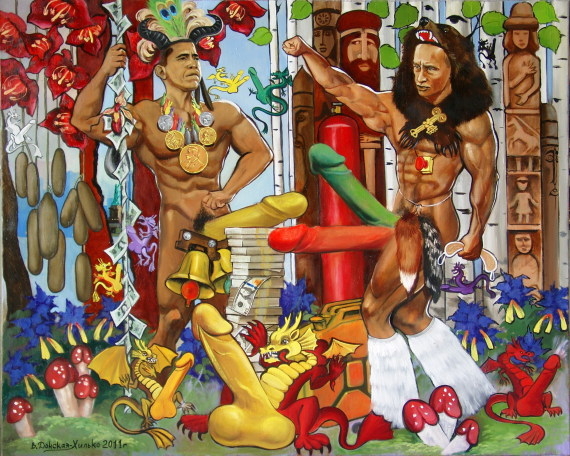 Vera Donskaya-Khilko, Wrestling, 2011, oil on canvas, 80 x 100 cm.
In an email to The Huffington Post, Donskaya-Khilko explained some of the controversial imagery contained within the painting. "Barack Obama and Vladimir Putin are in a significant fight," she described. Putin is positioned next to a gas mask and fuel container, referencing his country's natural resources, wearing a traditional bearskin hat and fox tails. Obama is painted in front of a small Statue of Liberty and a staff of dollar bills with liberty bells hanging below his waist.
According to Donskaya-Khilko, the multi-colored dragons represent the Chinese people.
Konstantin Altunin, the artist responsible for the four Putin paintings confiscated last week from the Museum of Authority, has reportedly fled St. Petersburg, while museum director Tatyana Titova has been detained by police for the second time. Both the raid on Altunin's work and the more recent raid on Donskaya-Khilko's painting occurred before the G20 summit in St. Petersburg, which begins September 5, 2013.
Popular in the Community