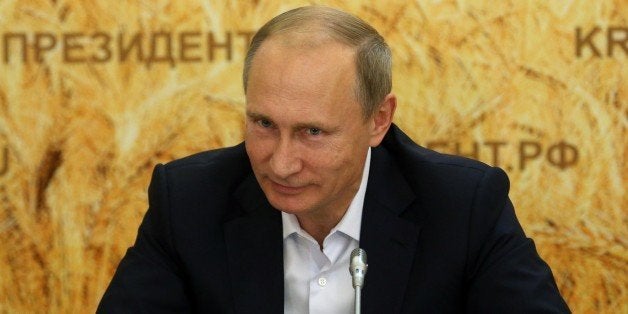 Russian President Vladimir Putin displayed acumen in his 60 Minutes interview on CBS Sunday evening as he ruled out sending Russian troops into Syria, saying, "Well, at least we don't plan on it right now."
Syria was one of many topics discussed with CBS News anchor Charlie Rose in a wide-ranging interview recorded in advance of Putin's address to the United Nations Monday. But it appears that Russia is seizing the initiative in ending Syria's civil war by throwing its support behind that country's ruthless president, Bashar al-Assad. Putin told Rose, "Well, it's my deep belief that any actions to the contrary in order to destroy the legitimate government will create a situation which you can witness now in the other countries of the region or in other regions, for instance in Libya where all the state institutions are disintegrated." In nearly five years of war in Syria more than 250,000 people have been killed and millions of refugees have fled the country.
Recently Russia has been beefing up its military in Syria, where it has long had a presence, and it has delivered new arms to Assad's forces. Putin denied that Russia is trying to establish a leadership role in the Middle East. He explained, "More than 2,000 fighters from Russia and Ex-Soviet Republics are in the territory of Syria. There is a threat of their return to us. So instead of waiting for their return, we are better off helping Assad fight them on Syrian territory."
Iraq announced over the weekend that it would share intelligence with Russia, Iran and Syria in the fight against ISIS militants. The Iraqi military announcement spelled out its reasons this way, "the increasing concern from Russia about thousands of Russian terrorists committing criminal acts within ISIS."
President Barack Obama and President Putin are scheduled to meet for the first time in a year in New York Monday to discuss Russia's moves in Syria. Russia and the United States cooperated in a 2013 deal that led to the destruction of Syrian chemical weapons. The two countries also cooperated as part of the P5 + 1 nations that negotiated the nuclear treaty with Iran earlier this year.
ISIS controls large parts of Syria and Iraq, and have brutally killed more than 10,000 people since declaring a caliphate. Their sophisticated social media campaign has drawn thousands of recruits from around the world, including the U.S. and Russia. ISIS is a growing cancer that is threatening neighboring countries, including Iran, Jordan, Turkey and Israel. They are a national security threat to Western nations.
The United States and its allies have conducted a bombing campaign on ISIS, but it has had only modest success. There has been much debate over how the Obama administration has handled ISIS, with some conservatives in Congress now calling for America to take the lead by sending in troops. More than half of those Americans polled in June by the Wall Street Journal and NBC News favored sending U.S. troops to combat ISIS. But President Obama has been opposed to such an action.
As an old Arab saying goes, "The enemy of my enemy is my friend." But even though the U.S. and its allies, Russia, Iran, Iraq, the Kurds and Syria all have an urgent need to defeat ISIS, their competing interests make a solution difficult to achieve. And with Russia's growing military presence in Syria at a time when the U.S. and its allies are bombing ISIS positions in that country, there is an increasing chance for a larger conflict.
Putin's bold move has pushed the United States into a position of having accept the tyrant Bashar al-Assad, if only for the time being. As he explained to Charlie Rose, "...There is no other solution to the Syrian crisis than strengthening the effective government structures and rendering them help in fighting terrorism. But, at the same time, urging them to engage in positive dialogue with the rational opposition and conduct reform."
Calling all HuffPost superfans!
Sign up for membership to become a founding member and help shape HuffPost's next chapter