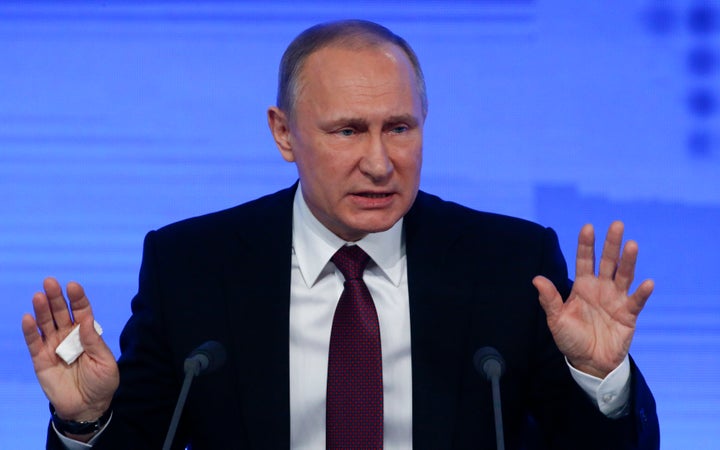 Only 9 percent of voters nationwide have a favorable opinion of Russian President Vladimir Putin, according to a Quinnipiac University survey released Friday. Sixty-eight percent say have an unfavorable view of the Russian leader.
But even among GOP voters, Putin is not very popular. Only 12 percent of Republican respondents have a favorable view of him, compared to 3 percent of Democrats and 10 percent of independents. 
However, the gap in skepticism about Putin seems to be less of a partisan issue and more a matter of age. Sixty-two percent of people between 18 and 34 years old ― a group that tends to be more Democratic ― have an unfavorable view of Putin. But three-quarters of people over 65 ― who are more likely to remember the Cold War, and to be Republican ― don't have a favorable view of him.
A HuffPost/YouGov survey conducted in December yielded similar results. It asked Americans if they consider Russia an ally, friendly, unfriendly or an enemy. Nineteen percent of people under 30 said they think Russia is an ally or friendly, while 51 percent said the country was unfriendly or an enemy. But only 11 percent of respondents over 65 said the company was an ally or friendly, and a whopping 78 percent said they considered Russia an enemy or unfriendly.
Despite widespread dislike for Putin, Americans are more split on whether the believe Russia interfered with the presidential campaign. Fifty-five percent of respondents say they think Russia meddled with the election through hacking, while 36 percent say it didn't and 10 percent say they don't know. Three-quarters of those who think Russia inserted itself in the presidential election believe the country did so in order to help Trump, and 89 percent say it's a very or somewhat important problem.
Additionally, half of Americans say Trump has been too friendly with Russia, while 40 percent say his attitude is just right. There are more voters who dislike Putin than voters who believe Russia hacked the election or want Trump to stop fraternizing. However, those who have negative views of Putin or Russia in general feel very strongly.
The Quinnipiac University poll was conducted on Jan. 5-9, 2017, and consists of 899 registered voters via landline and cell telephone with a margin of error of +/- 3.3 percentage points.
REAL LIFE. REAL NEWS. REAL VOICES.
Help us tell more of the stories that matter from voices that too often remain unheard.