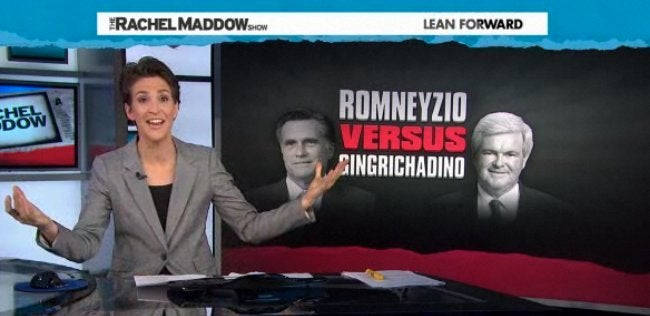 Rachel Maddow hammered Mitt Romney on her show Friday night for, according to her, being like former New York Republican congressman Rick Lazio. Maddow likened Romney to Lazio for inspiring what she called "not much enthusiasm" among voters.
"America, meet Mitt Romney. I mean Rick Lazio," Maddow said. Lazio campaigned against Hillary Clinton in the year 2000 for the United States senate. Maddow described Lazio's campaign as "creepy" and "awkward," but said that there was "nothing technically wrong with the candidate on paper."
Maddow said that Romney was similar to Lazio in that "there's really nothing wrong with him," but "there's a sort of awkwardness about him at times." She also described both Lazio and Romney as "next in line guys." She said that both candidates were seen as though they "worked [their] way up to...the next political job."
Maddow pointed out that despite Lazio being seen as the "sober" and "next in line" candidate, he lost both his run for the U.S. Senate and his later 2010 run in New York's GOP gubernatorial primary. "It's hard to escape the fact that Mitt Romney is the Rick Lazio of 2012," Maddow said. She added, "when Mitt Romney talks, people don't believe him. Everything works on paper but the parts don't add up to the sum of anything."
WATCH:
Calling all HuffPost superfans!
Sign up for membership to become a founding member and help shape HuffPost's next chapter