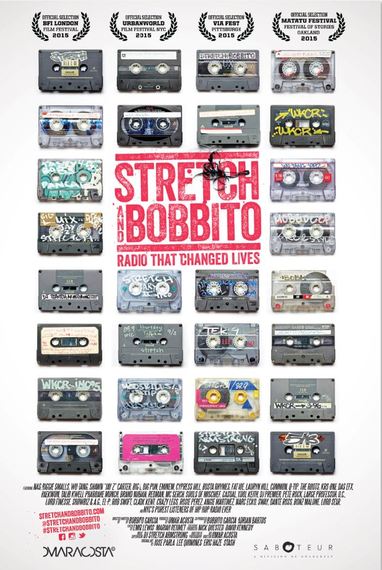 Perspective toward music is generally a byproduct of when and where you grew up. To give you an idea of where I stand, the first Hip Hop song I remember hearing was Run DMC's Down With the King. I'm sure of this, because I bought the tape with birthday money. Growing up in Scarborough -- a suburb of Toronto -- I was eventually exposed to all kinds of Hip Hop through local favorites like Monolith and Ghetto Concept, and of course stations like 88.1 and 89.5, but was definitely a few years late on the uptake.

Living in New York City these days, I constantly encounter remnants of what I consider Hip Hop's Golden Era (late 80s, early 90s). Painful reminders of how much I missed out on by being born a little late and too far north. But last week inside Harlem's Maysles Cinema, I had front row seats to a peek inside New York's legendary 89TEC9, a radio show that defined an important era of Hip Hop and launched the careers of some of the most notorious artists of all time:

Stretch and Bobbito: A Film about Radio That Changed Lives

Icons like Jay Z, Nas, and plenty more openly credit New York natives Stretch Armstrong and Bobbito Garcia for not only launching their careers, but being a part of their foundation as artists. In the 90s, a cosign from the 89TEC9 show was the ultimate seal of approval in Hip Hop. Radio That Changed Lives is an intricately assembled collage of authentic footage and interviews with industry figureheads, reiterating the consensus that the show is not only an important chapter in Hip Hop, but also modern history. Radio That Changed Lives chronicles the near-decade long domination of 89TEC9 as an incubator for Hip Hop royalty, and is a must-see not just for fans of the genre, but for everyone who appreciates music history in its rawest form.

The essence of this film can be found in the moments of genuine childlike excitement, as Stretch and Bobbito present utter legends with a Walkman containing a tape of them rhyming on the show, amidst their earliest days as emcees. These moments alone make the film an instant classic, allowing audiences the chance to see the icons of today basking in their humble beginnings and guttural appreciation for the Stretch and Bobbito show: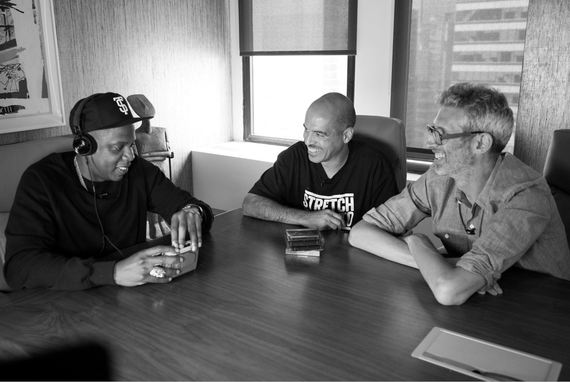 Jay Z listening to his original appearance on the Stretch and Bobbito Show. Photo credit: Matt McGinley

The Making Of ...

"Walking into our first meeting felt like I was seeing old friends," notes Omar Acosta, filmmaker and producer of the Radio That Changed Lives documentary. He listened to 89TEC9 religiously from '93 onward, and got the idea to reach out to Bobbito after seeing his acclaimed New York street ball doc "Doin' it in the Park", released in 2013. After a bit of convincing, the stars aligned and footage of eager artists who wound up becoming kings (and queens) of industry began surfacing. With a keen artistic eye and a library of priceless footage, Acosta and his team worked with Stretch and Bobbito to create a visual history book that every Hip Hop fan needs to take in.
"I don't remember sh*t!" proclaims Stretch Armstrong in the lobby of the Sirius XM Studios, where I caught up with him, Bobbito, and Acosta to discuss their film before they went on air for a special 25th anniversary broadcast with their old co-host Lord Sear on Shade 45. Stretch explained that while people always ask him what it was like to be in the studio with the likes of Jay Z, he doesn't have much to say about his experiences because he was solely focused on playing records. For Stretch, much of this footage is as exciting for him as it is for heads, as he too was seeing some of it for the first time.
The 89TEC9 exclusive Big L x Jay Z freestyle, revered as the most infamous 10 minutes in Hip Hop radio history
The Stretch and Bobbito show has been credited industry-wide with launching the careers of artists who have sold a combined total of $300 million in records to date. But to Stretch, Bobbito, and true fans of the show, this number is merely a tangible yardstick to help the layperson understand the monumental contributions to music made by a college radio show run by two self-proclaimed nerdy hip hop guys. It wasn't about fame and fortune, but rather raw creativity, passion, and hilarious jokes at the expense on each other. The Stretch and Bobbito show was a weekly clubhouse for Hip Hop heads and ball busters alike, except this particular clubhouse happened to curate a freestyle from a 16-year old Brooklyn native Christopher Wallace, better known as the Notorious BIG -- a moment which has ultimately become the climax of this documentary. No spoilers here -- you'll have to check out the film yourself in order to take this in.
"In order to truly be a part this culture, young artists and fans alike need to understand and appreciate its roots. I am humbled in the presence of these guys, they remain an important part of everything Hip Hop has become," remarks Marz Lovejoy, a young female recording artist who shared a couch with me in the Shade 45 studio as we inhaled the music and antics reminiscent of the original 89TEC9 days. Hip Hop culture in 2015 is polarized: old heads holding onto days passed with a kung-fu grip, while younger fans accuse them of being curmudgeons, unwilling to accept any evolution of the art form whatsoever. Radio That Changed Lives does not address this dichotomy, simply because of its irrelevance to Stretch and Bobbito's status as tastemakers and culture catalysts.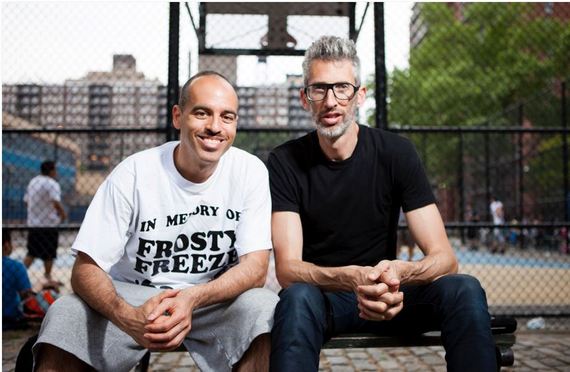 Timeless icons and pals to this day; October 25th, 2015 marks the 25th Anniversary of the first Stretch and Bobbito show. Photo credit: Jon Lopez
"Unless the internet breaks, there will never be another 89TEC9," explains Stretch, as we discussed how the internet age has unleashed an era of instant (and often undeserving) notoriety, especially in music. Technology has resulted in the sharp decline of the underground mediums that helped shape the culture, but luckily for us, many of the moments of this monumental era in Hip Hop are immortalized in this documentary. No matter your age, hometown, or who's in your Top 5, Stretch and Bobbito: Radio That Changes Lives is an absolute necessity in the repertoires of true music fans and historians alike.
Calling all HuffPost superfans!
Sign up for membership to become a founding member and help shape HuffPost's next chapter