Given the nearly constant stream of garbage news coming from Hollywood these days, wouldn't it be nice if your favorite former couple Chris Evans and Jenny Slate were back on? 
The pair, who met during a chemistry read for the movie "Gifted," had plenty left to spare off-screen and dated for 10 or so months earlier this year. They amicably split around January, but fans have been shipping the couple ever since. C'mon, who among us doesn't want Marcel the Shell and Captain America to end up together? 
Now, internet sleuths are convinced that something is up with these two after what sounds like Slate's distinctive laugh can be heard in a recent video Evans shared of his dog. Listen for yourself at the 11-second mark below. 
The two also engaged in some flirtatious (and very public) banter on social media several weeks ago, after Evans tweeted about the theme song from the TV series "Mash" giving him flashbacks to being a kid in school.
Slate responded, playing along with Evan's joke. 
"C'mon Christopher," she wrote. "Have you done your homework or haven't you? it's 7pm and you've had the whoooole weekend. Cmon." 
The two proceeded to have an undeniably flirtatious public exchange, joking about cutting class and meeting behind the gym.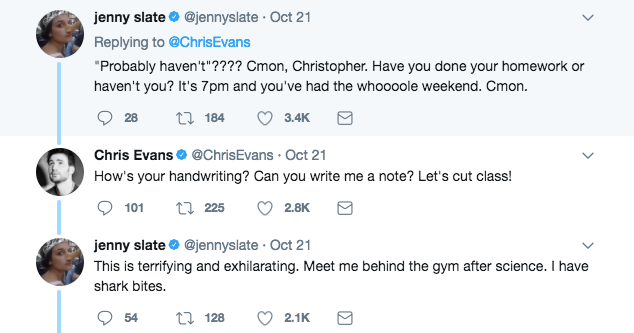 After their breakup, Slate recounted their romance in a pair of refreshingly candid interviews, revealing that the time she spent with Evans was "so precious."
The "Landline" actress also left the door open for the two to become friends one day after enough time had passed.
"We're not on bad terms, but we haven't really seen each other, spoken a lot," Slate told Vulture. "I think it's probably best. I'd love to be his friend one day, but we threw down pretty hard. No regrets, though. Ever."
"He's really vulnerable, and he's really straightforward," she added of Evans. "He's like primary colors. He has beautiful, big, strong emotions, and he's really sure of them. It's just wonderful to be around. His heart is probably golden-colored, if you could paint it."
Excuse us while we go melt into a puddle. 
Calling all HuffPost superfans!
Sign up for membership to become a founding member and help shape HuffPost's next chapter
BEFORE YOU GO
PHOTO GALLERY
Celebrity Photos 2017