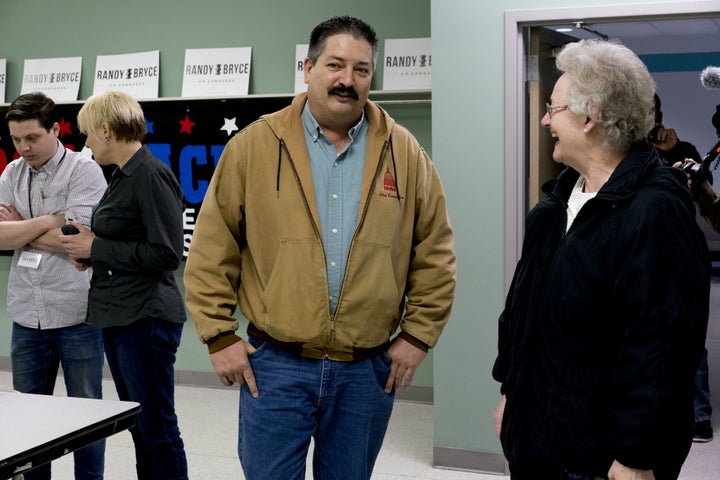 Randy Bryce, a union ironworker turned progressive rockstar, won the Democratic nomination in Wisconsin's 1st Congressional District, quieting at least some of the doubts that his meteoric rise obscured politically fatal personal baggage.
Bryce faces Bryan Steil, the winner of the GOP primary, for the open seat occupied by House Speaker Paul Ryan, the Republican who announced his retirement in April. Steil is a former Ryan aide and was backed by him.
In the Democratic race, Bryce fended off Cathy Myers, a local school board member, union activist and former high school teacher. She mounted an unexpectedly competitive race against him with a fraction of the funds and national media attention.
Bryce's early head start ultimately proved insurmountable, however. His general election bid in the conservative-leaning district in southeastern Wisconsin is likely to test both the importance of character issues ― a potential problem for Bryce, who has a spotty past driving record ― and the appeal of his unabashedly progressive policies in historically GOP territory.
In analyses of Donald Trump's 2016 presidential win, "we heard a lot about white working-class voters, people without high levels of education being really supportive" of him, said Aaron Weinschenk, a political science professor at the University of Wisconsin-Green Bay. "Bryce's a candidate trying to represent [white working-class voters], but obviously doing it for a different side."
His showing in November could "be a signal to party elites that this is the kind of candidate you want to recruit for other places" in the country, Weinschank said.
Bryce's primary win is the culmination of a campaign that began in mid-2017 with a viral video ad that featured images of the burly, mustachioed ironworker Bryce on the job and taking care of an elderly mother suffering from multiple sclerosis. Bryce sought to contrast his humble, working-class lifestyle with that of Ryan, a two-decade incumbent known for advocating drastic cuts to the social safety net.
The ad concluded with Bryce challenging the House speaker: "Let's trade places. Paul Ryan, you can come work the iron, and I'll go to D.C."
The prospect of a white, blue-collar worker in Wisconsin ― the very demographic whose swing toward Trump was one of the key elements costing Democrats the White House in 2016 ― taking on the nation's second-most powerful Republican was tantamount to catnip for liberal donors and national media outlets. That Bryce ― known universally as "IronStache" ― was an Army veteran and cancer survivor only added to his appeal for many people.
What's more, Bryce seemed to be the rare figure capable of uniting the Democratic Party's restive progressive wing with the more moderate establishment. His unabashed support for Bernie Sanders-style populist policies like Medicare for all ― and later, his endorsement of calls to abolish the Immigration and Customs Enforcement agency ― pleased left-wing activists. Meanwhile, his fundraising prowess made him impossible for more cautious party leaders to ignore.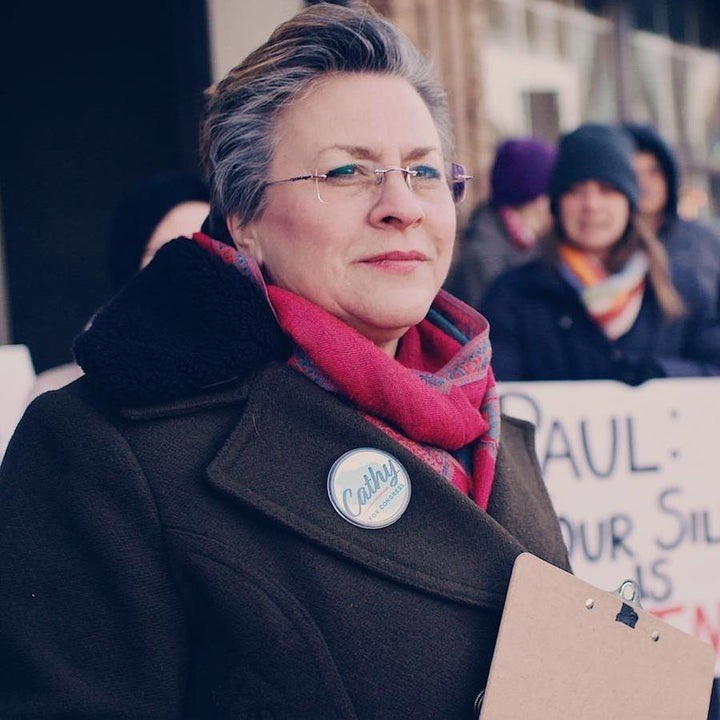 But Myers developed her own equally devoted bloc of supporters, who fumed at the sexism they detected in the media's lopsided coverage of Bryce. And in a Vice News article in May, some Democratic women in Wisconsin criticized the national party officials for picking sides in the race.
It also had emerged last November that Bryce had only paid a years-old child support debt due his ex-wife after he began his run of office. Bryce chalked the matter up to temporary financial difficulty due to the unpredictable of construction work ― in short, a feature of his working-man brand.
Myers, who ran on a similarly progressive platform as Bryce, made challenging his character the central focus of her underdog bid. She hit paydirt in July when CNN reported that Bryce had been arrested nine times from the early 1990s to the present.
Bryce's two most recent arrests were during acts of civil disobedience against conservative policies in 2011 and 2018, respectively. But CNN revealed that he had also been arrested for marijuana possession in 1991 and for driving under the influence of alcohol in 1998. Bryce was subsequently arrested three times for driving with a license suspended as a result of the 1998 incident.
He expressed regret about his conduct, telling CNN, "I've worked very hard to learn from my mistakes."
At a candidate debate just two days after the CNN report, Myers hammered Bryce over the arrests, his past financial issues, verbal miscues and alleged flip-flopping on some issues She argued these matters would make Bryce less viable in the November election.
"My opponent has made mistakes, and they're going to be exploited by the Republicans," she said.
Myers, though, may have been hurt by a late-breaking revelation that raised questions about her judgment as a school board member. In 2015, Myers' then-boyfriend, Roger Merry, was representing a union official who sued the school board for access to district records. Myers had access to district information that she passed along to Merry. She defended what she did, saying that she agreed with the union official's lawsuit.
The questions that surfaced about Bryce's character "illustrate the challenge of using a biography as a campaign platform," said Julia Azari, a political scientist at Marquette University in Milwaukee. "In a situation in which the election seems likely to be pretty competitive, personal issues might be a factor."
Even without the character questions, Bryce will be battling tough odds. Obama narrowly won the district in 2008, albeit when it had slightly different borders. After Republican Mitt Romney won it narrowly in 2012, Trump carried it by about 10 percentage points in 2016. So winning it will be a reach for Democrats.
Still, Ryan's retirement has improved the Democratic prospects. After Ryan announced that he would step down, the election prognosticator website Sabato's Crystal Ball changed its rating of the race from leaning Republican to toss-up.
Support HuffPost
The Stakes Have Never Been Higher
Before You Go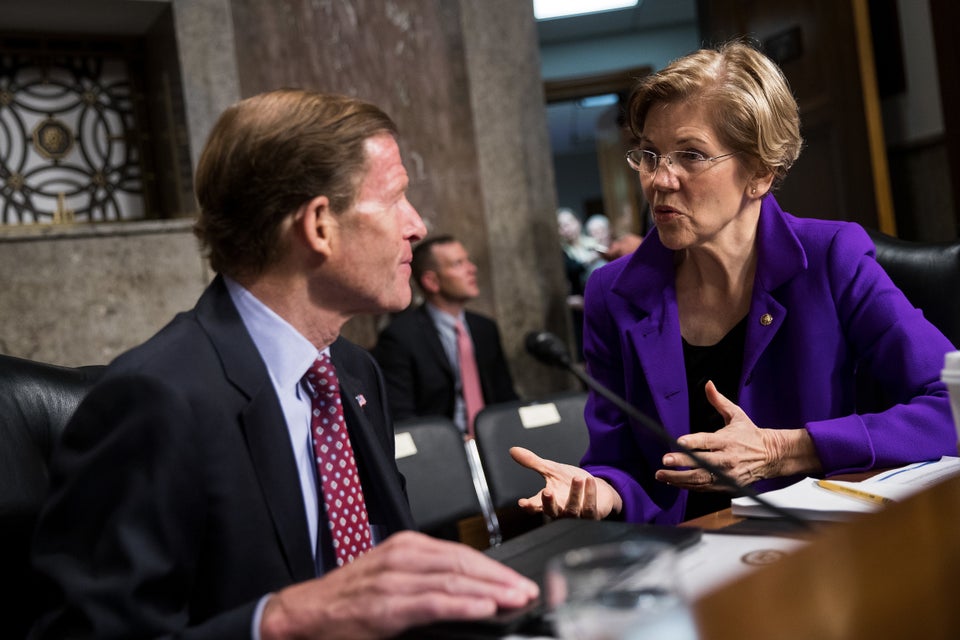 2017 Scenes From Congress & Capitol Hill
Popular in the Community