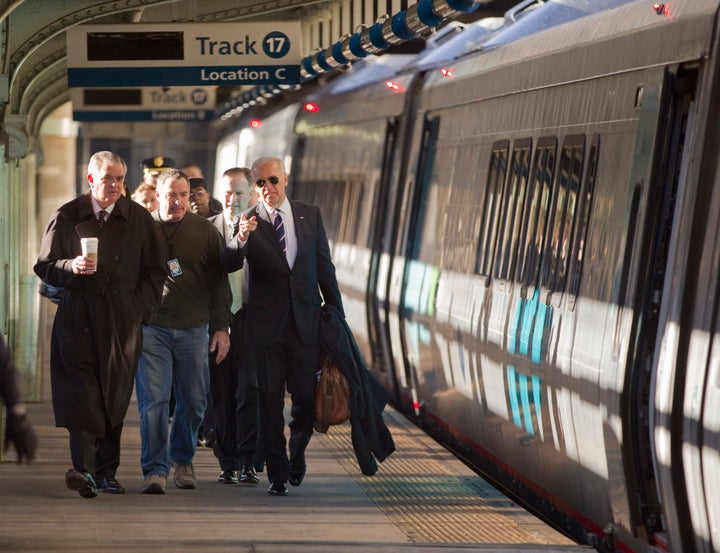 WASHINGTON -- Department of Transportation Secretary Ray LaHood on Tuesday offered a detailed defense of passenger-rail safety amidst concerns from members of Congress that trains were vulnerable to terrorist attack.
In a wide-ranging interview with the Huffington Post, LaHood said he and his staff were prepared to work with lawmakers for an effective response to intelligence, culled from Osama bin Laden's compound, suggesting that al Qaeda had set its sites on attacking Amtrak.
The transportation secretary notably declined to endorse a proposal put forward by Sen. Chuck Schumer (D-N.Y.) calling for the creation of a "no-ride" list. But in an effort to quell immediate anxiety, he suggested the equivalent already exists.
"There is a manifest with every person's name who boards the train," said LaHood. "Amtrak checks that to make sure that these people are legit people. They look at the list and then they check to see if somebody's name looks peculiar. They have that manifest there and they can check it out if they want to. They know who is boarding trains."
"Amtrak has some pretty good safety measures in place right now," he added, with emphasis.
LaHood's remarks lift the curtain ever so slightly on the security precautions rail operators currently take. A manifest, however, is not a foolproof measure. A 2005 Department of Transportation study noted that "the conductor's manifest is printed about 30 minutes before a train's departure," and nearly 60 percent of the 495 "unique stations" Amtrak operates are unstaffed -- meaning that passengers can board without notice.
Presented with these shortcomings, the Obama administration has begun the process of surveying effective policy responses. While rail safety officially falls under the domain of the Transportation Security Administration, LaHood has held talks with Schumer and, aides say, is ready to work with other members of Congress.
His role as legislative emissary is logical. A former member of Congress, LaHood has often been dispatched by the White House to rub elbows with his ex-colleagues (especially the Republicans with whom he caucused).
His informal lobbying has had positive results, with Congress appropriating $13 billion in funding for one of the Department of Transportation's top priorities: a national high-speed rail system. But with GOP leadership scoffing at additional spending ($1.5 bill was cut from high-speed rail in the recent budget deal) and with Republican governors in Ohio, Wisconsin and Florida rejecting federal funds to integrate the system into their states, many cast doubts about the viability or plausibility of the project.
"I don't even lose like one second of sleep over the fact that three states turned it down," LaHood said in response. "I'm not saying this in jest. I really believe there is only one person in Florida who didn't want high-speed rail because we heard from thousands of other people who were so disappointed. The same is true in Wisconsin."
"Even though we have had these little hiccups in three states," he added, "when this system is done, Ohio will be connected, Florida will be connected, Wisconsin will be connected because this is what the people want. The people are way ahead of the elected officials on this."
The White House banks on the public's prescience as well. The president has requested $50 billion for high-speed rail in his FY2012 budget while LaHood continues to insist that within 25 years, 80 percent of the country will be connected by a national system. He notes it took the country 50 years to build the interstate highway system, during which a patchwork of projects gradually connected and skeptical lawmakers either changed their tune or were ousted from office.
As for why the same model would hold true for high-speed rail, his explanation is simple: it's in the political self-interest of the elected official.
"The next election will be about the economy; that's what it will be," said LaHood. "This bin Laden stuff, as great as it is, a year from now you know what people are going to be thinking about? What's the unemployment rate? How long have people been unemployed? How come they can't find a job? And what is the economy like? So the reason to be for any infrastructure? It provides jobs."

Popular in the Community