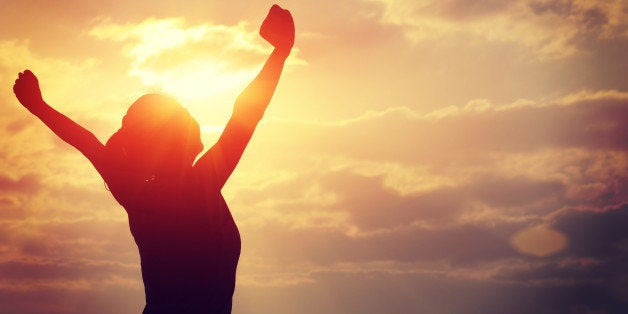 If there is one main lesson that I have learned in my 20-year-old life, especially in college, it is the importance of being truly happy. Now, I don't mean smiling and burying away the painful emotions you have and pretending that everything is okay. I am talking about the importance of being able to say, "I am completely happy with my life right now" and actually meaning it.
Unfortunately in today's society there are so many elements of our life that we are supposed to have completely under control and perfect. However, the best advice that I can give someone (because someone amazing once said it to me) is to not forget about your imperfections, but also not to obsess over them. What I mean by this is if you are not completely happy with something in your life, find a way to change it, without making it your absolutely only priority and becoming miserable if you don't achieve an amazing outcome on your first try.
We all have dreams of our "perfect" body, or our dream lifestyle but the reality is, we are always going to be craving something more. Have you ever realized that once you achieve something you have always wanted to, you don't even take the time to appreciate it? Instead you just quickly move on to the next thing that you can change or make better. Well, I am guilty of this because I sure have done this too many times. In the process of growing up, I have learned that doing this is what destroys us, not taking the time to realize how far we've come and only focusing on how much further we have to go.
Life is far too short to beat ourselves up over the imperfections. In order to gain a happy lifestyle, it is important to focus on the small accomplishments, no matter how little they might be in the bigger picture.
Here are some tips that I try to follow to help me live the happiest lifestyle possible:
1. Before going to bed every night, think about three things from that day that you are grateful for and make you happy to be alive:
If you take the time everyday to appreciate the positive things that happened that day, it makes you realize how good life truly is.
2. Plan your goals for each week:
At the beginning of the week, write down your goals for that specific week. Whether these goals are something like meeting all of your deadlines or eating extremely healthy, it helps to have them written down, so that you can look at them when you feel off track.
I am completely guilty of tucking away my emotions and pretending that nothing is bothering me. However, it is amazing how much better you can feel if you decide to confront those feels and deal with them, so that you can move past them and get back on your journey to happiness.
Some people really don't like to tell other people how they are feeling or they may feel awkward expressing their goals and dreams -- writing them down can be a great alternative. Especially if there is a tough situation that you are going through, writing it down can be a great way to work through the feelings that you are dealing with.
There is no worse feeling than the constant nagging of having to complete a task but continuously pushing it back. To avoid this feeling, writing down a schedule for each day, hour by hour, helps break up the amount of work you have and make it seem a little bit more manageable.
6. Make time for the people that matter:
One of the best things that I have done in my life is let go of negative people, to create more space for people who only have a positive impact on my life. Stop wasting your time hoping someone will change; if they do, they can earn their way back into your life. Until then, use that room for someone who empowers you. Life is too short to be wasted on people who don't deserve to be there.
7. Create a plan for your future:
Write down or print out pictures filled with all of your dreams for the future. I have a Pinterest board with my dream house, car, job, clothing style etc. This is so helpful when I feel like slacking off because it reminds me what I am working towards and that the hard work will be worth it.
You don't have to cut every unhealthy item out of your diet to feel the benefits of eating healthy. Just be aware of how many sweets you are consuming in a day and make sure it is not more than the healthy ingredients that you should be putting into your body for energy and a healthy lifestyle.
I don't mean going to the gym every single day for 3 hours because that's ridiculous and I would never listen to that advice. But go to the gym a couple times a week, walk, go for a jog, hike, do anything that makes you feel healthy. It makes a big difference in your lifestyle and happiness.
10. Don't try to prove yourself to other people:
The only person that you have to impress is yourself. If you are happy with how you're living your life that is all that should matter.
Related