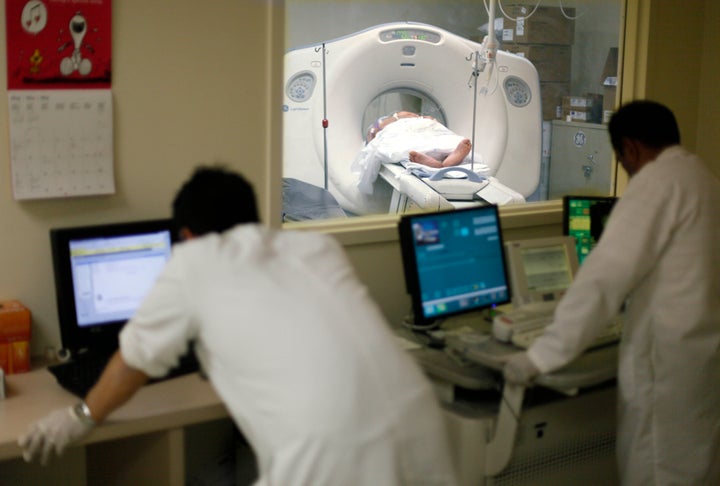 WASHINGTON -- During the last two years, 57 percent of Americans who lost a job that provided them health insurance -- nearly 9 million people -- could not afford to regain coverage, according to a new study published by the Commonwealth Fund, a longtime advocate of health care reform.
In addition, 19 million Americans who tried to buy a health plan in the individual insurance market between 2007 and 2010 were either rejected due to a prior health condition or unable to find affordable coverage that fit their needs, according to the Commonwealth Fund report.

"This means that already stretched family budgets are vulnerable to catastrophic losses and bankruptcy in the event of a serious accident or illness, and that families face significant financial barriers when trying to obtain needed medical care and timely preventive services," the report's authors wrote.

The authors found that some 52 million Americans had no health coverage in 2010, compared to roughly 38 million in 2001. And nearly 49 million adults spent 10 percent or more of their income on out-of-pocket costs and premiums in 2010, they found, up from roughly 31 million in 2001.

High health care costs mean less money to spend on basic necessities. About 22 million working adults couldn't afford food, heat and rent due to medical bills in 2010, the research found, and health costs forced 4 million people into bankruptcy.
The government allows laid-off workers to remain on their former employers' health insurance via the COBRA program, but workers must pay the full cost of the insurance -- their share plus their former employer's share -- which is often unaffordable. The stimulus bill of 2009 provided a 65 percent subsidy for COBRA plans, but Congress dropped the subsidy last May due to deficit concerns.
About 50.7 million Americans had no health insurance in 2009, according to the latest government data, and 16.7 percent of the U.S. population was uninsured, the highest proportion since the government began tracking such figures in 1987.
Commonwealth Fund President Karen Davis said on Tuesday, however, that last year's health care overhaul legislation will help ensure that nearly everyone, including the jobless, has access to affordable and comprehensive health insurance by 2014.

"The silver lining is that the Patient Protection and Affordable Care Act has already begun to bring relief to families," she said. "Once the new law is fully implemented, we can be confident that no future recession will have the power to strip so many Americans of their health security."

But the health care law doesn't prohibit health insurers from discriminating against Americans with preexisting conditions until 2014, meaning those who lose their employer-sponsored health insurance have few options in the meantime.
The law did create a program called the Pre-Existing Condition Insurance Plan designed to cover those excluded from the individual market until 2014, but enrollment has been low, with only about 12,000 participants to date. Once the law's provisions are more fully implemented, uninsured Americans are supposed to have access to affordable health insurance through Medicaid or private health plans available on state-run exchanges, while low-income families will receive tax credits to help them afford coverage.

The Commonwealth Fund survey of 3,033 adults between ages 19 and 64 was conducted by Princeton Survey Research Associates International from July to November of last year, according to the report's authors. The full report is available here
REAL LIFE. REAL NEWS. REAL VOICES.
Help us tell more of the stories that matter from voices that too often remain unheard.