Producer Elliott Kastner died this week at the age of 80. He leaves behind a great legacy of film, including The Missouri Breaks, Harper, Equus, Where Eagles Dare, and Kaleidoscope. Kastner worked with Paul Newman, Richard Burton, Marlon Brando, Jack Nicholson, to name a few. But his first film - Bus Riley's Back in Town in 1965, directed by Harvey Hart - is, I think, a vastly underappreciated masterpiece.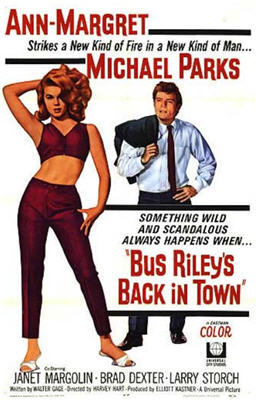 Playwright William Inge wrote the original screenplay about a Navy serviceman who returns to his small town, Maple Grove, after three years overseas. He comes home to find that his high school girlfriend has married a rich older man (which was not the case in the original play). The lead was played by Michael Parks, whom Universal Studios had hoped would become the new James Dean. His ex-girlfriend was seductively portrayed by Ann-Margret, who had just starred in two of her biggest sex kitten roles with The Pleasure Seekers and Kitten With A Whip (the wholesome Bye Bye Birdie was released two years earlier, in 1963). She had also been Elvis Presley's love interest in Viva Las Vegas just prior to this role.
Inge was incensed when the movie switched from Riley's story, as in his screenplay, to one that focused heavily on the Ann-Margret character of a rich, bored, sexy housewife who wanted to resume her relationship with the handsome, brooding Parks character. He refused to allow his name to be on the picture, and the writing credit reads William Gage.
All that aside, this movie remains one of my personal all time favorites. It's possible to strip aside (or delight in) the mid-Sixties affectations like inappropriately weird upbeat music in certain scenes - like the opening scene, which can be viewed here through the magic of YouTube (and, in fact, it's possible to watch the entire film in sections).
As the film opens, Michael Parks' character arrives back in Small Town USA, still dressed in his Navy whites, and takes a cab home. His mother (played by Jocelyn Brando, older sister of Marlon) opens the door, overjoyed to see him. He bunks down on the couch as his room is currently being let to a boarder - an uptight schoolmarm named Carlotta. At breakfast (while Bus sleeps) Carlotta (Brett Somers, in her first film) complains that she might need to move out because there's only one bathroom "and I know how men can mess up a bathroom." Adoring little sister Gussie (played by Kim Darby in her first movie role) wakes Bus up as he sprawls sleeping on the couch, then scampers off to breakfast, barely able to contain her excitement that big brother is home.
Janet Margolin plays Gussie's best friend, Judy, who's always nurtured a secret crush on Bus. Meanwhile when Laurel (Ann-Margret) finds out Bus is back, she cruises town in her expensive sports car looking for him. She eventually entices him back into an unhealthy, depraved sexual relationship that he comes to feel completely trapped in. The dialogue waxes brilliant. (You can see the scene below here)
Laurel: I didn't get to see you in your little sailor suit. (pouting)

Bus: I never saw you in your bridal gown. You did wear white, didn't you?

Laurel: I coulda lived without that remark.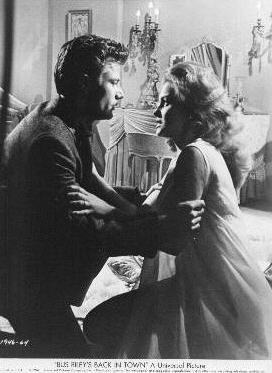 Bus knows he's falling right back into his old, bad patterns with Laurel but can't seem to stop himself. They had a torrid affair in high school and one of the reasons - or the reason - he left town to join the service was a huge scandal that ensued from that (hey - I have to leave some of the plot points a secret!). Bus finds a soul-less job selling vacuum cleaners door to door to lonely women who find him irresistible. There are no whole, happy people here: Judy cares for her alcoholic mother, Bus' own mother is a widow. Laurel is frozen in a horrible, loveless marriage looking for anything to divert her. Gussie is probably the only one who's innocent and truly happy.
It's a dark, intense picture that unfortunately never achieved the success it deserved and is even yet not available on DVD, though apparently can be purchased on VHS.

Calling all HuffPost superfans!
Sign up for membership to become a founding member and help shape HuffPost's next chapter