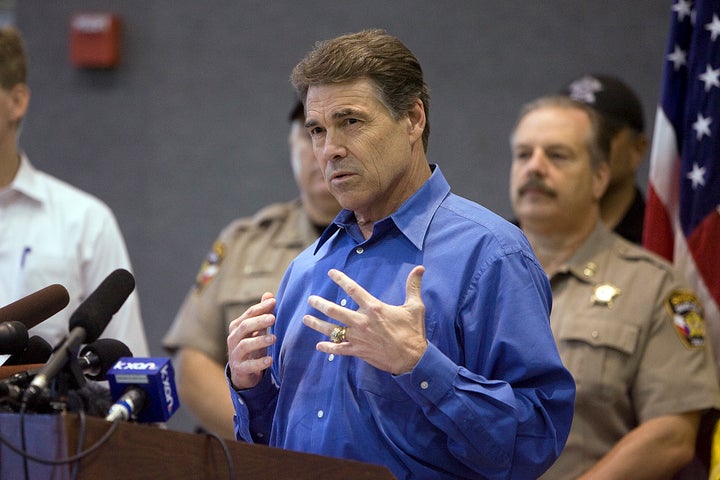 SIMI VALLEY, Calif. -- When Rick Perry takes the stage Wednesday night for his first debate as a presidential candidate, many Republicans will be wondering, "Who is this guy, really?"
Perry has shot to the head of the Republican primary field in national polls. But conversations with Republican lawmakers and voters this week have shown that many are not convinced the Texas governor has what it takes to be the party's nominee, or beat President Obama in the general election.
"I have my doubts that Perry can beat Obama in a head-to-head," said one influential Republican donor and activist in the Northeast, who said Perry has yet to come in for his "media proctology exam."
In South Carolina earlier this week, influential Republicans were also unimpressed by Perry's lead in the national polls.
"It's not going to stay," said Glenn McCall, a national committee member from South Carolina. "It's too early."
"The folks I talk to, they're concerned" about Perry's electability, McCall said, but clarified moments later that he thinks Perry is just as electable as his top GOP contender, former Massachusetts Gov. Mitt Romney. While winning the South Carolina primary is considered almost a sure thing for Perry, McCall said Romney needs to be more present in the state to do his campaigning.
"Folks would like to see him here," he said.
Republican South Carolina Sen. Jim DeMint also said he thinks the current polling is a mirage.
"I think we're going to see that front horse change several times, I think, over the last couple months," he said at the conclusion of a forum with Romney and several other GOP candidates on Monday. Perry did not attend the event because he was overseeing Texas's response to devastating wildfires in the state that have now killed at least four people and destroyed over 1,000 homes.
The Manchester Union Leader in New Hampshire also warned against reading too much into the polls.
"Yet again, national pundits and political handicappers are confusing the general impressions of voters as reflected in national polls with actual votes," the paper's editorial board wrote on Tuesday.
In the minds of many, the Republican primary is now about message: Romney says he's the most electable Republican, and Perry says he's the most conservative.
Perry's central message is that he has been a job creator during his 10 years as Texas governor. And Texas has led the nation in adding jobs. That message may play well with more casual voters, but more involved conservative grassroots activists may not be as impressed with Perry's credit claiming.
"Government [officials] kid themselves when they talk about creating economic growth," said Ron Vinson, 67, a retired environmental planner and registered independent from Charleston, S.C., who attended DeMint's forum on Monday.
Linda Edwards, a 54-year-old mother of two from Greenville, S.C., who teaches a science class in a home school co-op, said Texas's natural resources offered a built-in advantage for Perry's governorship.
"Texas is a state that can pretty much run itself. Pretty much anyone could have done that," she said of Texas' economic growth. Vinson said governments can create conditions for the private sector to grow faster and create more jobs.
"I'm afraid Romney is still too much of a government guy and the last thing we need to do is elect another Northeastern, liberal establishment guy," Vinson said.
Even the Wall Street Journal bashed Romney's plan, saying it was "a technocrat's guide more than a reform manifesto."
Romney hedged on such issues as entitlement reform and tax rates for individuals. The plan he released was more of an economic treatise -- and a takedown of President Obama's own philosophy -- than it was a detailed plan for the thorniest challenges Romney would face as president. But it was designed to look presidential: It was published as a book, with a Kindle edition that could be read on an iPad or iPhone, and a cover design that looked like a White House report.
Romney is betting hard on his electability argument. Perhaps he has read the electorate correctly and knows what Republican voters want most is to beat Obama.
But Romney's lack of a detailed position on big issues may offer an opportunity for Perry -- if the Texas governor can propose a few key ideas that are radical enough to rouse the conservative grassroots, without offending or turning away independents and more moderate Republicans.
In the current political environment, the appetite for conservative purity is ravenous. But the desire to deny Obama another term may be equally strong. It's likely that more rank-and-file Republican primary voters than usual will look at how Perry might fare in a general election, and how he would play in the key states that will determine the nomination.
A Tuesday op-ed in the Journal by Larry Sabato, a University of Virginia political science professor, renewed concern that only four years removed from President George W. Bush, a Texas governor may not be best suited to carry the GOP over the line in the key 2012 battleground states: Colorado, Florida, Iowa, Nevada, New Hampshire, Ohio, Virginia, Michigan, New Mexico, Pennsylvania and Wisconsin.
Perry will have to answer questions about whether he is too much of a "cowboy," as one of his own fundraisers put it, or "a little too loose."
"Can he convince people that he can lead the country?" the fundraiser asked.
In particular, Perry's "Texas twang," and what Politico called the "treasure trove" of opposition research that Perry created by releasing his very blunt book, "Fed Up," last year are on the minds of Republicans.
"That has a lot of people nervous," said one Republican National Committee member.
When Perry officially announced his campaign in August, he was more restrained and measured than he often is as a speaker. Look for him to continue to rein himself in as he begins his sales pitch in earnest in his first presidential pirmary debate.
Calling all HuffPost superfans!
Sign up for membership to become a founding member and help shape HuffPost's next chapter