Kraft, 77, is charged with two counts of soliciting sex in an investigation surrounding an international human trafficking ring, police said. He denies the accusations.
More than two dozen men are set to be charged in the trafficking investigation, but authorities disclosed few details this week.
Police said they have video evidence supporting accusations against each person, including video of Kraft engaged in a sex act. They said Kraft was driven to Orchids of Asia Day Spa, one of several businesses investigated and shut down along the eastern coast of Florida.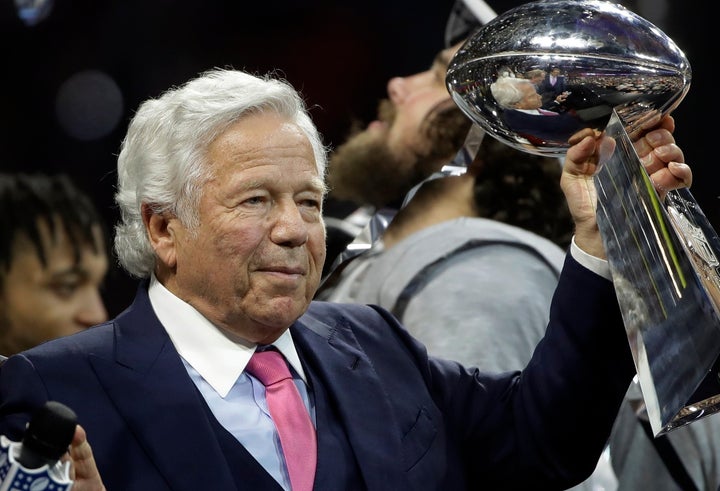 Police noted that the charges against the Patriots owner stem from two separate visits to the spa, during which he allegedly paid for sexual services.
"We categorically deny that Mr. Kraft engaged in any illegal activity. Because it is a judicial matter, we will not be commenting further," a spokesperson for Kraft said in a statement.
Jupiter Police Chief Daniel Kerr said Kraft went to the spa "approximately a month ago," when the investigation had already been underway for several months.
President Donald Trump, a close friend of the Patriots owner, said the accusations were unexpected.
"It's very sad. I was very surprised to see it," Trump told reporters in the Oval Office Friday afternoon. "He's proclaimed his innocence totally. I'm very surprised to see it."
Kraft is said to be a lifelong Democrat. But after his wife died of cancer in 2011, he told the New York Daily News, he was touched by Trump's continuing efforts to reach out after the funeral.
"He called me every week to see how I was doing, invited me to things, tried to lift my spirits. He was one of five or six people that were like that," Kraft told the Daily News in a January 2017 profile. He is also known to have visited the president's Florida resort, Mar-a-Lago, several times, and both men have praised one another publicly.
Kraft has owned the Patriots since 1994 and his net worth is $6.6 billion, according to Forbes. Although he primarily lives in Massachusetts, he owns a vacation home in Palm Beach, not far from the Orchids of Asia spa.
An NFL spokesperson said the league was "aware of the ongoing law enforcement matter and will continue to monitor developments."
Also charged in the sting was John Childs, the billionaire founder of private equity firm J.W. Childs Associates, according to Bloomberg. In an interview with the publication, the 77-year-old said he hadn't been notified and denied the allegation.
"I have received no contact by the police department about this charge," he said. "The accusation of solicitation of prostitution is totally false. I have retained a lawyer."
In total, 165 people were reportedly charged in the multijurisdiction sting.
Lydia O'Connor and Andy Campbell contributed reporting. This story has been updated with more details and reactions.
Popular in the Community