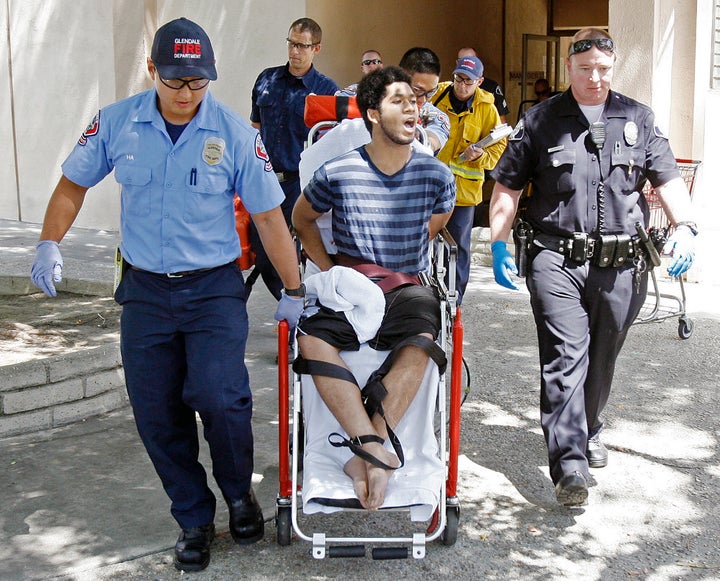 LA now has its own case of bath salt-induced insanity.
A crazed 20-year-old man bludgeoned an elderly woman in the head Thursday and said he was an alien who talks to Jesus, the Los Angeles Times reports.
Robert William White, who is from Glendale, Calif., had been swinging his shovel at birds when the woman, who was 77 years old, asked him to stop, according to the Daily Mail.
Neighbor Salbi Dgeredzyan said White told the woman, "I hate you and I want to kill you today." Another nearby resident, Abraham Cabrera, said that he had heard White screaming profanities, threatening to kill someone and breaking glass. After attacking the woman, White barricaded himself inside his apartment.
After a nearly hour-long standoff, police entered the apartment using a key. White was screaming incoherently and allegedly swung at an officer, although his punches were blocked, the Glendale News Press reports. Officers shot him with a rubber bullet to try to get him to follow orders. When that didn't work, they tasered him until he was subdued enough to arrest.
When they rolled the 20-year-old, hand-cuffed and on a stretcher, out of his apartment, he yelled "God loves you all!" several times to bystanders. He admitted to officers that he had been drinking soda spiked with bath salts.
The 77-year-old victim was taken to a nearby hospital, where she was treated for non-life-threatening injuries.
Emergency rooms in the U.S. have been responding to a wave of violent and deranged patients high on bath salts, a synthetic drug containing a chemical derivative of methcathinone, the Daily Mail reports. Because of several cannibalistic attacks, the trend has been called a "zombie apocalypse."
In May, a Miami man, Rudy Eugene, allegedly took bath salts, got naked and attacked a homeless man by chewing on pieces of his face in broad daylight. Police officers fatally shot Eugene as they tried to stop the attack. An autopsy since then has revealed no flesh in Eugene's stomach.
In an instance earlier this month, an upstate New York woman, Pamela McCarthy, took bath salts and beat her 3-year-old son. After police used a stun gun to stop her, she died of a heart attack.
Bath salts are not banned nationwide, although several regions have introduced bans. The Los Angeles City Council banned the sale of the drug in March.
If convicted, White faces up to six years in state prison.
Click through photos and videos of the Miami face-chewing incident:
PHOTO GALLERY
Miami Causeway Attack