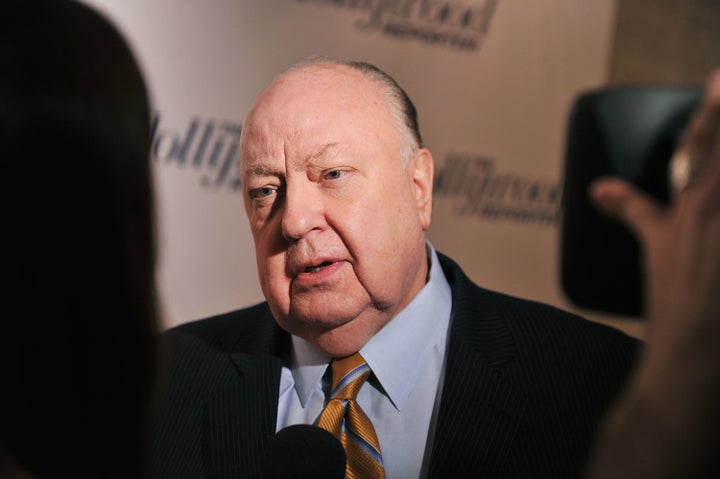 The former "Fox & Friends" co-host alleges that Ailes fired her for rejecting a sexual relationship with him. Similar stories echo through Gabriel Sherman's 2014 biography of the media magnate, titled The Loudest Voice in the Room.
When television producer Randi Harrison interviewed with Ailes for a job at NBC in the 1980s, she said he offered her an extra hundred dollars a week if she agreed to have sex with him whenever he wanted, according to Sherman.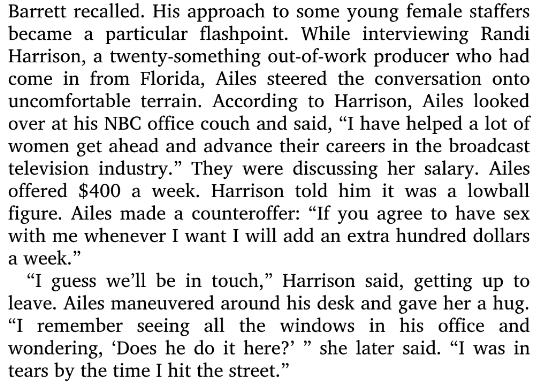 Ailes, then president of CNBC, also reportedly made a pass at producer Shelley Ross while interviewing her for a job. She accepted the position after he apologized. Ailes later called her a "militant feminist" when asked about the interview.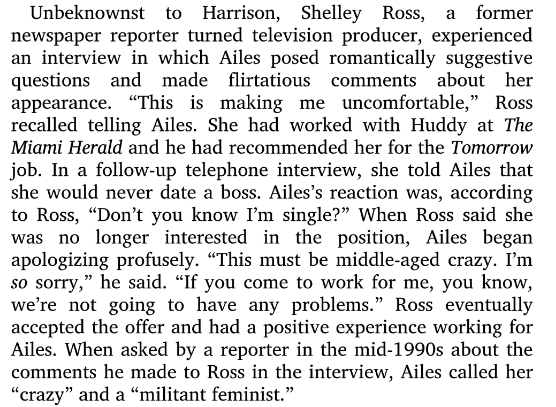 People on set with Ailes recalled him demanding that on-air female personalities show more skin. One unnamed Fox News senior executive told Sherman that Ailes wanted "Crier Report" host Catherine Crier to stop wearing pantsuits and start showing off her legs, as Ailes had bought her a glass desk explicitly for that purpose.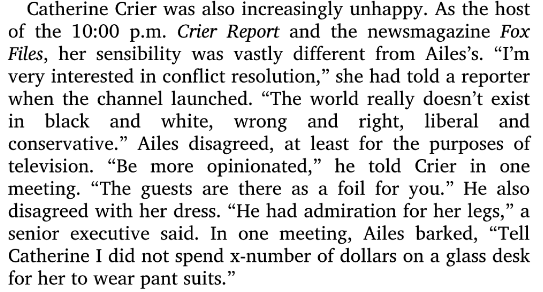 Fox News anchor Bob Sellers told Sherman that he once heard Ailes make similar comments about co-anchor Kiran Chetry when a laptop was blocking her legs from view.

Fox News has dismissed Sherman's book, claiming it was "never fact-checked with Fox News." But you don't have to rely on his book alone. Ailes has been open about sexualizing his female employees.
In an interview the same year with Esquire, Ailes bragged about transforming Amy Kellogg from a woman with "glasses or something," "the wrong hair," "no makeup" and "funny clothes" into an acceptable on-screen reporter:
"I saw through all of it and I said, 'Amy, you're very attractive. Do you mind me sending you down to makeup? Let's see if we can do a little work with you.' And she said, 'No, not at all.' Now she's a great, terrific foreign correspondent for us."
If women don't measure up to Ailes' expectations of beauty, he has made it known ― sometimes publicly. In a 1994 radio interview, he referred to two of his female employees, "Equal Time" hosts Mary Matalin and Jane Wallace, as the type of "girls" you wouldn't pay attention to in a bar.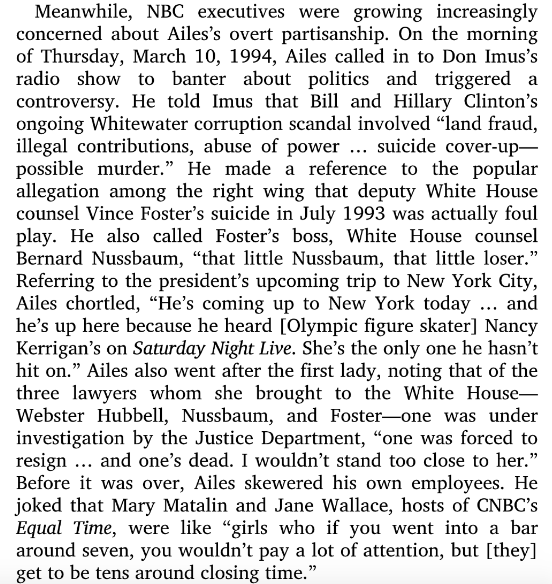 An executive also recalled Ailes suggesting that "The Five" co-host Andrea Tantaros was pretty but likely ineffective when she worked as a political consultant and that it "must not have been a good year" when Carlson was crowned Miss America.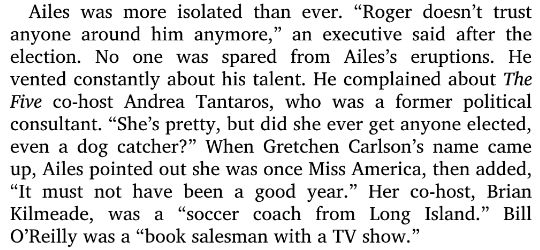 Fox News' women problems aren't confined to Ailes. In 2004, host Bill O'Reilly settled out of court after one of his female employees allegedly recorded him sexually harassing her. And the network has repeatedly run segments defending cat-calling and critiquing women's clothing choices.
"We don't need a full trial to know that Fox News, as an institution, is ideologically geared towards minimizing, defending, and even promoting sexual harassment and the objectification of women," Salon writer Amanda Marcotte wrote on Wednesday. "Under Ailes' leadership, Fox News has put a premium on protecting a man's 'right' to harass and demean women."
In the hours since Carlson's lawsuit was announced, "at least ten" other women have contacted the law firm representing her to speak about Ailes' treatment, a spokesman for the firm told CNN.
Fox News' parent company has announced both its confidence in Ailes and its decision to begin an internal review.
And Ailes himself has issued a statement: "Gretchen Carlson's allegations are false. This is a retaliatory suit for the network's decision not to renew her contract, which was due to the fact that her disappointingly low ratings were dragging down the afternoon lineup. When Fox News did not commence any negotiations to renew her contract, Ms. Carlson became aware that her career with the network was likely over and conveniently began to pursue a lawsuit. Ironically, FOX News provided her with more on-air opportunities over her 11 year tenure than any other employer in the industry, for which she thanked me in her recent book. This defamatory lawsuit is not only offensive, it is wholly without merit and will be defended vigorously."
Popular in the Community