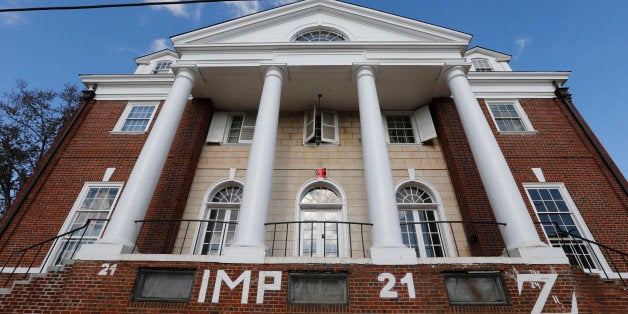 NEW YORK –- A Rolling Stone fact-checker didn't ask University of Virginia officials via email about an alleged 2012 gang rape described in an explosive and now unraveling article published last month.
Under a Freedom of Information Act request, The Huffington Post obtained 104 pages of email correspondence between UVA officials and Rolling Stone contributing editor Sabrina Rubin Erdely, who wrote the story, and assistant editor Elisabeth Garber-Paul, who fact-checked it.
Much of the correspondence involves scheduling of interviews with university President Teresa Sullivan and other officials. But the emails also shed light on the magazine's fact-checking process, which has come into question amid discrepancies in the article.
In early November, Garber-Paul asked university spokesman Anthony P. de Bruyn several broad questions about how sexual assault complaints are handled by the school. Notably, she did not ask about the case involving Jackie, the UVA student whose story of a gang rape perpetrated by seven Phi Kappa Psi fraternity members served as the centerpiece of Erdely's piece.
It's possible Garber-Paul asked about Jackie's case by phone. But the absence of questions about Jackie or Phi Kappa Psi in the emailed fact-checking queries is surprising, given the seriousness of the allegations.
Rolling Stone spokeswoman Melissa Bruno had no immediate comment on whether Garber-Paul asked questions about Jackie's case by phone.
Rolling Stone acknowledged discrepancies and issued an apology on Dec. 5, but still has not fully retracted the story. The magazine also has acknowledged that Erdely did not contact the alleged attackers for comment before publication because of an unusual agreement in which Jackie said she feared for her safety.
Three friends of Jackie, who, in the story, discouraged her from reporting the crime, have since said publicly that Erdely never contacted them before publication and disputed her characterization of their behavior on the night in question.
Erdely asked Sullivan about the alleged 2012 gang rape at Phi Kappa Psi involving Jackie, according to the article. But it remains unclear how Erdely went about corroborating Jackie's claims or how the magazine's fact-checker tried verifying details of the account.
Erdely has not commented about the story for several weeks. Will Dana, managing editor of Rolling Stone, hasn't spoken publicly on the story since Dec. 5. The magazine has made no editors available for interviews and has said Rolling Stone is conducting an internal review.
There is a passing reference to Jackie in one email between Erdely and a UVA dean, but Jackie otherwise is unmentioned in the email cache. A separate sexual assault case from the spring does come up in the correspondence.
On Oct. 9, de Bruyn told Erdely that her "characterization of the facts" regarding the spring 2014 case were "incorrect." Citing federal privacy laws, de Bruyn told Erdely he couldn't elaborate on what was wrong. That case comes up again on Nov. 13, when de Bruyn tells Garber-Paul that the university is concerned Erdely had mischaracterized the facts of the spring incident.
"It has been brought to our attention by a few students that Sabrina has spoken to that she is referencing an incident where a male student raped three different women and received a one-year suspension," de Bruyn wrote. "This is in fact objectively false."
The emails don't mention specific names, but Erdely did write about a spring 2014 incident involving a freshman whom she identified only as Stacy.
In the Rolling Stone article, Stacy described how UVA officials tried discouraging her from reporting being raped to the school's Sexual Misconduct Board. Stacy told Erdely that the alleged rapist's wealthy family "threatened to sue deans individually, they threatened to sue me." She also learned of "two other women with stories of assault by the same man," according to the article.
Though the man was found guilty, he only received a one-year suspension, according to the article, which noted UVA officials wouldn't discuss the case due to privacy laws.
Popular in the Community