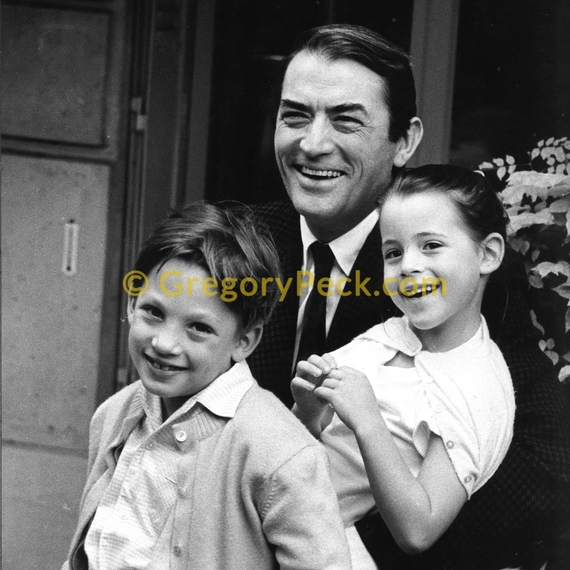 "Our dad loved Rome, felt at home in Rome, and it was like a homecoming every time he returned," says Anthony Peck, as he and his sister Cecilia spend time at the Rome Film Festival (running until October 23rd) to mark what would have been their father Gregory Peck's 100th birthday.
"He loved to wander through the museums and the ancient sites. Studying the art and sculpture inspired him creatively, and he played one of his favorite roles in Rome: Joe Bradley, which suited him so well."
Perhaps along with 'La Dolce Vita' by Italian filmmaker Federico Fellini, 'Roman Holiday' remains one of Rome's most iconic movies - starring Peck as American reporter Bradley and Audrey Hepburn as Princess Anne. And symbolically, the Peck siblings just attended a screening of the film at the Spanish Steps as part of the centenary celebrations.
"The 'Roman Holiday' story kind of mirrored our parents' story, but the roles were reversed," says Cecilia, a film director, producer and actress.
"They met at the time of the film. Our mother Véronique Passani was a young French journalist, and she interviewed the handsome American actor for her newspaper. He was definitely a prince in her eyes! They fell madly in love, and they were luckier than Joe Bradley and the Princess, because they got to stay together for the rest of their lives. Both of our parents also had the most wonderful, affectionate lifelong friendship with Audrey Hepburn from that time on."
Within the movie festival, Cecilia's skilfully executed documentary about her father, 'Conversations with Gregory Peck', enraptured Roman audiences as they relished the behind the scenes look at this rarest of movie stars: a man who embodied the very characteristics that set him apart as lawyer Atticus Finch in 'To Kill a Mockingbird' - the film which earned him the Best Actor Academy Award in 1962.
"Our father followed his heart," recounts 60-year old Anthony, a screenwriter. "He had great courage. He stood up for his beliefs - in 'To Kill a Mockingbird', with its vital statement against racism, and 'Gentlemen's Agreement', speaking out against anti-semitism. These films were examples of how our dad showed his strong disdain for intolerance of any kind, and it has informed my life and continues to inform it. Perhaps never more than now. Our dad believed in our country and in the freedoms guaranteed to all. He knew that our welcome of the tired, the poor, the huddled masses yearning to breathe free as is written in stone on Ellis Island -- he knew this was our strength. He fought all his life for equality of race, of gender, of religion."
Fifty eight year old Cecilia adds: "I don't think it was his success that was such a big deal, but the kind of person he was. He had the courage to stand up for what he believed in. For instance, he was an outspoken opponent of the US involvement in the Vietnam War, and he made an anti-war film called 'The Trial of the Catonsville Nine'. That film landed him on President Richard Nixon's Enemies List. Although many people said that being named on that list was a badge of honor, at the same time I'm sure it wasn't that easy to be called an enemy of the US government."
Significantly, their older half-brother Steve (one of three older sons that Peck had with his first wife, Greta Kukkonen) had been drafted and was fighting as a Marine on the front lines in Vietnam. "Our dad was tremendously proud of Steve and supportive of the troops," Cecilia explains, "But he did not believe that the US belonged in Vietnam. I think that influenced me when I made the documentary 'Shut Up & Sing' about the Dixie Chicks, and their opposition to the Iraq war and their right as Americans to freedom of speech. I made another film called 'Brave Miss World', about a survivor of rape, and I found out that my parents had hosted the first fundraiser for the Los Angeles Rape Treatment Center in 1975, long before people were speaking about rape. Our father was always an outspoken activist, far ahead of his time."
Activist, actor, and philanthropist - but also as dedicated a father as he could be.
"He was very hands on!" according to Cecilia. "He drove us to school on his way to work, he was very involved in our school life, in all parental decisions and discipline, and in all of our activities. But at the same time, he was incredibly busy. When we were growing up, not only was he at the peak of his career, but he was also the President of the Academy of Motion Picture Arts and Sciences, the Founding Chairman of the AFI, the Chairman of the American Cancer Society, the founder of the La Jolla Playhouse, on the board of the National Endowment for the Arts, the Chairman of the Motion Picture and Television Relief Fund, involved with many other humanitarian causes, and much more. So, it's not like he had a ton of time for us."
But, she adds: "I was the youngest of his five children and his only daughter. He had been hoping for a girl, and I think we had a very special relationship that only fathers and daughters can have. But I was a rebellious teenager, although maybe not as bad as my brother Anthony. He cracked down as a strict father, and we clashed for a few years. By the time I was in my mid-twenties we were through that, but I wasn't wise enough to appreciate him. There were many times when he would ask me to have lunch, but I would be too busy. He never acted let down, but there was a wistful look in his eye when I would brush past him."
She says she would give anything to have that time with him back, but by the time Cecilia was in her thirties, she says she was able to fully cherish him. "I couldn't wait to go to lunch with him, I accompanied him whenever I could, we worked together twice, he walked me down the aisle, he loved my husband Daniel Voll, he was present for the birth of our son Harper. I don't think I could say he ever let me down. He was so much more more tolerant, intelligent, compassionate and loving than one could ever imagine."
For Anthony, too, the man was a pillar of strength. "My father had great reserves of patience and empathy. There was little, if anything, that he did not understand about me, about people, about human nature. He brought all that wisdom and humanity, all his love to raising us. That was my example and that is what I try to do with my own son."
The two recall their father being very strict, nevertheless, and always expecting the best from them. "When Cecilia and I were teenagers in boarding school and college," Anthony says, "We would receive long, hand written letters from our father. He was always urging us to strive for excellence and pushing us very hard to succeed academically. I think his pursuit of excellence in every endeavor, in every moment, in every exchange was a constant source of inspiration to me. Every time we have a big decision to make, both us us try to figure out what our dad would have done, and why. And if we follow that lead, things turn out."
Antony admits it took him a while to grow up. "I pushed the Peck's bad boy role for quite some time. A lot of fathers would have gotten pretty nervous. It wasn't easy on my dad. However, when I finally figured it out I did everything I could to show the gratitude I had for my father's trust and kindness. My father never let me down. Not once."
The parallels with Atticus Finch, by far their father's favorite on-screen character by his own admission, are very apparent. "He was very adamant about us approaching our education seriously. But I don't think he made us feel like he had expectations that would leave him disappointed if we didn't live up to them. I think having a successful father makes you have high expectations for yourself, and you let yourself down if you don't live up to them. But it wasn't pressure from him. He wanted us to be educated, to be good citizens, and to follow our passions," says Cecilia.
The film industry turned out to be a passion for both, perhaps not surprisingly. "I thought it was normal that Frank Sinatra, Gene Kelly, Jimmy Stewart, Ava Gardner, Audrey Hepburn, and Sofia Loren would come for dinner, until I was about 16," says Anthony. "Then, it started dawning on me that this was unusual, special and very rare. There were always actors, writers, directors and artists at the house and our parents brought us along when they went to the homes of those friends as well. There was constant storytelling, laughing, dancing and singing. As a basis for what to look for in life, it gave me something to aim for. I love being around artists."
Meanwhile, as they were growing up in California, some of Cecilia's most cherished childhood memories with her father, were centred on the beach at Malibu. "Some of my favorite times were when he would pile all of the kids and the dogs into the station wagon and take us to Zuma Beach on Sundays. We would spend the whole day in the ocean, and then at sunset our mom would lay down fabrics and cushions on the sand and we would have a bonfire and eat buckets of Kentucky Fried Chicken, and catch sand crabs and play with the phosphorescence in the surf and tell scary stories under the stars."
Anthony loved going to Dodger baseball games with his dad. "He took us a lot. We knew the players, the stats, who was pitching. We were fans. I loved going to the night games, especially. I also loved going for walks in Central Park as a family and to the theater in New York."
Inevitably, a lot of their childhood was spent in and around the movie sets Peck was working on. "We also had great times on my dad's sets in Arizona and Utah, living out of motels in the summers when he was shooting westerns, hanging around the set watching movies being made and sometimes getting to gallop through the desert on the company horses," recalls Cecilia.
"We spent most of the summer of 1982 in Rome with our parents, while our dad was filming The Scarlet and the Black," says Anthony. "It was based on the true story of an Irish monsignor who helped smuggle Jews out of Europe during the war." Cecilia adds: "That was such an ideal part for him. He got to be in Rome, play a role after his own heart, and put on an Irish accent!"
"He took us to all the locations where he filmed the scenes for Roman Holiday," says Anthony. "In particular 'La Bocca della Verita'. That scene is such an exuberant, unscripted moment between him and Audrey. Of course, we've all recreated the moment with our hands in the Mouth of Truth. I have a photo with my son, Zack, my wife, Paula, my sister... we've all done it!"
Both Anthony and Cecilia list 'Roman Holiday' among their favourite movies played by Peck, but both agree that 'To Kill A Mockingbird' is in a league of its own. Harper Lee, who wrote the Pulitzer Prize winning novel, said 'Playing Atticus gave Gregory Peck the chance to play himself'. For his children, Peck was indeed Atticus.
As for their least favourite movies, Cecilia won't let on. "I can't even say," she says. "There was something interesting about each one and watching every one of them is like still having that piece of him with us." Anthony, however, admits at least that while he was in grade school, Moby Dick and Cape Fear terrified him.
As they mark the centenary of their father's birth, the Peck children say their father wasn't one for fancy celebrations when it came to birthdays. "The main thing was all of us being together. Besides that, there wasn't a lot of fanfare," says Cecilia. "Both of our parents grew up without means -- our dad during the Depression as the son of a working class Irish immigrant father and telephone operator mother. And our mom during the war and hard times in Paris. They didn't have a lot during birthdays and holidays, and so there wasn't much emphasis on gifts or material things in our house either.
"But it's been very important to us to celebrate our dad's 100th. We also made a website for him this year. We felt it was very important to honor his legacy and everything he stood for. The film critic Judith Crist once said about him, 'Somewhere in that man is the best of us'. He represents the values of decency, humility and dignity, values that people long for."
Anthony says he still misses his father's kindness and decency. "Our dad always kept everyone's interests at heart. His instincts were pure and giving. His nature was so ethical. There really weren't any weak spots. I miss his voice. I miss his thinking and wisdom. I miss his example. There was no one like him."
If they could pass on one last message to their father, who passed away in 2003 at the age of 87, what would it be?
Cecilia: "I love you so much." And Anthony: "Thank you, Da."
Support HuffPost
The Stakes Have Never Been Higher
Popular in the Community