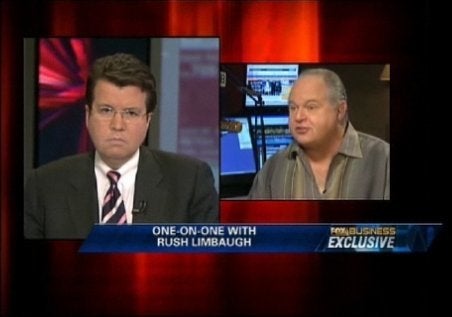 In an interview Wednesday on Fox Business, conservative talker Rush Limbaugh claimed that New York has audited every year of his tax returns since 1997, a key factor in his recent decision to stop doing business in the state.
"[C]all off the audit dogs," Limbaugh pleaded to Gov. David Paterson. Rush explained to Fox Business anchor Neil Cavuto, "You know, one thing that hasn't been reported in this -- and I have mentioned it each time I have talked about stopping doing business in New York -- is, I left New York, as a resident, in 1997. I moved down here to Florida. And I have been audited every year. This is going on -- '97 -- this is 12 years that I have been audited, the most recent audits for the last three years. It has been going on since October."

Cavuto could barely believe it, but Limbaugh insisted it's true:
I am in New York working 15 to 20 days a year. And I have to -- as part of this audit, I have to prove where I am every day of the year 14 different ways. [...]

The first audit was for seven years. ... And they -- they claimed I owed them X number of millions.

They even wanted to come, Neil, to both of my residences, New York and Florida, see which one was really more lived-in, which one had all the pictures. I mean, the hassle of these audits has just reached a tipping point.
During a press conference last week, Paterson didn't exactly appear heartbroken that the king of right-wing radio will be departing. Noting Limbaugh's rage at a recent state tax increase on those making over $300K, Paterson said, "If I knew that would be the result, I would've thought about the taxes earlier."
Popular in the Community