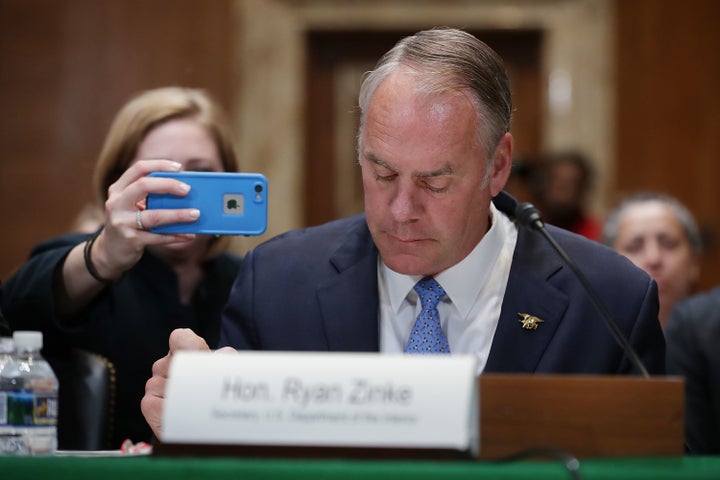 Three House Democrats have called on the Interior Department's internal watchdog to investigate whether agency chief Ryan Zinke violated ethics rules by using taxpayers resources for personal financial gain.
In a letter Thursday to Interior Deputy Inspector General Mary Kendall, Rep. Raúl M. Grijalva (D-Ariz.) and two other members of the House Natural Resources Committee questioned whether Zinke continues to be involved in a real estate project in his hometown of Whitefish, Montana. They also revealed that he met with the project's developers in his office at the Interior Department last summer.
According to a Politico investigation, the real estate project, 95 Karrow, is financially backed by Halliburton chairman David Lesar. A foundation Zinke started and was president of before resigning to take over Interior ― The Great Northern Veterans Peace Park ― owns a 14-acre lot adjacent to the proposed hotel and retail site.
The foundation has agreed to allow those behind the development to build a parking lot on its land, and Zinke could stand to benefit financially if the project goes through. His wife, Lola, now serves as president of the foundation, and the couple owns two properties near the proposed development.
Zinke's official calendar does not disclose who attended the 1.5-hour meeting on Aug. 3, 2017, in his office. But documents released earlier this year as part of a public records request and highlighted in Grivalja's letter show that Zinke met with Lesar, his son John Lesar, and Casey Malmquist, one of the project's primary developers.
The Interior Department did not immediately respond to HuffPost's request for comment. But in a statement earlier Wednesday to the Washington Examiner, agency spokeswoman Heather Swift rejected the idea that Zinke has anything to do with the deal.
"In accordance with all federal ethics guidelines, the secretary resigned from his position with the Great Northern Veterans Peace Park in March 2017," the statement read.
In their letter, Grijalva and Reps. Donald McEachin (D-Va.), and Jared Huffman (D-Calif.) argue that, at the very least, Zinke "continues to be involved with the fate of the foundation's land," as well as ongoing efforts to build a microbrewery on the project site.
They point to an email that Malmquist sent to Zinke's personal email account on Sept. 13, 2017. In it, the Montana developer calls the plan and park project "an absolute grand slam" and asks Zinke if he has any ideas for names.
"We are honored to be associated with you, your vison [sic], and the Peace Park," Malmquist wrote. "We also recognize the energy and ambiance each part of the development lends to one another. I know you are extremely engaged and consumed with your role as Interior Secretary. I want you to know that whatever assistance you need to protect and promote your vision for the park, please let me know and I will make sure it is communicated and executed."
A day after receiving the email, Zinke forwarded it along to one of his assistants, Caroline Boulton, internal documents show.
Grijalva and others said the Politico report, the August meeting and the email from Malmquist raise serious concerns about whether Zinke broke the law. "The American people must be able to trust that Department of the Interior decisions that affect the nation's welfare on a daily basis are not compromised by individual self-enrichment," they wrote to the department watchdog.
Popular in the Community