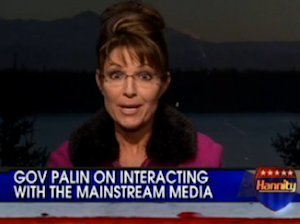 When asked about the matter during the prime time appearance -- which comes on the eve of the release of her new book, America By Heart -- Palin responds, "Why waste my time? No."
The former Alaska governor and rumored 2012 White House hopeful suggested there's no incentive for her to do an interview "with a reporter who already has such a bias against whatever it is that [she] would come out and say."
Palin went on to take aim at the news coverage disseminated by the larger media industry. She cited her own credentials as grounds for assuming the role of critic in the world of journalism.
"I want to help clean up the state that is so sorry today of journalism," explains the conservative favorite. "And I have a communications degree. I studied journalism -- who, what, where, when, and why -- of reporting. I will speak to reporters who still understand that cornerstone of our democracy, that expectation that the public has for truth to be reported. And then we get to decide our own opinion based on the facts reported to us."
She adds, "So a journalist, a reporter who is so biased and will, no doubt, spin and gin up whatever it is that I have to say to create controversy, I swear to you, I will not my waste my time with her. Or him."
Popular in the Community