It wasn't the Republican.
Freshman lawmaker Sen. Todd Young (R-Ind.) has tried to use his influence so far in the Senate, including his role on the foreign relations committee, to urge the Saudis to be less brutal in their bloody U.S.-backed fight against pro-Iran rebels in Yemen ― all the while respecting their decades-long partnership with Washington and condemning Iranian adventurism.
In doing so, he's modeled a new kind of humanitarian advocacy on the GOP side of the aisle, signaling that compassionate conservative internationalism can survive in the age of Trump. He's also boosting the rising wave of mainstream bipartisan skepticism toward Saudi Arabia associated with Sen. Chris Murphy (D-Conn.) and others.
On Tuesday, Young became one of only four Republicans to vote against Trump's plan to sell the Saudis more than $500 million worth of precision-guided munitions to be used in Yemen. Sen. Bob Corker (R-Tenn.), the chair of the foreign relations committee, blasted opponents of the sale, saying it was a case of "cutting your nose off to spite your face"; top Republicans argued that the precision-guided weapons would actually help the Saudis do less harm. (Democratic Indiana Sen. Joe Donnelly and four other conservative Democrats also broke with their party leaders to vote in favor of the sale. Opposition to the deal reached a striking level: Nearly half the Senate voted against it.)
Two of the other GOP votes against the sale came from familiar critics of U.S. foreign policy: Sens. Rand Paul (R-Ky.) and Mike Lee (R-Utah). The third was from Sen. Dean Heller (R-Nev.), who also voted to block a sale to the Saudis last fall. Young's decision, activists told HuffPost, was the most notable. It's difficult to write off the former Marine's critique of the Saudi-led war as the product of an isolationist bent or ties to a blue-leaning state, and he's no outlier in the GOP ― he's a former House member with a conservative record. One activist working on whipping votes against the deal told HuffPost that Young's move was expected to attract far greater GOP opposition, particularly if the vote had been delayed slightly longer. The activist spoke on condition of anonymity to describe private negotiations over the vote with Hill staffers.
That hope wasn't borne out, not least because the vote was seen as a pivotal early congressional judgment on the new Republican administration's foreign policy. But in a HuffPost interview, Young suggested the matter is far from settled. He remains concerned by the controversial war and wants lawmakers to weigh in on it again, he said.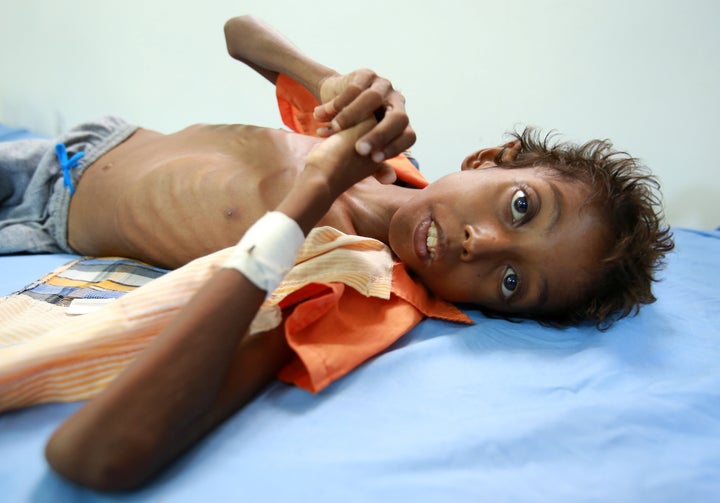 "When I campaigned for the United States Senate, one of the things that I told Hoosiers is, it is essential that Congress doesn't defer and delegate our foreign policy responsibilities to the next president, whoever that president is," the senator said. "I meant it. I still mean it."
Young, along with Murphy and Paul, is pushing a measure to place humanitarian conditions on future arms sales to the Saudis. The proposal will likely gain attention later in the year as Trump decides on and notifies Congress about the various elements of his still largely theoretical arms agreement with the kingdom.
Young says he has already identified the arguments that work with Republicans considering the issue.
"This is the worst humanitarian crisis in the world. Roughly 20 million Yemenis are suffering from a lack of food, are near starvation, or require immediate medical attention. ... That fact alone is really compelling, but when I share with a number of others the national security implications of this humanitarian situation, that really I think caught their interest," he said. "If you end up starving people through limiting food shipments, if you prevent them from getting access to essential medical supplies, then vulnerable people are more likely to align with extremist elements like the Iranians."
A rapidly escalating cholera outbreak is the latest of Yemen's many woes. Young and other observers believe the Saudi-led coalition could take immediate steps to reduce the suffering.
"I never received any sort of strong answers from the Saudis. In fact, oftentimes they outright ignored my concerns," Young said. Their chief partner in the coalition, the United Arab Emirates, and the Trump administration have been far more receptive, he added, but progress seems stalled because of Riyadh.
"I would anticipate moving forward, we're going to have a more constructive dialogue, because I do value the partnership we have with the Saudis," Young said.
The Tuesday vote was just the latest volley in the campaign to change the Saudis' internationally criticized, U.S.-supported behavior. Activists now see Young as a reliable ally. "Senator Young has been a tireless advocate for alleviating Yemen's humanitarian suffering because he understands the national security implications in allowing this situation to worsen and fester ... he voted this week to send the message that US support is not unconditional," Kate Kizer of the nonprofit Yemen Peace Project told HuffPost in a Friday message. 
Advocates believe the level of on-the-record opposition will help war-weary U.S. officials demand that the Saudis focus less on military actions and more on negotiations.
In Yemen and other nations facing mass hunger ― notably Nigeria, Somalia and South Sudan ― such diplomatic agreements that help people in need should be a U.S. goal, Young said. He struck a very different tone from a GOP president who has suggested the U.S. should be less generous abroad, use might as much as possible and see radical extremism as a consequence of Muslim identity, not of deprivation.
With Sen. Ben Cardin (D-Md.), the ranking member of the foreign relations committee, Young has co-sponsored a resolution urging the State Department to begin what he calls a "diplomatic surge" to address four famines prioritized by the United Nations and international aid groups. Getting that passed soon is his next focus ― which means Yemen, and the U.S.-Saudi relationship, remains on his radar.
"We should do whatever we can in each of these four instances to try and get the aid to those who need it and therefore stabilize countries that could become unstable … and harbor terrorist threats," Young told HuffPost. "Yemen is the lowest-hanging fruit, if you will ― the best opportunity to get some things done." 
REAL LIFE. REAL NEWS. REAL VOICES.
Help us tell more of the stories that matter from voices that too often remain unheard.