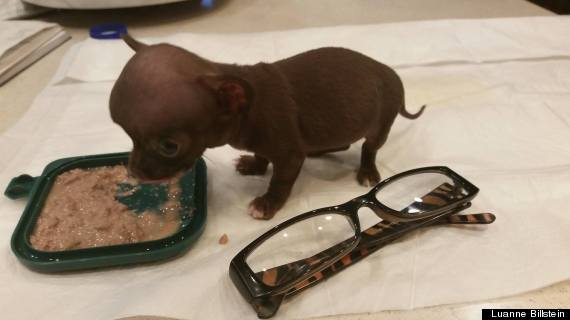 I don't know about you, but I'm still reeling from when the world went mad last week. Terrorists attacked journalists and Jews (I am both) in France and the universe spun out of control again. Craziness ruled the day and truthfully, I am blind to any hope for a happy ending of the world's current bout of madness. If I were writing a hashtag for last week, it would be #Insanityrules.
I was comparing the Paris attacks to the London attacks to the embassy attacks, to the attacks of Sept. 11 when Harlow entered the picture. Harlow is a little teacup Chihuahua who tips the scales at maybe a pound. She is 8 weeks old and the vet says she has hydrocephalus -- water on the brain -- and a lot of other health issues as well.
The good news is that Harlow knows none of this; she's a sweet happy little girl. She likes to be carried around wrapped up in a warm sock and easily fits inside a tight-fitting tee-shirt, nestled up against your heart. When she sleeps and has a dream, she sometimes twitches. Harlow has these big soulful eyes that speak volumes and ears that are too big for her body in a cute and goofy kind of way. She's a real heart-melter, this one, and apparently a real fighter too.
My friend Luanne Billstein, 55, of Ottawa Hills, Ohio, has been fostering Harlow for the Animal House Rescue -- a 12-year-old rescue group that's a registered charity. It's an all-volunteer group that basically takes animals from shelters or owner turn-ins and finds temporary foster homes for them until a permanent home can be found. Adoption fees barely cover the costs of neuterings and shots.
Saint Luanne, my name for her, is one of those always-even, always-dependable, well-organized, kind-hearted people. She saves dogs, cats, horses and the occasional Facebook friend who over-shares and shall remain nameless.
Harlow, she said, came to the rescue group on New Year's eve. She was weak and lethargic. Within days, her blood sugar and body temperature plunged and she needed to be rushed to the vet. Tests showed that she had a parasite called coccidia, as well as some congenital issues. She spent a few nights at the animal hospital and was returned to foster care, but has been ping-ponging back and forth between Luanne's home and the animal ER ever since in a drama that has been playing out on Facebook. An ultrasound of Harlow's brain confirmed that there was fluid present and a significant amount of swelling. The vet presented several options for Harlow; Animal House Rescue hopes to give her some immediate relief while quickly raising funds for additional, longer-lasting treatment.
"Harlow deserves the quality of life that we all want her to achieve," said Saint Luanne. "She is a true little fighter who has worked her way into the hearts of so many."
That last part? A total understatement.
There are hundreds of us who are following Luanne's Facebook feed faithfully looking for Harlow updates. Did she sleep well last night? Has she pooped today? Did she eat her food again? Can you please post another video.
Now I know that there are some really big problems in the world besides a tiny dog who was born with some life-threatening conditions. Truthfully, I'm not even much of a fan of Chihuahuas, but I digress. It comes down to this: I can't curb violence, moderate extremists or bring back the innocent lives that were lost for reasons I can't even fathom let alone understand. I am powerless to end hatred, resolve the world's conflicts or stop the ideology of world domination from growing among militant terrorists.