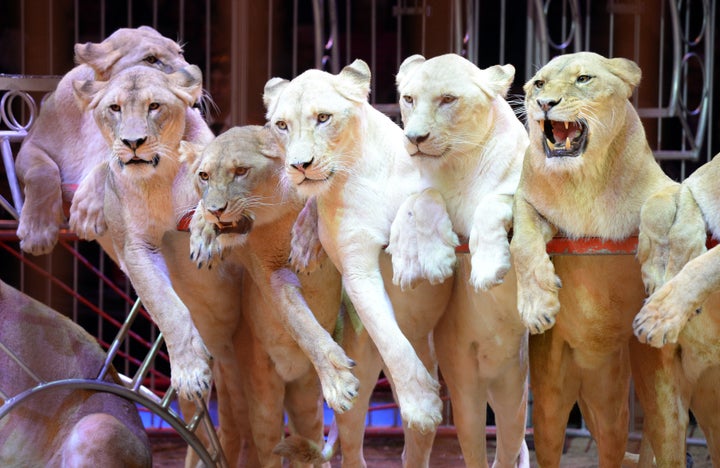 Scotland has banned the use of wild animals in traveling circuses, handing an important victory to animal welfare advocates.
The Scottish Parliament passed legislation on Wednesday preventing traveling shows from including non-domesticated animals in their performances, the BBC and The Guardian reported. The bill, which passed by unanimous vote, will not affect permanent circuses.
Scotland's environment secretary, Roseanna Cunningham, proposed the bill after a government survey found that over 95 percent of respondents favored taking action to protect wild animals. Though there aren't currently any traveling circuses in Scotland that use wild animals, Cunningham introduced the legislation on "ethical" grounds, the BBC reported.
"This is an important act that will not only prevent traveling circuses ever showing wild animals in Scotland in the future, but will demonstrate to the wider world that we are one of the growing number of countries that no longer condones the use of wild animals in this way," Cunningham said on Wednesday, according to The Guardian.
Animal rights organizations applauded the bill's passage.
"Captivity is a living hell for animals such as tigers and lions, and a circus environment can't possibly meet their complex needs." wrote the U.K. branch of animal advocacy group PETA in a statement.
"These animals understandably become frustrated, stressed, and depressed from a lifetime of being denied everything that's natural and important to them, kept caged in trailers that are hauled around the country, and forced to perform confusing tricks under the big top for some Victorian-era sense of entertainment."
Animal Defenders International congratulated Scotland on being the first nation in the United Kingdom to take such a stand for the welfare of wild animals.
"Given the constant travel and their temporary nature, circuses cannot provide animals with adequate facilities to keep them physically or psychologically healthy. Welfare is inevitably compromised," the group wrote in a statement.
Partially in response to public pressure, a number of circuses elsewhere have chosen to close down animal acts, including the famed Ringling Bros. and Barnum & Bailey Circus, which ended its use of elephants in 2016 before closing for good earlier this year.
Calling all HuffPost superfans!
Sign up for membership to become a founding member and help shape HuffPost's next chapter