 Despite presenting a cozy public image, Republicans Scott Brown and Sen. Kelly Ayotte (R-N.H.) are once again at odds over key issues, as Brown campaigns to unseat Sen. Jeanne Shaheen (D-N.H.).
Ayotte, who officiated at the wedding of Brown's daughter on Sunday, got to know Brown when he served as a Massachusetts senator before losing his seat to Sen. Elizabeth Warren (D-Mass.). He has since relocated to New Hampshire to challenge Shaheen.
Ayotte endorsed Brown, but by attacking Shaheen's positions on immigration and veterans' affairs he is effectively disparaging Ayotte's record as well. That's because Ayotte's positions on these issues resemble Shaheen's.
For instance, in a press release distributed on June 11, Brown stated, "Senator Shaheen today said that illegal immigrants descending on the southern border are fleeing violence based on gang and drug activity and that 'refugees' in danger of immediate threats back home should be allowed to stay in the United States. I disagree with Senator Shaheen on both the cause and the solution. The crisis on the border is mainly the result of the pro-amnesty policies supported by President Obama and Senator Shaheen, which have encouraged more and more people to come here illegally. While we need to act humanely, these new arrivals should be returned to their home countries."
However, Shaheen and Ayotte voted in support of legislation to provide undocumented immigrants with a path to citizenship, while also increasing border security. Ayotte said the bill would "finally secure our borders and fix our broken immigration system."
In addition to immigration, Brown is targeting the scandals surrounding the Department of Veterans Affairs. In an ad released Monday, Brown charges that the "Obama-Shaheen economy" does not work for veterans or anyone else, and that veterans "deserve better than long waits for patient care and national scandal."
A recent article published by the New Hampshire Union Leader, however, praises efforts by both Shaheen and Ayotte to reform New Hampshire's Manchester VA Medical Center. The same article points out that Shaheen has not only sponsored various bills in response to the VA crisis, but that she has also co-authored legislation with Ayotte on the subject.
This is not the first time that Ayotte and Brown's positions have been at odds.
Ayotte voted for Shaheen's energy efficiency legislation earlier this year, despite Brown's attempt to block the bill. He was hoping to deprive Shaheen of a legislative victory to tout during her campaign and had even called Ayotte to discuss the bill. Ayotte, however, said she did what she thought was best for her state.
Ayotte remains supportive of Brown's campaign. On Tuesday, she was fundraising on Brown's behalf.
"Scott Brown is exactly what New Hampshire needs right now: someone who will always put people ahead of politics," she said.
Before You Go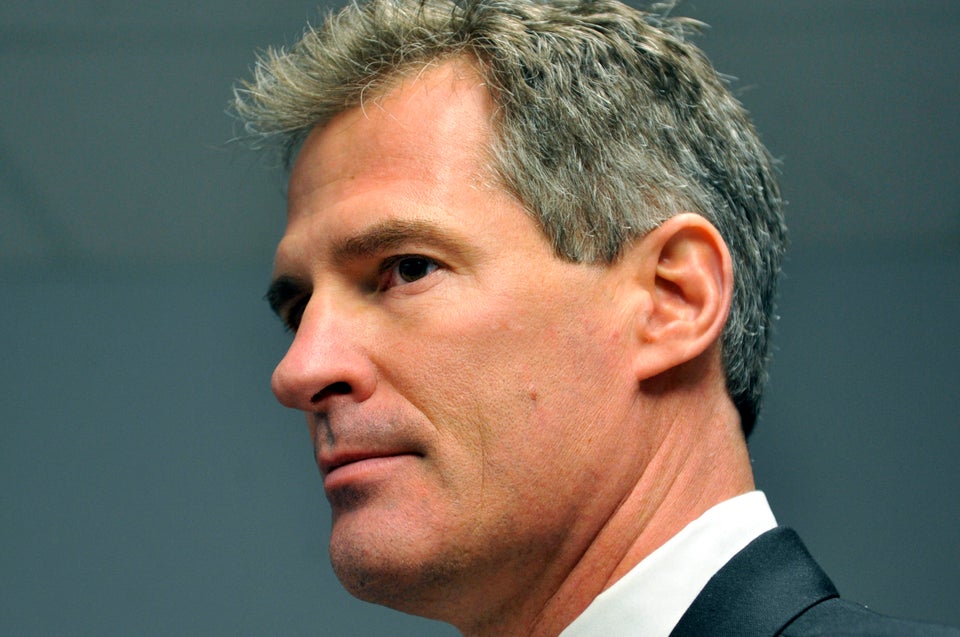 Scott Brown
Popular in the Community