I am hard-pressed to think of a band more hard working, that delivers so much quality music that is treated with more disdain than Seattle's The Bismarck. That's why I sincerely hope people come see them this weekend in the Bay Area.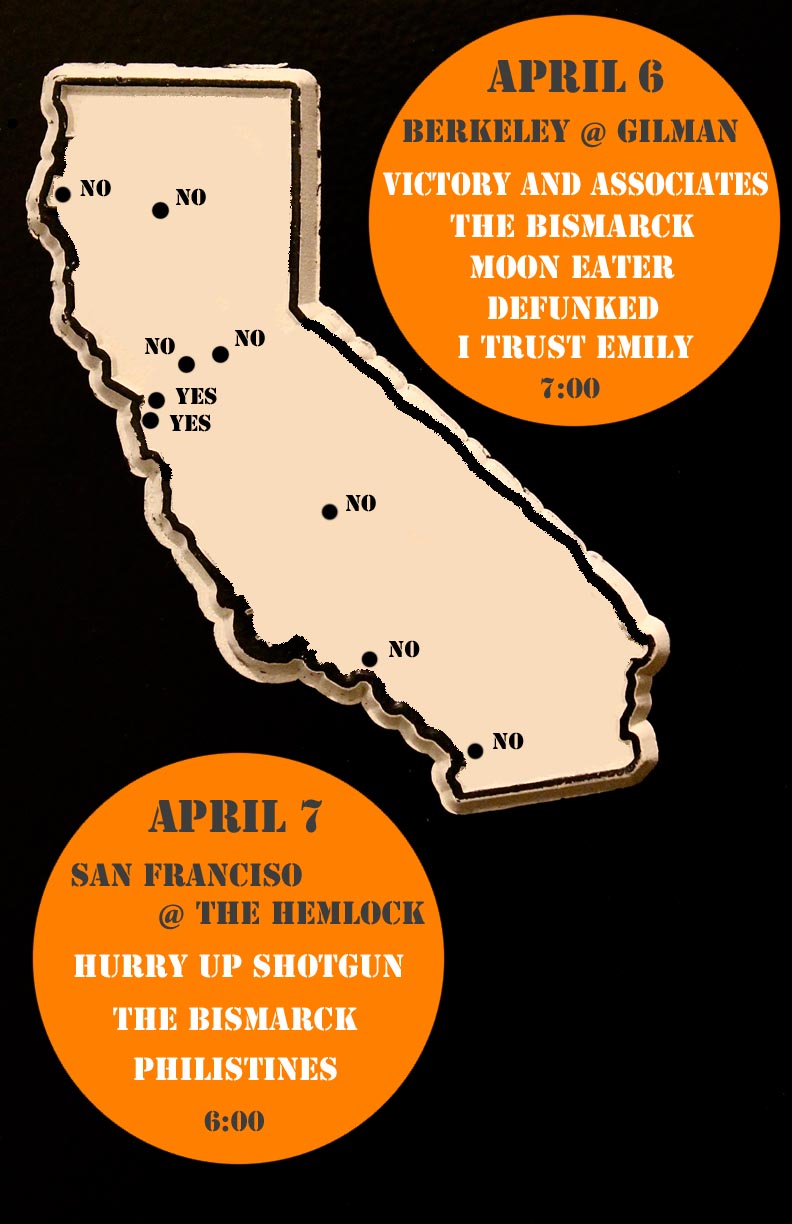 So there you are, Bay Area, two shows... one at legendary punk rock institution 924 Gilman, and an SF matinee at the wonderful Hemlock Tavern. Two chances to see a great American rock band in its natural habitat. Look: The Bismarck have been around for about a thousand years and have quietly produced a pretty fantastic body of work, along with a live show that is both fun, passionate, engaging and vital. It'd be nice if any of that meant anything.
I swear if there were any producers out there with a shred of creativity, they would talk to Bismarck guitar player Eric Fundingsland about making a feature-length documentary off of the band's self-funded, self-produced tour documentaries. These documentaries are some of the most remarkable tales of woe you will ever see. Anything that can go wrong, does. Cancelled shows, jerk promoters, nobody showing up, fried equipment. You could play a drinking game for how many times other guitar player Chris Jury says, "I wish I were dead." Moreover, he seems to mean it!
So here is a list of reasons why you should take time out of your busy schedule this weekend to see this wonderful band:
They have a burger named after them in Nottingham, England at Annie's Burger Shack. England! Did you know they even have burgers there??
Burger topped with homemade Russian style potato salad, American burger sauce, topped with schnitzel, lemon wedge and Wild Chokecherry jelly (.The berries can only be hand picked from the wild and grows only in this region of America. It is also North Dakota's state fruit..and a bugger to get hold of! Tee Hee)
They put out an album called Blood of Patriots (which is great!) then put a download of the same album with explosions overdubbed in random places and called it BOMBS of Patriots. Genius!
Guitarist Eric Fundingsland's dad and mom hosted Allen Ginsberg when Eric was a little kid, and he got nude and went nuts.
Bassplayer Nate Marshall's dad may or may not have been an actual spy.
Chris Jury, guitarist and malcontent was the center of a decent kerfuffle in The Stranger, Seattle's alt weekly, the details of which escape me. The resolution was that he was briefly given his own column space for something called The Complaint Box. Who says calling out BS on the internet isn't good for anything?
Jury ALSO made a great documentary about punk rock in the Great Plains called "Grateful Lovers" They also toured *WITH* the movie. These guys with them movies!
They have a song about Max Baer, the 1930s heavyweight champ of the world; it is called "Max Baer." It's good!
That song is on one of the best albums of 2010, the Bismarck's Great Plains. You know, if you're into that kind of thing... "music."
Although they live in Seattle, Washington all four members migrated there from North Dakota.
Members not only appear in the critically acclaimed Silkworm Documentary Couldn't You Wait, alongside notables such as Steve Albini, Jeff Tweedy and Steven Malkmus, they were also featured on the 2006 Silkworm tribute record, An Idiot Not to Appreciate Your Time.
Oh yeah... the music. I suppose you could say the Bismarck would be highly recommended if you are into the music of Archers of Loaf, Shellac, A Minor Forest, Unwound, and Engine Kid. However, like all of the greats, they truly sound like themselves.
Let's get this right, Bay Area, let's send these American treasures back up to the great rainy Pacific Northwest with a smile on their faces and a few dollars in their pockets.
Calling all HuffPost superfans!
Sign up for membership to become a founding member and help shape HuffPost's next chapter