Every day of the week, The Pollination Project provides $1000 in seed funding to an individual who is working to make the world -- or just their own community -- a better, more peaceful and more sustainable place. Here are the extraordinary people and ideas changing the world this week.
Kazu Haga is a nonviolence trainer and founder of the East Point Peace Academy in Oakland, California. Haga works in prisons, jails, schools and communities to train future leaders and participants invested in creating, supporting, and nurturing peace in the community and the world. East Point Peace Academy's outreach also facilitates dialogue between prison inmates and those in the community through programs and pen-pal systems, and a future website will be an additional portal for communication and connection.
Sharon Adong and Joseph Ng'ethe connect local populations with nonprofits through Tuchangane and promote conscious philanthropy with a hub of goodwill and information-sharing to link Kenyan non-governmental organizations, beneficiaries, volunteers and donors. Tuchangane is developing an efficient feedback loop that enables them to keep track of individuals, causes and overall industry impact. They are working to provide a database of vetted nonprofits, enable sharing of social impact stories, and provide a way for volunteers and funders to connect with information and causes that fit their passions.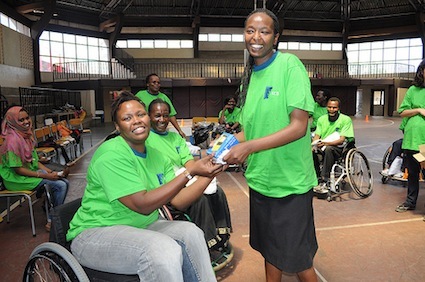 Lizzie Kiama founded the Women & Wheels Project to open up wheelchair sports to women and girls both with and without disabilities in Nairobi, Kenya, offering wheelchair sports plus interactive workshops on gender-based violence, sexual and reproductive rights, leadership, and empowerment. Lizzie said there is hunger for adaptive sports in Kenya, but they are generally reserved for men, so she aims to expand access to others in the community. She has already formed collaborations with the Ministry of Sports in Kenya, Blaze Sports America, and a team of experts who are volunteering their skills to the participants.
Animal activist Jordan Turner is the 19-year-old co-founder of the Global Conservation Group who has begun a campaign to stop the stabbing and killing of Bullfrogs in Smithville, Tennessee. Earlier this year, the town hosted a fundraising tournament based on this aggressive and bloodthirsty "sport" known as "gigging." His "'Giggin' is Killin'" campaign aims to stop this city from holding this brutal event in future years.
"Locals need to be made aware of the cruelty that occurs at these types of events, and be aware of how they can take action to stop it," said Jordan.
Joseph Varisco started the Queer Lexicon Oral History Project to profile Chicago's emerging, innovative and visionary figures within the Trans Queer Intersex Lesbian Gay Bisexual Alliance (TQILGBA) and Gender Non-Conforming communities. As Chicago is a major national hub for these conversations and cultural innovations, the impact of the project has been recognized by producers, photographers, documentarians, academic institutions and others, and is sparking a growing national dialogue while exposing audiences to identities, experiences and histories that are often disregarded, marginalized or underrepresented.
Daylle Deanna Schwartz is the author of 15 books on self-empowerment and the creator of The Self-Love Movement, helping people move through the pain of low self-worth that Daylle herself endured for many years. January is registered as Self-Love Month in the National Special Events Registry and Chase's Directory of Events to create more awareness of the importance of developing this critically important asset for a successful and happy life. Daylle's upcoming campaign invites others to sign a pledge to do something loving for themselves for 31 days and plans a video promoting Self-Love Month.
Govind Raju Nalla Thambi is with the Safe Haven Home in Tamil Nadu, India, a home for 30 orphan and semi-orphan children born at the bottom of India's social hierarchy. The Safe Haven Home endeavors to keep the children safe and provided for, instill hope, provide healing and restoration, promote growth and development, and liberate them from traumas and suffering, and simply be children again. With Govind's grant, the children can have desks and chairs, since until now, they sat on a damp floor for their studies.
Congratulations to our grantees this week for their outstanding work.
These are just a few examples of what a little seed money can do when put in the hands of someone with a vision and a plan to change the world.
If you were given $1000, how would you seed the change?
The Pollination Project makes $1000 grants every day, 365 days a year to individual changemakers. Please go to our website at www.thepollinationproject.org for funding guidelines and application.
REAL LIFE. REAL NEWS. REAL VOICES.
Help us tell more of the stories that matter from voices that too often remain unheard.