"Fashion," said French couturier Coco Chanel, "is made to go out of style," and as I read about the how insects are the hot new menu item or about a restaurant in Brooklyn where dinner is held in total silence, I wag my head and consider that the traditional French bistro has never been out of style, because, like work boots, they were never deliberately stylish in the first place.
The pleasures of a true French bistro have never waned for the most sensible reasons: bistros are neighborhood restaurants, built for sheer comfort. There will be good crusty bread and abundant butter on the table and a pot of flowers, along with a votive candle, re-lighted throughout the evening.
Bistro menus change their specials daily, but the basic menu is always pretty much the same in season, so that each dish has been perfected by long practice, day after day, night after night. So, even if one bistro's onion soup gratinée doesn't taste quite like another's, it will always taste the same in each.
What I have just described is exactly what you will find at Sel et Poivre (853 Lexington Avenue, NYC; 212- 517-5780; www.seletpoivrenyc.com), now celebrating its 25th year in business on the Upper East Side. Any week now, when warm weather comes back, you may sit outside and watch the parade of women laden down with brown Bloomingdale's bags, Hunter College students with backpacks, and young mothers with expensive strollers.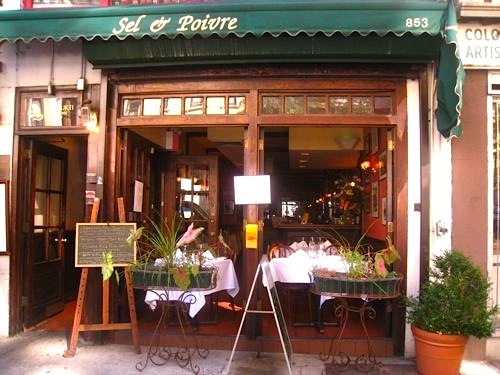 The inside dining room is the very definition of cozy -- and certainly nothing 'moderne' -- with bentwood chairs and squeaky banquettes, wall sconces, and old Parisian photos. The tables have tablecloths topped with crisp paper.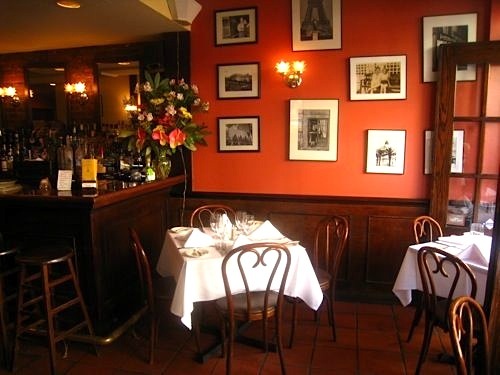 Owners Christian and Pamela Schienle are always welcoming old friends and new with the same consistent warmth of personality, and the couple has been very careful to keep Sel et Poivre in the same culinary groove while adding dishes like pastas and a delicious cold lobster salad with avocado mousse and grapefruit coulis ($16.95).
Escargots are tender and piping hot, bathed in plenty of garlic, butter, and parsley ($9.50). One of the best appetizers is the silky terrine of foie gras ($17.95). The French onion soup ($7.95) has not gotten any more caramelized or the broth richer than the last time I had it four years ago, but the perfectly pink calf's liver à la lyonnais -- one of the regulars' most popular dishes -- has plenty of those caramelized onions.
The menu has all the old bistro classics -- skate with lemon and capers, trout almandine, duck à l'orange, and one you rarely see any more -- meaty frogs' legs in a Pernod sauce with wild mushrooms and fragrant basmati rice ($20.95). Also something of a rarity in a city of lamb chops is Sel et Poivre's leg of lamb with haricots vertes ($22.95), generous slices in a dark jus. The coq au vin is done in a superb reduction of red wine to a lusciously viscous texture and the chicken absorbs it all right down to the bone.
Several dishes are accompanied by mashed potatoes (which should be more buttery for a French rendition), but I urge you to get a side of hot, golden crisp French fries ($6), which come free with roast chicken and steak frites.
I mentioned that bistros always have daily specials people come for once a week, and Sel et Poivre is no different: Mon. bouillabaisse; Tues. coq au vin; Wed. venison; Thurs. pout au feu; Fri. cassoulet; Sat. cous cous royal; Sun. roast leg of lamb.
Desserts are in line with what precedes them -- a fine crème brûlée, and two big ice cream-stuffed profiteroles with dark chocolate sauce. The pear tart's pastry was flaccid, the fruit tired.
Mr. Schienle is happily in charge of the wine list, which he keeps very reasonably priced, with plenty of options under $50.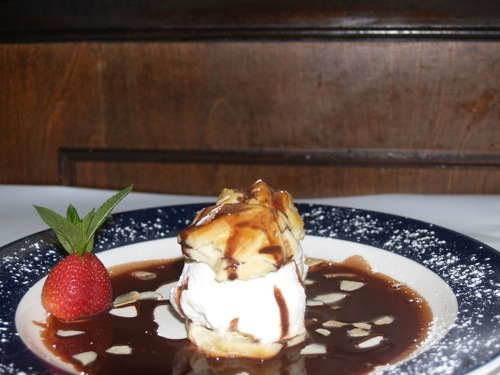 You can always count on his being there, taking his own late night dinner at the bar when his guests have mostly gone. So many of them have been coming here for so long, some since the day it opened, so there is a bonhomie between them and the staff that is both endearing and well worth cultivating.
So, Happy 25th Anniversary, Sel et Poivre, and may you always stay the way you are.
Sel & Poivre is open for lunch Mon.-Fri., for brunch Sat. & Sun., Dinner nightly.