WASHINGTON ― Senate Democrats have about a month to figure out what they want to do about Neil Gorsuch, President Donald Trump's pick to fill the Supreme Court seat left vacant by the late Justice Antonin Scalia.
Right now, they're being pulled in different directions: On one end is a base calling out for absolute obstruction, and on the other are moderates who fear that picking this fight could ruin their ability to stop Trump at a more critical juncture in his presidency.
If Democrats filibuster Gorsuch, it's likely Senate Majority Leader Mitch McConnell (R-Ky.) will invoke the nuclear option ― disrupting the rules of the Senate in order to push through Trump's nominee with only 50 votes. That opens the door for McConnell to make a few other rule changes and further hurt the Democratic minority.
Almost immediately after Trump announced Gorsuch as his pick, Senate Minority Leader Chuck Schumer (D-N.Y.) said Democrats would hold the nominee to the 60-vote threshold needed to clear a filibuster. But it's unclear if Democrats will stay united and vote in bloc against Gorsuch.
"Those who say at the end of this process there are only two possible results — that the Senate will confirm this nominee or the Republicans will use the nuclear option to change the rules of the Senate — are dead wrong," Schumer said Wednesday on the Senate floor. "That is a false choice." 
But Schumer's game theory relies on McConnell sending Gorsuch back to the White House and not using the procedural weapon he has handy. The Republican leader has said repeatedly in the past 24 hours that "Gorsuch will be confirmed," apparently betting that Trump's nominee will somehow clear the 60 votes needed ― meaning at least eight Democrats will vote to confirm him.
Many Senate Democrats were still processing the pick in the hours after Trump's announcement, but the divisions were already starting to show. Liberals want Gorsuch denied the seat; moderates want the process to work its will and warn that a bitter fight ending in rules being changed could damage the institution and further widen the already gaping chasm between the two parties.
Sen. Chris Coons (D-Del.) said he wants Gorsuch to get what former President Barack Obama's nominee, Merrick Garland, never did: a hearing, a committee vote and a floor vote. He wouldn't say how he plans to vote, but voiced concern over the possibility that McConnell will use the nuclear option.
"I think it's premature to come out and say I oppose this nominee," Coons said, adding that the current political atmosphere makes him wonder if Republicans and Democrats will ever find a way to work together again.
"If all we do is continue to exact a pound of flesh from each other, we will eventually strip our republic bare to the bone," Coons said when asked why Democrats should be reasonable after Republicans blocked Obama's nominee for 11 months.
"It is, of course, only human to want some revenge for this unprecedented theft of a vacant [justice] seat," he said. "Our challenge is to not act in a petty way but to try and act in a more balanced and constructive way because this institution is so important. To further deconstruct it puts all of us at risk."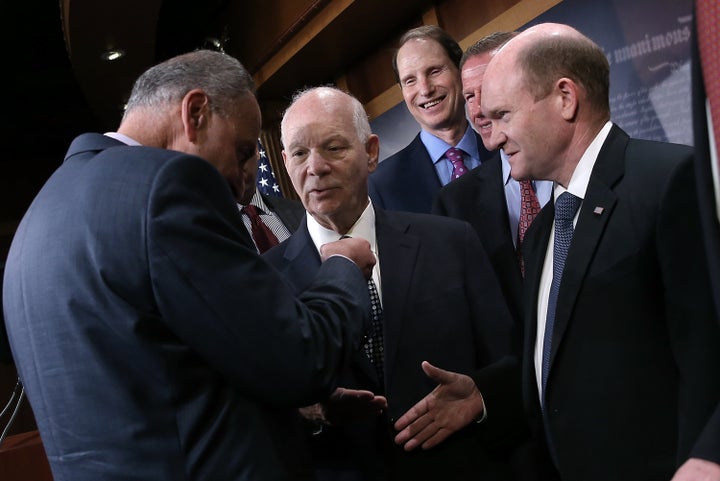 The Huffington Post talked to about a dozen Democrats on Wednesday, who all said Gorsuch should be held to the 60-vote threshold. But they were split over whether the nominee should be blocked as revenge for what Republicans did to Garland.
"It was horrific the way they handled Merrick Garland," moderate Democrat Sen. Joe Manchin (W.Va.) said. "I'm going to meet with Gorsuch and I will have a lot of questions to ask and we'll see how it goes."
As for his colleagues who have announced opposition to Gorsuch without meeting the nominee, Manchin said, "they have a right to do what they want to."
"I know they're still fuming over what happened and how it was handled, but two wrongs don't make a right," he added. "I like to think we're bigger than that."
Sen. Dianne Feinstein (D-Calif.) said she has been inundated with more than 50,000 phone calls from constituents about Trump's nominees and agenda, but that she plans to give Gorsuch a chance to explain his record.
"I really believe in the process, particularly for the Supreme Court," she said, adding that she hopes McConnell doesn't resort to the nuclear option because it "would change the whole dynamic of the court."  
The only nominee I could support was Merrick Garland because that way we could heal this assault that has occurred on our Constitution.

Sen. Jeff Merkley (D-Ore.)
Sen. Jon Tester (D-Mont.), along with Manchin and Feinstein, is a likely target for Republicans as they try to corral votes in Gorsuch's favor. "I have to do my due diligence on him," Tester said.  
Then there are the Democrats who want to make Republicans pay for what they did last year. Sen. Jeff Merkley (D-Ore.) said he isn't counting votes among fellow Democrats against Gorsuch, but knows that many consider this a "stolen" seat.
"If the seat is filled in this manner, it's going to undermine the integrity of the court, the legitimacy of the court for decades to come," Merkley said. "I said the only nominee I could support was Merrick Garland because that way we could heal this assault that has occurred on our Constitution."
Sen. Sherrod Brown (D-Ohio) also plans to vote against Gorsuch, but didn't want to discuss the possibility that McConnell could change the rules of the Senate, or that that could affect the upper chamber.
"I think that he has an obligation to show a breadth of support to get 60 votes ― period," Brown said. "Whatever happens after that, we'll see." 
But there's no denying the uneasiness among Democrats as they chart the path ahead. Sen. Debbie Stabenow (D-Mich.) wouldn't say how she plans to vote, but is "concerned about the rules."
"No question it's important for the future of the Senate," she said of preserving the filibuster. "That's how we get people to work together." 
REAL LIFE. REAL NEWS. REAL VOICES.
Help us tell more of the stories that matter from voices that too often remain unheard.
BEFORE YOU GO
PHOTO GALLERY
LGBTQ Reactions To Neil Gorsuch's Nomination