WASHINGTON -- Since last week's terrorist attacks in Paris, American lawmakers have focused largely on limiting the resettlement of refugees, arguing that terrorists could hide among those fleeing Syrian violence, lie their way through an 18- to 24-month screening process, and be allowed into the U.S.
But after emerging from an intelligence briefing Wednesday, with a House bill on refugees set for a presidential veto if it passes, senators said they have an even more pressing concern: visa waivers.
Democratic Sen. Dianne Feinstein of California and Republican Sen. Jeff Flake of Arizona told reporters they plan to introduce a bill on Thursday that would limit the visa waiver program, which allows citizens and nationals of certain countries to enter the U.S. without a visa for 90 days or less.
The bill would disallow anyone from those countries, many of them in Europe, from coming to the U.S. without a visa if they had been to Iraq or Syria within the past five years. Most of the Paris attackers were citizens of France or Belgium -- visa waiver-eligible countries.
"That's of much more concern, frankly, than refugee vetting," Flake said after exiting a closed-door briefing with Secretary of Homeland Security Jeh Johnson.
Flake said to "stay tuned" on details. Feinstein said data chips in passports would allow authorities to detect who has been to Syria or Iraq.
"Let's say France has had 2,000 people leave to go and fight," Feinstein told reporters. "They're a visa waiver country, so people come back to France and then they come into the United States. So the bill we would propose would strictly limit that."
Sen. Chris Murphy (D-Conn.) said the briefing with Johnson was dominated by concerns over the visa waiver program, much more than the administration's vetting of refugees.
"It's clear that the biggest exposure to the U.S. doesn't come from highly vetted Syrian refugees. It comes from individuals who can come here with very little check through other existing immigration pathways," Murphy said. He added that administration officials in the meeting "expressed an openness to changes that would tighten up the visa waiver program."
Sen. John Thune (S.D.), the Senate's third-ranking Republican, said he doesn't see the GOP moving on a legislative response until after the Thanksgiving break. He wouldn't say if he thought the House bill went in the right direction by putting further restrictions on admitting Syrian and Iraqi refugees.
"You know the House is going to do their thing on this," Thune said. "This was important to have this briefing so everybody could get more information that I'm sure will shape some of the ways we look at the issue over here and how we might respond to it legislatively."
What that would look like, Thune said, won't be decided until Senate leaders take the "temperature" of members.
Some Republicans said they were still interested in looking at the refugee resettlement process, and would support a "pause" to ensure it's safe. But the visa waiver program may be a bigger target.
"I think that what's emerging as a centrality of thought is that the visa waiver program potentially is the place where there's greater gaps, possibly, than the refugee program itself," Foreign Relations Committee Chairman Bob Corker (R-Tenn.) told reporters.
The bill to change the visa waiver program will be one of many introduced in the wake of the Paris attacks. Other Republicans are still pushing to block Syrian refugees entirely, although GOP presidential candidate and Sen. Ted Cruz of Texas has proposed continuing to admit Christians. Another Republican candidate, Sen. Rand Paul of Kentucky, plans to introduce a bill to block new refugees from certain countries from taxpayer benefits.
Sen. Marco Rubio (R-Fla.), another 2016 contender, signed onto legislation that would extend a broad National Security Agency phone data-collection program in response to concerns that terrorists used encryption technology to carry out the Paris plot.
Democrats have proposed other responses. Feinstein separately plans to introduce a bill that would ban members of terrorist organizations from buying or possessing guns, but she said it has no Republican co-sponsors.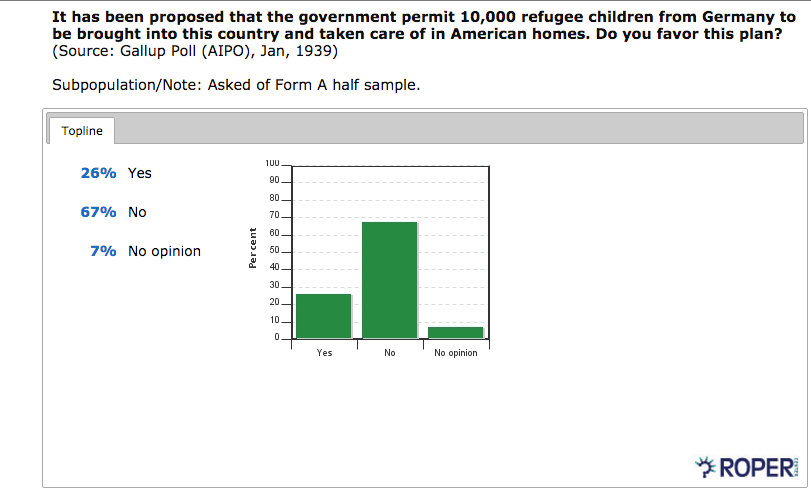 Public Opinion On Refugees Since The 20th Century
Popular in the Community