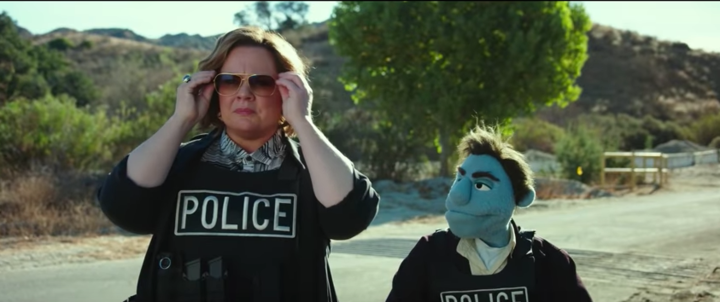 The nonprofit organization that produces the children's TV show "Sesame Street" lost a court battle this week to block a movie trailer and tagline for the upcoming film "The Happytime Murders."
The tagline for the adult-themed comedy crime mystery, which stars Melissa McCarthy and a crew of raunchy Muppet-like puppets, boasts: "No Sesame. All Street."
But Manhattan federal judge Vernon Broderick ruled on Wednesday that the intention of the tagline was to differentiate "The Happytime Murders" from "Sesame Street." Broderick said Sesame Workshop failed to demonstrate that would-be moviegoers were confused or that parents or sponsors were offended.
Brian Henson, son of puppeteer and "The Muppets" creator Jim Henson, directed the raunchy murder mystery, People reported. Daughter Lisa Henson is the film's executive producer. Henson died in 1990. The rights to "The Muppets" characters were acquired in 2004 by Disney.
"We fluffing love 'Sesame Street' and we're obviously very pleased that the ruling reinforced what STX's intention was from the very beginning ― to honor the heritage of The Jim Henson Company's previous award-winning creations while drawing a clear distinction between any Muppets or 'Sesame Street' characters and the new world Brian Henson and team created," STX said in statement.
Although the judge denied a temporary restraining order against film's marketing campaign, he told the parties to meet and suggest next steps for the case at a hearing next week.
Here's the trailer for the movie that's coming out August 17. Warning: It features graphic language, sexual scenarios and violence against puppets.
Related
Popular in the Community