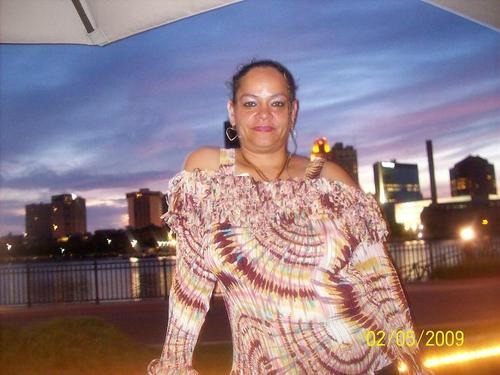 Meet EleSondra "Ele" DeRomano.
Ele is a survivor of commercial sexual exploitation/sex trafficking and the founder of Standing Together Against Real Slavery (STARS), a victim services organization based in Toledo, Ohio. Ele has lived an extraordinary life overcoming many obstacles. When she was very young, Ele's father had prostituted her mother, along with other women and girls, through an organized network of gang and pimp-controlled prostitution in Detroit, Michigan. In response to a sign of disrespect from a pair of alleged drug dealers, Ele's father shot and killed the two men. Ele was then placed in foster care at the age of four. Within the foster care system, Ele experienced years of physical and sexual abuse. She says this taught her "how to take a beating and how to tolerate sexual molestation." Ele was later returned to her mother, but she continued to endure physical and sexual abuse at the hands of her mother's boyfriend. Tired of the abuse, Ele says she "hit the streets." By age 11, she had graduated to a world of gangs, drugs, street violence, and forced prostitution (i.e. sex trafficking). By age 13, Ele had been sentenced to prison where she says she was known as "Hustler No. 34257."
At age 17, Ele was released from juvenile detention and placed with a Christian foster family in Toledo, Ohio. She says she initially rejected the family's attempts at love, guidance, and supervision. Ele returned to the streets (this time in Toledo), where she was introduced to crack cocaine and again forced into a life of prostitution. After several years, Ele had finally had enough. While working for the House of Emmanuel, Ele says she realized she needed to do something to move forward from her past.
"I needed to step up and do something to help kids," says Ele. "I had to tell my story and make a difference."
Ele then founded Wake Up Youth, a program designed to educate and empower inner-city youth. "Many... kids are very naïve and do not understand the path they are being led down," Ele says. "I am trying to help educate them and get them off the streets and onto a better path." In 2005, Ele assisted the Federal Bureau of Investigation with their "Precious Cargo" case in Harrisburg, Pennsylvania, which involved numerous child victims of sex trafficking from Toledo. Ele's work has been recognized around the country. In 2009, Shared Hope International published Renting Lacy: A Story of America's Prostituted Children, in which Ele's story was featured along with other survivors. In 2011, Ele closed Wake Up Youth. The program was restructured to form what is now known as Standing Together Against Real Slavery (STARS).
STARS is a survivor-based organization dedicated to supporting and empowering young women who have experienced or are at high risk of commercial sexual exploitation/sex trafficking. According to the website, STARS offers a unique crisis prevention/intervention program with personalized case management/mentorship and a temporary shelter for women aged 18-24. Their goal is to "restore hope, cultivate purpose, and revive self-worth in today's misdirected and neglected girls." Since 2004, Ele has worked with women and youth who are at risk for a myriad of factors, including sexual assault/exploitation, domestic violence, street and gang violence, and substance abuse/addiction. As a self-described "ex-crack addict and ex-prostitute," Ele is uniquely capable of mentoring exploited and at-risk women and girls with her direct yet nurturing approach and personality. She offers brutal honesty but creates an atmosphere of hope.
Ele recalls the many names she has been called over the years, including "ho", "crack ho", and "disposable." Today, Ele says she is called "Momma." She is known by many as a fierce leader and champion for vulnerable young women and girls. She shares her knowledge and expertise with professionals and communities across the country, as well as youth in inner-city schools facing gang and street violence. She spreads her message of hope and inspiration through Ohio's prison systems, youth programs, and streets. Unlike other privately-funded nonprofit organizations with similar objectives, Ele says she focuses primarily on street outreach. "God took me through what he took me through to get me to where I am today," Ele says, "to use me as a tool to educate and help people, to say that, 'If I can do it, you can do it.'"
In a recent article with Elite Daily, titled "Human Trafficking: Do Our Advocacy Efforts Dehumanize Victims?" I discuss the negative ways in which victims and survivors are often portrayed in advocacy images. Ele is one survivor among many whose personal story offers a much-needed counter-narrative to the numerous images of victims in a static state of brokenness and powerlessness. Ele's personal strength and professional accomplishments exemplify the heights to which survivors can soar. "I don't want sympathy for what I went through," says Ele. "I want people to have sympathy for the girls still being trafficked... I hope my story can help them through tough times." With your support, programs like STARS can continue to help victims heal, overcome, and move forward to create their own stories of success. To support Ele and her work with STARS, please visit www.StarsToledo.com.
Popular in the Community