Soul singer extraordinaire Sharon Jones is on top of the world. A recent duet on Saturday Night Live with Michael Buble was so anticipated that her Daptone record label pushed up the release of her new album. I Learned The Hard Way by Sharon Jones & The Dap-Kings promptly received glowing reviews and debuted at #15 on the Billboard charts, a record for them and the label.
Even when things go bad, they come out good. Like many people, her travel plans were upended by the Icelandic volcano. That meant Jones and the band were stranded in Europe, missing numerous media events like an appearance on Letterman and a one-hour concert they were going to perform on NPR.
But a photo of them looking sad in a Duesseldorf airport was snapped up by news media around the world, including the front page of the Washington Post. (Ironically, the Post raved about their album -- reviewer Sarah Godfrey said, "they are still the finest late-'60s/early-'70s soul revivalists in the game, still making original songs fit to stand beside much of the music of that era. And it's still impossible to resist the outfit's instant vintage sound." --and yet the paper failed to identify them in the image, though CNN and other outlets would.)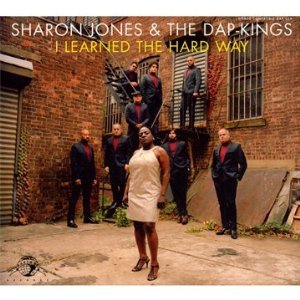 So success is everywhere for Sharon Jones. Someone asks to use their cover of "This Land Is Your Land" (from their debut album Naturally) and suddenly Jones finds out she's belting it out over the vivid title sequence of the Oscar-nominated George Clooney film Up In The Air. It's all good. Just don't think this former corrections officer who was told constantly she was too old, too short, too full-figured to make it is going to let all the acclaim turn her head. Uh-uh. The last time we spoke, Jones was bemoaning the fact that her car had just broken down. And now? Now she's got a brand new used car.
"Child, I had an '88 Honda when I was talking to you," says the 54 year old Jones. "Now I've got a 2005. As a matter of fact, I probably got it right after I talked to you. I was in a wedding band and my ex-band leader knew someone who worked at the Honda dealership over at Bay Ridge in Brooklyn. He remembered me. I went to him. He said, 'Oh yeah, you're making money; what do you want to look at?' I said, 'Oh no, I'm not making a lot of money. And you make sure it's as cheap as I can get it.' That was that. As soon as you say 'record label,' they think [you're rich]. 'Independent label,' I say. 'Independent!'"
Jones laughs. She's wisely capitalizing on the many opportunities without trying to drive herself crazy.
"It's ridiculous," says Jones, who has a gig tonight April 13 in Atlanta, close to the place she was born in Augusta, Georgia. "I know I did a lot [of press] on 100 Days, 100 Nights [the last brilliant album by her that ranked on many best of the year lists for 2007]. "This one is totally ridiculous. I just got back from CBS News. I'm in O Magazine and Spin Magazine and probably some other ones. In the last month, I haven't had a chance to breathe. I'm on the phone or I have to go to Daptone and do some photo shoots.
"Then I had an open day and they wanted to schedule some things. I said, 'Come on guys, I don't mind but we've got to leave some of these open days open.' I'm not used to the pressure. They're like, 'You wished for this and now it's happening.' I said, 'Don't even go there. I know what I wished for. I wished for me to succeed, not for you all to be crazy and think that everything that comes through I have to take it.' You know what I mean?"
And sometimes well-wishers are just getting up in your business.
"Every time I run into someone. First thing they say: 'You got a good lawyer?'" Jones laughs. "Why are people trying to find out? 'You getting good royalties?' I'm getting royalties. I'm getting publishing. I'm getting a lot of stuff; don't worry about it. Everything is worked out.
"Don't think I'm going to be stupid enough to get out here and sing and not get anything. I don't ask for a lot of publishing. But I sing them songs, I come up with certain hooks; I bring those stories to life. Give those songs to somebody else; they wouldn't sell like that. My voice alone is a trademark. Here at Daptone, if you write a song for me, you know I'm going to get some publishing. People just want to get into your business. Some mean well, but some say, 'Well, you know, I know somebody.'"
Don't get her wrong. Jones is loving every minute of it, from joking with Stephen Colbert to playing the Apollo Theatre, where she just returned for some new concerts right near her birthday. The crowd was rapturous, as well they should be. Sharon Jones and the Dap-Kings were delivering another titanic show worthy of the Godfather of Soul. She's that good a performer. But Jones admits she got a little support from above.
"The Apollo was like another world," says Jones about her first time on stage there. "I was on cloud nine. James Brown was standing there right next to me on stage. I felt it. Yeah, it was beautiful. You can't recapture that. Nothing beats that first time there."
It helps when you have a great album to perform. I Learned The Hard Way is a tight, flawless collection of tunes, clearly destined to be one of the best albums of the year, alongside other acclaimed works like Peter Wolf's equally soulful Midnight Souvenirs.
Thanks to some strings and a lot of wonderfully arranged background vocals, it sounds a little more uptown than their previous albums -- slightly more of The Cotton Club than the Apollo. Mind you, Jones and the Dap-Kings (who of course powered much of the success of Amy Winehouse's world-beating Back To Black) can still romp it up for a jukejoint. They've just taken their time and produced a more diverse album than ever, ranging from "The Game Gets Old" and the title track to the raucous "Money," the funky "She Ain't A Child No More" to the delightful closer "Mama Don't Like My Man," which sounds like a long lost girl group track from the early Sixties, though Jones was looking back even further on that one.
"It do have that Sixties sound but I was thinking more of the old gospel church sound," explains Jones, a long-time native of Brooklyn, where she grew up. "They didn't have instruments, so everyone was clapping. That drum sound, that thumping sound, you think? That was just me. We have two steps going into the vocal room where I record. Three blocks. I was just stomping on those blocks and the background singers were clapping their hand."
So things are going well for Jones, but she still has some goals left to meet, starting of course with the goal of seemingly everyone else in the Western hemisphere: getting on Oprah. Jones has a good start: she's featured in O, Oprah Winfrey's magazine. Surely Oprah reads her own magazine?
"I was already on her show," laughs Jones. "When they did a show on The Great Debaters with Denzel Washington and Forrest Whitaker, every time they went to a commercial in the first half hour, they played one of my songs from the soundtrack. All I wanted was for Oprah to say, 'Who's that young lady singing?' And Denzel would say, 'Sharon Jones.' That's all I wanted. 'Sharon Jones.' Nobody said it. Even when Michael Buble was on it, he didn't say 'Sharon Jones.'"
She laughs and then gets serious.
"These are my goals," says Jones. "Be on Oprah. Make another movie. A couple soundtracks. Get another album out and tour. Each year just keep touring until people get tired of us and don't want to see us no more. Or I get too tired and say, 'Baby, I can't do it no more.' I'm not even about the Grammys and all the awards and all that glamour and all that. As long as these things sell and I make enough money so I can buy me a home and get my momma in a nice home somewhere before she leaves here. And be a little happy. That's it. Just be happy."
Calling all HuffPost superfans!
Sign up for membership to become a founding member and help shape HuffPost's next chapter