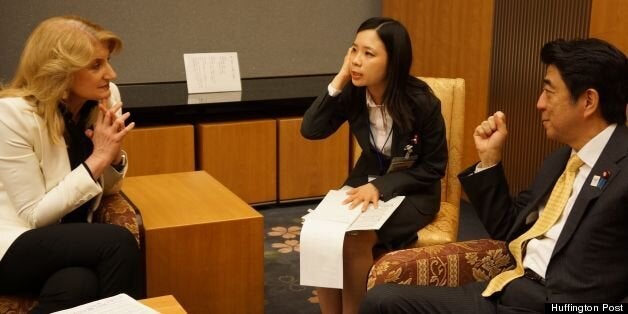 "I have experienced failure as a politician," Japanese Prime Minister Shinzo Abe once said. In his second round as the country's prime minister, he is determined to avoid the mistakes of the past -- beginning with how to deal with the stagnant Japanese economy.
"The future of Japan's economic growth depends on us having the willpower and the courage to sail without hesitation onto the rough seas of global competition," he said in March. And that includes charting a very separate course from many of his Western counterparts' austerity-based economic policies.
I asked Abe about that when, together with our HuffPost Japan Editor-in-Chief Shigeki Matsuura and our International Editor Nicholas Sabloff, I met with him on Thursday afternoon in his office in Tokyo, with a painting of Mount Fuji staring down at us and cups of steaming green tea in front of us.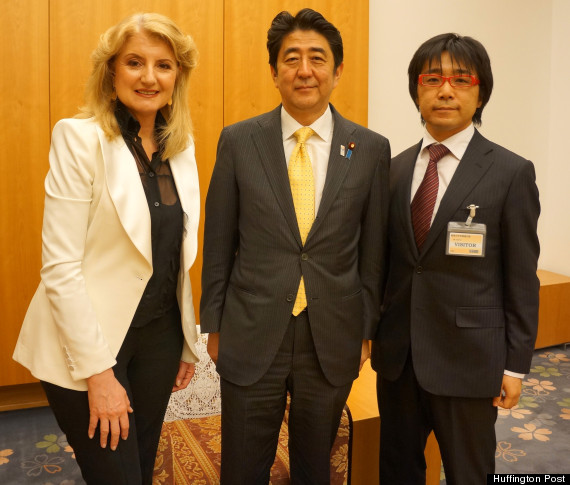 "There are many opponents to my monetary and fiscal policies," he said, almost proudly. "My policies do not conform with the conventional wisdom. However we have been suffering from a long period of deflation and at the end of last year we faced a serious unemployment crisis. I am convinced that my economic policies are the only path to break out of this crisis."
Abe calls his approach the "three arrows" -- monetary easing, public investment and structural reforms -- which, he believes, taken alone can be bent but together will be invincible. From the moment he came to power, he has taken a different approach than leaders in the West, including his decision to replace Masaaki Shirakawa, the cautious head of the Bank of Japan, with an Oxford-trained former Finance Ministry official, Haruhiko Kuroda, who has committed to do "whatever it takes" to make economic growth a priority.
The Abe cabinet plans to finalize its growth plan just in time for the July election for the upper house. It will include support for people who want to change careers, tax incentives for innovation and deregulation that is facing strong resistance from the agricultural and medical establishments. The public has rewarded Abe's boldness with a 70 percent approval rating.
Abe is the son and grandson of politicians. His grandfather was prime minister from 1957 to 1960 and his father rose to become foreign minister. Indeed Abe, who was born in 1954, joined the family business as his father's secretary of Japan's foreign ministry in 1982 when he was 28.
Among his staunchest supporters are women, whose cause he has championed. I asked him about his statement that women are Japan's "most underused resource," and his plans to address this. "Let me start with my own Liberal Democratic Party," he said. "For the first time in the party's history, of the three members on the executive board, two are women." (One of them, Seiko Noda, is actually the chair of the party, and here's what she wrote in her blog post on Huffington Post Japan on the day of our launch.)
"I urged Japanese corporations to include at least one female executive member on their board," said Abe, "and I told them that the female members could be Japanese or foreign." ("So, there might be some job offers for you," he joked.)
I asked if he planned to just use the bully pulpit or if he also intends to propose legislation. "When companies make an effort to make it easier for women to return to work after maternity leave, I'm considering various measures ranging from publicly praising their efforts to tax relief," he said.
Because of the long working hours in Japan and a dearth of childcare facilities, women have a hard time staying in the workforce after having children. "The harsh reality," Abe said recently, "is that for most women it is a choice between either having children or a career." A consequence of this has been that Japan has suffered the most rapid population decline of any country in the world. Last year it saw its biggest population drop -- nearly 300,000 -- since record-keeping began in the 1950s.
While he sees the greater economic participation of women as essential to Japan's recovery, he also sees economic growth and the reduction of unemployment as essential to addressing the epidemic of depression among his country's young people, which has led to large numbers of them committing suicide every year. "The suicide rate in Japan was increasing over the last ten or so years," he told me. "However, recently we started seeing a decrease. The economic situation in Japan has been a contributing factor to people's anxiety and depression."
"But I also think," he added, "it's important for people to come up with ways -- Zen meditation or others -- to release their stress with their own efforts."
"Isn't it paradoxical," I asked him, "that while 25 percent of American corporations are adopting Japanese traditions like Zen meditation to help their employees deal with the health consequences of stress, Japan is lagging behind in adopting its own native practices?"
"Steve Jobs practiced Zen meditation," he replied. "In the last five years I used to go to Zen practice once a month, but since I assumed the post of prime minister it's been much harder."
In 2007, during his first go-round as prime minister, Abe resigned, citing intestinal health problems brought about by stress and exhaustion, and was soon after hospitalized for gastrointestinal inflammation.
"Given your recent health history," I asked him, "what are you now doing differently to mitigate the effects of all the daily stresses of your job?"
"I try to exercise in nature," he said, "and I try to play golf once a month. The last time I played golf with my wife, however, she got better scores than me, which became an additional source of stress."
I asked him what else he's doing differently from the first time.
"I have learned to listen to the people more, to match the people's wishes with my government's policies," he said.
This is perhaps why Abe has so eagerly embraced social media -- surprising for a Japanese political leader, since until his government changed the law, it was illegal for candidates in elections to take their messages directly to voters via the Internet.
"Thanks to the change in our law," he told me, "it is now possible for us to make our case on social media, which is important given how difficult it is to get our message across through traditional media."
With 340,000 fans on Facebook and 100,000 followers on Twitter, Abe regularly uses Facebook, Twitter and LINE, a homegrown social network, to communicate directly with the public. "Of course it's a two-way conversation. We need to respond to the messages we get as much as we need to send our own," he said. "If we include any wrong facts in our messages there will immediately be someone to fact-check us. I know that whenever I make a mistake on my Facebook account, there are always people who point it out."
At that point I, of course, invited him to blog on the Huffington Post Japan, which he promised to do before the election. I reminded him that he would not need to stay within 140 characters.
While Abe's economic policies (popularly known as Abenomics) have received wide support both inside and outside the country, except of course among those who refuse to give up the idea that austerity is the only appropriate response to the economic crisis, his attempts to revise the Japanese constitution have been met with criticism and concern, both at home and abroad. When I asked him about this, he replied that what he wanted to do was use the national referendum to give the Japanese people an opportunity to have a say in their constitution.
Nevertheless, fears persist that if Article 9 of Japan's postwar constitution is changed to allow the country's military to act abroad, it would foster a dangerous resurgence of nationalism which, together with revisionist claims about Japan's role in the second World War, could be a serious distraction from Abe's determined efforts to revive the Japanese economy.
For now, while the U.S. and Europe sputter along, restrained by the politics of austerity, Japan under Shinzo Abe is set on a bold course to revive a moribund economy -- and spread the word through Facebook and Twitter one status update and one tweet at a time.
Support HuffPost
The Stakes Have Never Been Higher
Related
Popular in the Community