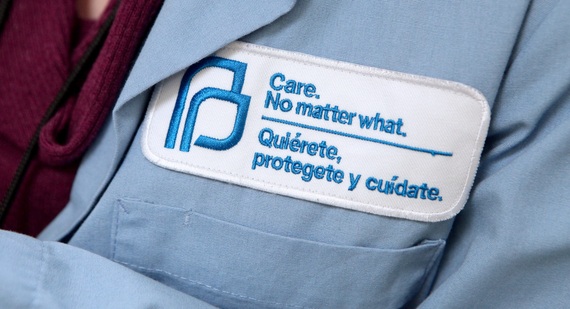 Again and again, studies show that our community has a higher prevalence of and more complications with diseases such as diabetes, cervical cancer and HIV/AIDS. We continue to bear a disproportionate burden of these diseases -- which many of us know personally all too well -- because barriers such as cost, location and availability of health centers, as well as cultural and linguistic factors too often make it difficult for us and our loved ones to access the health care we need, including essential preventive health care.
Lack of health insurance is one of the major barriers contributing to our community's health challenges. In fact, Latinos are the ethnic group that is least likely to have health insurance. Without health insurance, it can be hard to afford even basic preventive health care like check-ups. And when a family member is diagnosed with a serious disease, it can potentially cause financial ruin. We can do better for the ones we love, and the Affordable Care Act (ACA), also known as Obamacare, can help.
Now through February 15, 2015, you may be eligible to sign up for affordable health insurance during what is called the open enrollment period. Since our community is least likely to have insurance, we are also the group that stands to benefit the most from the Affordable Care Act. With the ACA, 10.2 million uninsured Latinos nationwide have new opportunities for affordable health insurance coverage. In New York State, nearly 200,000 Latinos enrolled for health insurance during last year's open enrollment period.
Getting health insurance means you can see a range of health care providers when you need to. As one of New York City's leading sexual and reproductive health providers, Planned Parenthood of New York City knows firsthand how important affordable basic health care is for women and their families. So in addition to our health care services, Planned Parenthood of New York City can sign you up an affordable health insurance plan in all four of our health centers in the Bronx, Brooklyn, Manhattan and Staten Island.
The ACA also has brought significant benefits to millions of individuals and entire communities. With the ACA, essential preventive care is now available to insured people without co-pays or other out-of-pocket expenses. This includes annual check-ups, vaccines, blood pressure and diabetes screenings, mammograms, colonoscopies, and STI and HIV testing, among other services. All insurance plans must also include maternity coverage.
Under the ACA, health insurance plans will no longer be able to deny you coverage based on a pre-existing condition like diabetes, asthma, or cancer. Young people are covered under their parents' insurance until age 26, whether they are married, still in school, or looking for a job. The ACA also includes efforts to increase the number of culturally sensitive doctors, nurses, and health care providers in underserved communities where they are needed most.
Planned Parenthood's on-site counselors are ready to help you figure out what the law means for you and how to find a plan that works best for you. You can make an appointment at PPNYC for in-person help to determine what kind of financial help you can get and what to consider when choosing an insurance plan.
For those in our community who are insured-take this opportunity to educate a friend or family member about how they too can get covered and know Planned Parenthood of New York City is here to help. It is important to note that most Americans will get financial help paying for a plan. So when you go to sign up, make sure to learn more about the financial help you can get.
It's also important to note that the ACA does not extend health insurance benefits to the millions of immigrants nationwide who are undocumented. However, undocumented immigrants remain eligible for emergency care under federal law. For those who are not eligible for health insurance, Planned Parenthood of New York City will still provide you with care regardless of your immigration status or your ability to pay.
Planned Parenthood has been providing expert sexual and reproductive health care for almost 100 years, and that's not changing. Whether you have health insurance or not, you can still come to Planned Parenthood of New York City for birth control, cancer screenings and the other care you need, when you need it. We don't turn anyone away, no matter what.
Make an appointment at Planned Parenthood of New York City by calling 1-800-230-PLAN or visiting www.ppnyc.org.
Haydee Morales is Vice President of Education and Training at Planned Parenthood of New York City.
Popular in the Community