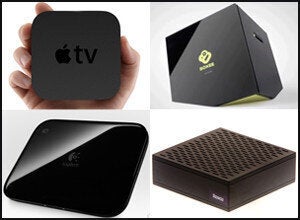 Ever since the advent of the Internet, some of the world's most innovative and ambitious technology companies have pursued a possible holy grail of home entertainment: combining old-fashioned television watching with the modern experience of surfing the Web.
Tech titans like Apple and Google, as well as upstarts like Roku, have led the latest offensive strike on the living room with devices they call "smart TVs," which essentially fuse television with the Web, bringing online content to the TV screen.
Some invite subscribers to watch, say, Martha Stewart's show while simultaneously using the same screen to order ingredients from Fresh Direct. Others bypass pay TV entirely, allowing viewers to handpick shows from online catalogues, such as iTunes or Netflix that instantly stream programming over the Internet.
Web-savvy tech companies have spent the last decade battling for command of the screens that dominate our lives, successfully capturing our attention on cellphones and computers. But the television screen has proven to be the Afghanistan of the technology realm -- the unavoidable place that every great power has dreamt of conquering, only to become bogged-down in a long, costly, and ultimately fruitless battle.
This week, as the technology world converges on Las Vegas for the Consumer Electronics Show -- the annual showcase for the newest, fastest and most-coveted gizmos -- smart TV will yet again be jockeying for attention. Boxee will debut another device, Internet-connected TVs will gain remote controls equipped with a Netflix button, and there are rumblings that Microsoft will unveil some form of "Windows TV," its answer to Google and Apple's smart-TV offerings. The question is, will these new entrants fare any better than their predecessors?
Why has the living room proven such a quagmire for the likes of Apple, Microsoft and Google, enormously successful pioneers that have built empires and attracted millions with must-have offerings in smartphones, software and search? Can this sphere ever be conquered, or will it prove impenetrable, even to the same formidable marketing and engineering masters who have managed to convince us to turn their brand names into verbs and trade in our cell phones every two years?
In essence, the goliaths of technology have placed a high-stakes bet on their ability to seduce couch potatoes with greater interactivity, yet it remains debatable whether viewers really covet a more active experience on a device known popularly as the boob tube.
The new services are asking consumers to voluntarily devote some of their leisure time to fussing with their home entertainment systems, detaching and reattaching wires while finding room for another box full of electronics. For their trouble, customers are promised liberation from the existing constraints of programming, buying in to a future in which they can watch shows on their own schedule, and at lower cost. But in the age of TiVo, Hulu and on-demand shows served up by cable providers, does that make smart TV compelling and new, or just another way of distributing the same content we already have?
And even if Silicon Valley musters the technology to create a fresh consumer craving in the living room, what will the new services use for content? The networks and cable companies that control programming may not be willing to share it -- a formidable obstacle between here and the widespread adoption of smart TV.
For Internet television to claim a spot at the sofa, longstanding business models that have swelled the coffers of media and cable conglomerates will have to be refashioned with new terms that force incumbents to split revenues -- and eyeballs -- with the entrants many of them have come to see as their enemies.
MAKING THE SWITCH Long before such complex considerations, however, smart TV faces a more pedestrian question: What is it, exactly?
Even those tasked with selling the new devices are hard pressed to provide a satisfying answer.
Google needed two instructional videos and a website offering a visual tour of the technology to demystify Google TV.
Apple -- whose marketers introduced the iPod with the pithy pitch "a thousand songs in your pocket" -- seems positively tongue-tied when seeking to describe Apple TV. Its 2008 slogan, "Even more to do," made the product sound less like a coveted new gadget and more like the title for a list of chores.
Wikipedia is no help to the curious prospective consumer -- not unless someone out there has a hankering for a "television set with integrated ethernet or WiFi powered Internet capabilities holding 4th generation computing and processing capacity," as the Internet encyclopedia describes smart TV.
Ask an industry expert to describe the technology and prepare for a fusillade of jargon like "cloud TV," "network content devices," and "digital media receivers." This supposedly-boundless future awaiting us on our Web-enabled television screens remains largely inscrutable.
It also appears to remain far off. Around 100 million Americans, or nearly a third of the population, subscribe to some form of pay TV, according to the media and communications research firm SNL Kagan. But fewer than 4 million Web-enabled televisions were shipped last year, the Consumer Electronics Association reports.
Only about 10 percent of American consumers now watch television programs and movies transmitted via the Internet to their televisions, according to a Nielsen study commissioned by the Cable and Telecommunications Association for Marketing.
And yet, nearly a decade after the launch -- and spectacular failure -- of Microsoft's Web TV, the grandfather of today's Internet-connected sets, smart TVs may finally be gaining traction.
Last year, the pay TV industry lost subscribers for the first time ever, according to data from SNL Kagan. And in the second half of 2010, cable suffered record losses two quarters in a row, shedding over 1.4 million subscribers in the span of six months. While SNL Kagan blamed the lower numbers primarily on economic troubles and unemployment, the firm's senior analyst Ian Olgeirson acknowledged that the decline also appears to reflect an increased tendency by some consumers to replace their cable company with other ways of watching programming.
MUST-SEE TV But as pay-television providers seek to hang on to their solid grip on the television, they have some formidable assets with which to work: They alone control access to figures like Tony Soprano, Lebron James and Katie Couric -- all found easily on a television screen, but rarely via the latest video players from Roku, Google, and others.
"Traditional providers continue to win," said Bruce Leichtman, president of the Leichtman Research Group, a consultancy focused on media and entertainment, dismissing the idea that Web television will persuade large numbers of households to sever the cords tying them to cable companies.
To many consumers, smart TV services simply do not deliver enough programming to make them legitimate alternatives to cable. The devices run over $200 apiece, yet they offer little that viewers cannot access with a standard pay-television subscription, and they lack highly-popular content such as sporting events and live news coverage.
"Cable TV covers my needs," said New York resident Jesse Madigan, who relies exclusively on Time Warner Cable. "I don't know what kind of content is on Apple TV, but to be honest, I don't feel like I need it. I manage to consume all the content I like."
Were he to switch to Apple TV, Madigan would only be able to watch television shows from Fox, Disney-ABC and the BBC, though he could supplement his offerings with a Web-based service such as Netflix. That's because Apple was unable to secure deals with major programming providers like NBC Universal and Viacom -- the parent company of CBS, Comedy Central and MTV, among other networks -- making popular programs like "The Office" and "The Daily Show with Jon Stewart" be off limits.
Google TV's efforts to bring viewers "the whole Web" suffered major setback -- and earned the software lukewarm reviews -- after Viacom, ABC and NBC blocked Google TV from accessing video posted on their websites.
And while Roku and Microsoft have inked deals to feature live sporting events, most premium content has been reserved for cable customers. Roku, for example, provides access to out-of market NHL and MLB games, but most of the streamable games are in niche categories like cage fighting, Gaelic football and hurling -- not yet major competitors to LeBron and Tom Brady.
As Web television ventures seek to fix that problem by expanding their offerings, securing rights to more content, many studios are disinclined to hand over the goods. Given their symbiotic -- albeit sometimes strained -- relationships with cable companies, major broadcast networks have been wary of making their programming available via other platforms. And they are particularly anxious about forging deals that would allow huge and hungry companies like Google, Apple and Microsoft to establish direct billing relationships with their customers, putting their future revenues at risk.
"It would destroy their own business model," said Leichtman.
During his tenure as chief executive of NBC Universal, Jeff Zucker told investors that the company rejected a deal with Apple TV because charging 99 cents per episode would "devalue" NBC's content.
Some industry experts say tech companies have hurt themselves through overly tough negotiating postures, refusing to match the sorts of prices that cable giants like Cablevision and Comcast have paid for access to programming.
"Anybody who tries to run up against the studios and say it's my way or the highway will end up on the highway," said Steve Perlman, CEO of OnLive, a gaming platform.
In other emerging businesses, technology companies have found themselves unable to secure rights to crucial content. News Corp has threatened it will block Google from including its content in Google News, which uses an algorithm to aggregate headlines from news sources throughout the world. Apple's subscription model for its popular iPad has been slowed in part by an inability to strike deals with publishing giants such as Condé Nast, famously forcing even subscribers of The New Yorker magazine to pay the full newsstand prize to access single issues on their e-readers.
Record labels still nurse bitter memories of how Apple's iTunes stormed in and captured a commanding share of the market for downloaded music. Many now share corporate lineage with the same studios being asked to license their programs to Apple and Google and other technology ventures. Even as publishers and programmers realize they must embrace new platforms to reach customers, many have shied away from striking content-sharing deals with the technology giants, fearing they will soon be eclipsed.
Convenience has also kept many viewers tethered to pay TV. Most cable, satellite, and telecom providers offer "one-stop shopping," with a single company able to supply a user's Internet, television and phone services, usually with discounts for multiple subscriptions to sweeten the deal. As Microsoft, Apple, Google and others take aim at the living room, they must contend with cable companies capable of wielding their "triple play" advantage as a defense.
"It's difficult to completely cut off the relationship with a broadband provider," said Ross Rubin, executive director of industry analysis for the NPD Group, a market research firm. "The incremental cost of getting a video package is relatively low when you have those other services."
More: THE SHOWDOWN OVER SHOWS
THE SHOWDOWN OVER SHOWS The multibillion-dollar question facing smart TV's providers is whether they will be able to break through the impasse and get their hands on enough content to attract customers.
Rather than remain at the mercy of the studios and networks, technology firms may yet develop and market their own programming, say analysts. Google-owned YouTube is reportedly interested in acquiring Web video producer Next New Networks, in what some take as a sign that it will step directly into the creation of content rather than depend upon other providers.
But growing an audience takes time and money. Instead of waiting for seeds to sprout, Silicon Valley could follow the approach embraced by Comcast, which plans to buy NBC Universal, and acquire the content providers whose programming they seek to control.
The largest technology companies certainly have the money. Microsoft and Apple each have around $40 billion in cash at their disposal.
Alternately, tech companies could continue peddling their Internet-enabled TVs and hope these devices attract an audience of viewers too large for CBS, Viacom, and others to ignore.
Netflix has swelled from a niche means of renting movies through the mail to an enormous service with 16 million subscribers, most of whom now gain access to the product over the Web. Along the way, it has gained leverage to partner with studios. If smart TV services manage to grow similarly, tight-fisted studios may feel compelled to license their programming or miss out on reaching customers.
The Federal Communications Commission will also influence Internet video's prospects through the conditions it imposes on Comcast's merger with NBC Universal. Although the proposal is not yet official, the FCC is likely to require Comcast to make the network's programming available to online video providers, which could be a boon to services such as iTunes.
And yet, even if new business deals are successfully forged, and even if what we now call television programming continues to flow toward the Web, one crucial question remains that makes smart TV far less than a sure thing: Do people really want to surf the Web when they are watching television? Or would they rather just sink into the pillows and let faraway forces decides what flickers on their screens?
Calling all HuffPost superfans!
Sign up for membership to become a founding member and help shape HuffPost's next chapter